Crowfall building pieces are about to get some interesting new additions for those who love building in the Eternal Kingdoms part of the MMO. The devs have granted what they're calling some new "Lego bricks to play with".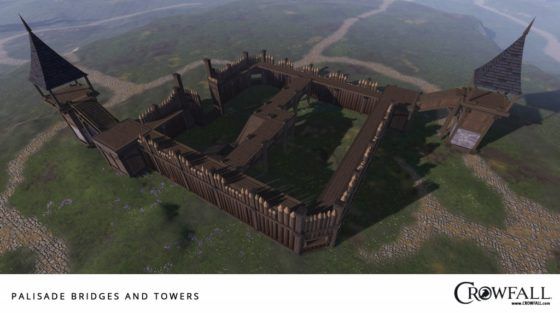 Starting with the walls, every standard wall type will now have hollow versions that will grant the ability to move across your build while being concealed. These new hallways will also have arrow slits and platforms for ranged fire should one so choose.
There will also be a new octagonal tower available to create a new "spoke hub" for extra walls, as well as modular ramp pieces, new modular stone arch pieces, and diagonal and simple wall gateways. Palisades will also have pre-attached walkways included to the walls in order to reduce the annoyance of attaching walkways manually, and the archer tower, wooden ramp and wooden bridge pieces will all easily socket to the sides of walls and towers.
Our Thoughts
All of these new pieces sound like they'll open up a huge level of creativity for buildings in the Eternal Kingdoms. We are eagerly anticipating screenshots of what players are able to put together!
Source: official site
Articles Related to Crowfall
Crowfall Makes Changes to Skill Progression
Crowfall Readies its First Campaign Test
Crowfall Archetypes No Longer Bound by Race
Related:
Crowfall
,
Eternal Kingdoms
,
News
,
Sandbox MMO
,
Update