In a recent blog post, the Crowfall team explains exactly how its Parcel System will operate.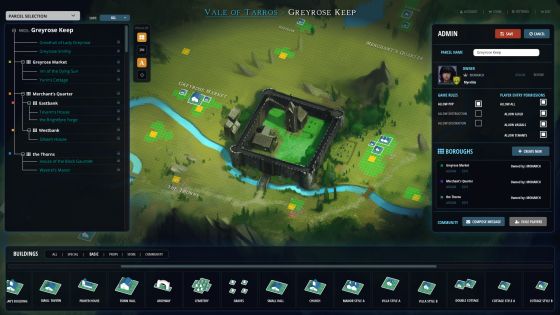 We should start things off by explaining what parcels actually are. In Crowfall, parcels will act like land puzzle pieces. Players will be able to use parcels to shape their eternal kingdom. With the parcel builder tool, players can then customize parcels to look how they want and add additional features. Nearly everything found in the game can be added to a parcel through the builder including NPCs, monster spawners, strongholds, and various other props.
There are also interactive elements that players can add to their parcels. Harvestable resource buildings will allow players to manage their acquired resources, such as turning trees into wood, while spawners can trigger AI events. Spawners can only be crafted by players and the best ones will require gathering rare material from campaigns. However, in addition to adding a cool factor to your parcel, spawned enemies will drop resources.
Of course, there will be limits to where and how many spawners can be placed per parcel, but players will be allowed to buy multiple parcels. There will also be rules for placing certain spawners. For example, zombie spawners likely won't work in high-altitude mountains but griffon nests will.
For more information on parcels, consult the Crowfall FAQ.
Our Thoughts:
The range of player housing options in MMORPGs varies greatly, but Crowfall looks to be changing the game completely. The ability to basically own your own instance, complete with monsters, will be a big draw for many players.
Source: ArtCraft
Related:
ArtCraft Entertainment
,
Crowfall
,
MMORPG
,
News
,
Pre-Alpha