If you're going to play in an RvR sandbox, you're going to have to pick a side. While the Big World test in Crowfall has been mostly about open slaughter, pre-alpha 4.0 will be the first pass of factional divisions.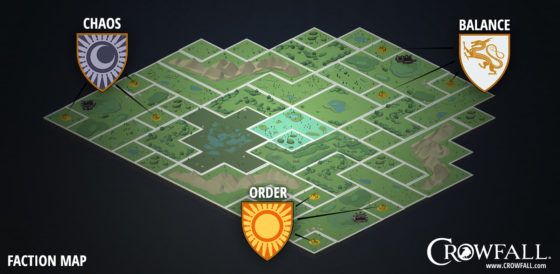 The three sides of Chaos, Order, and Balance will be represented in the new test, with a dedicated home Keep and faction temples for each side. Loot chests will be removed from houses and instead placed in the center of the new Scorn map at specific points of interest. Members of your shared faction will also have a new UI element and will not be able to be attacked.
In spite of these changes, not every aspect of faction warfare is ready to launch. "This isn't a 'mini-campaign', per se, so don't expect win conditions, castle sieging or limitations on import/export just yet… all of that will come in due time. This is simply the jumping off point," explains the post.
Crowfall's pre-alpha 4.0 is set to begin this weekend, which will bring the Templar archetype along with the new factional restrictions. More information can be read here.
Our Thoughts
Factional divides are probably one of the biggest pieces of Crowfall's gameplay, so introducing this first pass of the system is definitely a big step forward. We're looking forward to hearing how Crowfall handles faction balance and how additional system layers will work in the months to come.
Your Thoughts
What do you think about the new factions in Crowfall? Are you going to be taking part in the pre-alpha 4.0, or will you be waiting on more systems before joining in? Give us your thoughts below.
Source: official site
Articles Related to Crowfall
The Crowfall Templar Powers Video is Very Shiny
Crowfall February Q&A Talks Crafting and Stats
Crowfall's Knight Archetype Sees Some Changes
Related:
Crowfall
,
Faction
,
MMO
,
News
,
Pre-Alpha
,
Sandbox MMO