The next few weeks of Destiny 2 content will be fairly loaded if a calendar of events is anything to go by. In Bungie's weekly blog update, the launch of Destiny 2 on console is, unsurprisingly, the primary topic, including a lineup of in-game events and official word around the kerfuffle with the game's Shaders.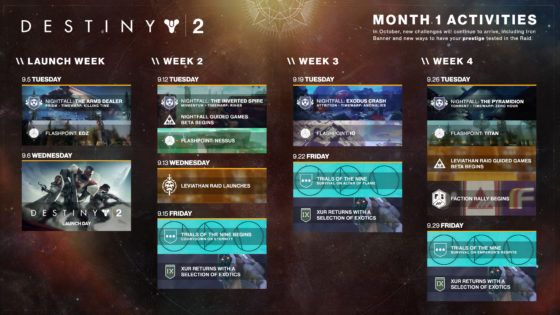 The calendar above (which can be expanded by clicking) confirms content going live over the next several weeks, including the expected Nightfalls, Flashpoints, and raid launch as mentioned previously. The calendar also confirms that Xur will be making a return every Friday with a new weekly selection of Exotics, and refers to an activity known as the Trials of the Nine, which likely is the new name for the Trials of Osiris.
Further along in the blog post, a reply to the Destiny 2 Shader discussion was provided via a series of tweets from game director Luke Smith:
"Shaders are earned through gameplay: leveling, chests, engrams, vendors. We expect you'll be flush w/ Shaders as you continue to play. When you reach level 20, Shaders will drop more often: vendor rewards, destination play and endgame activities. Shaders are now an ongoing reward for playing. Customization will inspire gameplay. Each planet has unique armor and Shader rewards. With D2, we want statements like "I want to run the Raid, Trials, or go back to Titan to get more of its Shader" to be possible."
With that said, the blog post does also state that the devs will continue to monitor feedback. "The conversation about all the ways in which we play and are rewarded by the game will continue," reads the post.
The blog also offers the usual community spotlights, bug reports, and even offers word of the game's soundtrack release. You can read the complete post here.
Our Thoughts
We're pretty sure "just farm for Shaders, guys" is not a particularly satisfactory response from the devs regarding the entire Shader matter. While that saga will appear to be ongoing, we hope that players will enjoy the next month in Destiny 2 regardless.
Source: Bungie website
Articles Related to Destiny 2
Destiny 2 Community in Uproar over Shaders
Bungie Offers Up Dates for Destiny 2 Endgame Activities
Destiny 2 Loot Boxes Include Powerful Items
Related:
Destiny 2
,
FPS
,
News
,
Update