After the absolute torrent of information from the Destiny 2 gameplay premiere event, we're getting more details as time with the game and with Bungie is logged during on-the-floor playtests. Two such interactions brought new details about the Destiny 2 PC version, with word that the PC edition of the game will launch after console and that it will utilize peer-to-peer networking for online play.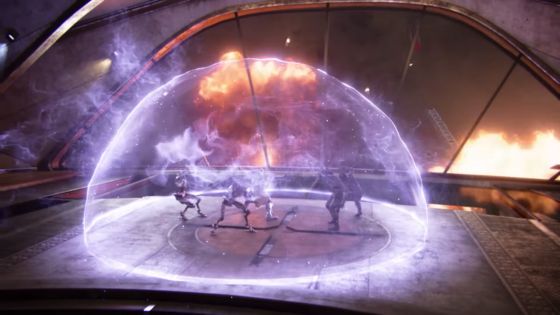 PC Gamer has unveiled that the game's PC release date is still up in the air despite the game's console launch still confirmed for September 8th. According to Director Luke Smith, the delay is intended to ensure that the PC version of Destiny 2 will be the best possible product.
"At Bungie we're totally committed to making a PC build as great as we can," Smith said. "We want to make sure that this version of the game has the time it needs to bake in the oven so it's a delicious piece of bread when it comes out."
Part of that bread's recipe involves using similar peer-to-peer connection systems that powered the first Destiny game. "It is a complicated typology. We do not have dedicated servers for Destiny 2 on PC," said PC lead David Shaw in an interview.
When pressed about tick rate complaints from Destiny 1 players, Shaw further elaborated on steps being taken on the matter. "I can tell you that we have had conversations and we're aware of—we try really hard to listen to the community and hear what their concerns are," said Shaw. "I would say that, today, we don't have a good answer for that, meaning we're not talking about the server side of things at this time."
An announcement from Blizzard still lists the game's PC release as yet to be determined, stating that Bungie is "actively working" on ironing out global release details. Information on a PC release is due to be announced later in the year.
Our Thoughts
Well, this puts a pretty healthy splash of cold water on things, especially on a gaming community that values clean connections, high performance, and reverence of the absolute bleeding edge of tech. These combined revelations could make PC players – a sect of whom consider themselves above other gamers – feel slighted, which could only worsen word-of-mouth before Destiny 2 even goes gold.
Sources: PC Gamer 1, 2, Blizzard News Archive
Articles Related to Destiny 2
Destiny 2 Gameplay Premiere Unveils New Features and Battle.net Integration
Rumor: Destiny 2 Expansion Pass DLC Dated
Destiny 2 Plans to Draw "Millions" of Players
Related:
Destiny 2
,
MMOFPS
,
News
,
PC
,
Release Date