Clockwork City. It sounds like a magical sort of place, but anyone who's entered a Dwemer ruin in any of the Elder Scrolls RPGs knows that "magical" is not the first thing that springs to mind so much as "Oh no there's a mecha-spider trying to kill me". Regardless, we're all going to get a tour of The Elder Scrolls Online's upcoming content expansion in the next ESO Live broadcast.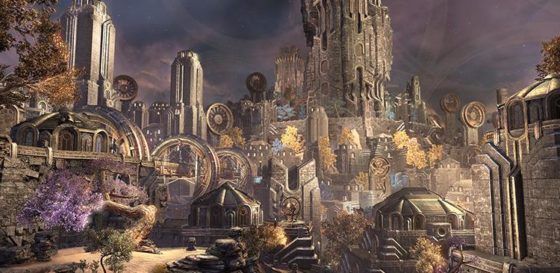 ESO's livestream will grant players a first look at the titular region, where the buildings, creatures, and even some of the inhabitants are mechanical constructs. The tour will provide a look at the Brass Fortress which dominates the center of the zone and will also offer a chance at giveaways – as in multiple – throughout the broadcast. There will also be a recap of recent ESO news as well.
Interested fans can tune in this Friday, September 15th at 3pm EDT on the Bethesda Twitch channel. The livestream is schedule to run for about an hour.
Our Thoughts
As dangerous as Dwemer locations tend to be, we're defintely very curious to see just what's inside of Clockwork City. We'll definitely be tuning in to this edition of ESO Live and taking some careful notes.
Source: official site
Articles Related to The Elder Scrolls Online
ESO Horns of the Reach Goes Live for PC Players
The Elder Scrolls Online: Morrowind Review
The Elder Scrolls: Legends Releases on Mobile Devices
Related:
Livestream
,
MMORPG
,
News
,
The Elder Scrolls Online