In case you missed out on the livestream that happened last week, a new dev blog from ESO has you covered as it provides players a region-by-region look at various Clockwork City locations that will open up with the DLC's arrival.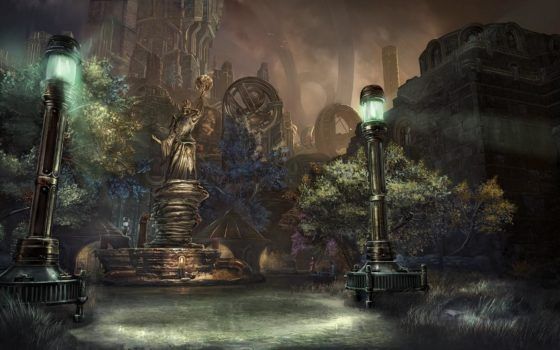 The blog offers a brief glimpse at six specific areas of Clockwork City, the mechanical realm of Tribunal member Sotha Sil along with general ideas of the sort of gameplay players will find while visiting these locales.
The central hub of Clockwork City is the Brass Fortress, described as the only safe haven for visitors and residents. From there, things become a lot more dangerous, with the Mechanical Fundament running beneath the Fortress and the Halls of Regulation Delve location being two such dangerous locales. In addition to the Halls of Regulation, Clockwork City will also offer up the Shadow Cleft Delve, which sees players transported through a shadowy portal into a Daedric realm in search of a missing NPC.
Finally, two other locatiosn offer a peek at some of the more group-focused challenges awaiting players. The Sanctuary of Verification houses one of the DLC's two World Bosses, while the Asylum Sanctorum Trial area pits players against three Dunmer Saints whom Sotha Sil transformed into immortal machines. The Trial offers a unique wrinkle; the ability for players to either take on these three creations one by one or all at once, with unique rewards offered depending on how the group plans to proceed.
You can check out the complete tour of these areas on the Elder Scrolls Online website.
Our Thoughts
These new areas are certainly fascinating and appear to have a pretty decent chunk of content for players of the MMO. What do you think about Clockwork City? Which area do you think you'll explore first?
Source: official site
Articles Related to The Elder Scrolls Online
ESO Horns of the Reach Goes Live for PC Players
The Elder Scrolls Online: Morrowind Review
The Elder Scrolls: Legends Releases on Mobile Devices
Related:
Clockwork City
,
Dev Blog
,
MMORPG
,
News
,
The Elder Scrolls Online