The Elder Scrolls Online has offered up yet another Clockwork City preview blog, this time focused on the mystery surrounding Sotha Sil's grand creation. Seriously, there's like, no less than four references in the first two sentences about how secret and hidden the location is in the post.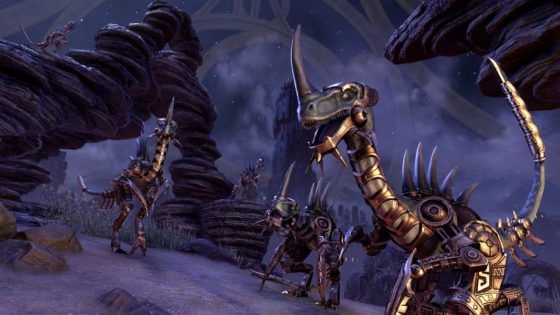 "The first thing you have to know about Sotha Sil is that we don't know anything about Sotha Sil!" says principal writer Leamon Tuttle. That sense of mystery and secretive machination permeates the entire preview, from the Apostles and Tarnished that make up the society of the area to the assumed purposes of the Fabricant creatures that prowl the wilderness outside of the city.
The preview not only covers a great deal of lore about the Clockwork City location but also provides the briefest idea of what will bring players to the zone. "You must unravel a Daedric conspiracy, but the entire realm is a mystery in and of itself, and its true nature and purpose might be the greater riddle," teases the post.
You can read up on the questions posed by the new DLC here.
Our Thoughts
Okay, we get it. Clockwork City is a mysterious place. That said, this healthy chunk of lore information does make us curious about what the new location and perhaps Sotha Sil's motivations are. Unless, of course, that remains hidden too.
Source: official site
Articles Related to The Elder Scrolls Online
The Elder Scrolls Online Shows Off Clockwork City's Locations
The Elder Scrolls Online: Morrowind Review
The Elder Scrolls: Legends Releases on Mobile Devices
Related:
Clockwork City
,
MMORPG
,
News
,
Preview
,
The Elder Scrolls Online