Horns of the Reach is on the way, but the DLC-specific parts aren't the only thing that will be new to The Elder Scrolls Online. A blog post on the game's site has detailed improvements arriving in Update 15, which will be the free portion attached to the incoming content pack.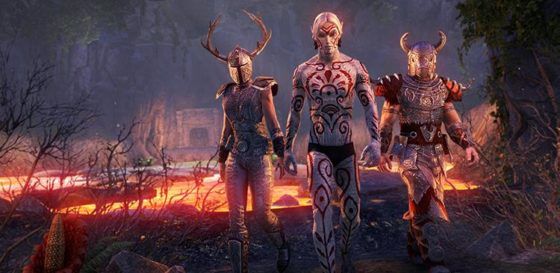 The post in question covers a great deal of what was earlier revealed in the Horns of the Reach patch notes when the update arrived to the PTR, with more specific information offered to those who are not interested or otherwise unable to buy the Horns of the Reach DLC pack.
For players who are colorblind or for those who just want to further customize things, combat cues for enemy and friendly targets will be adjustable, letting players tweak the hue and brightness of incoming effects. AP and Writ Vouchers can also be stored in your bank using the Deposit Currency option.
Guilds are getting a couple of unique quality-of-life improvements as well. An invite history list will let guildmasters keep tabs on who invited whom. A Guild Rank permission option will also be made available, letting guildmasters choose what rank of guild members can see how much gold is stored in a guild's coffers.
Finally, the crafting-minded will be able to halt any in-progress research at any time, though players are warned that the item destroyed to begin the research will not be returned. Players will also be able to improve their equipment without having to remove the item from their character.
Our Thoughts
These are hardly what one would call big ticket features, but many times the smallest quality-of-life improvements can make things feel more pleasant overall in an MMO. We hope that players of The Elder Scrolls Online are pleased by these incoming improvements.
Source: official site
Articles Related to The Elder Scrolls Online
ESO's Horns of the Reach Patch Notes Arrive to PTS
The Elder Scrolls Online Announces Release Dates for Horns of the Reach
The Elder Scrolls Online Previews Horns of the Reach
Related:
MMORPG
,
News
,
The Elder Scrolls Online
,
Update 15