The Elder Scrolls Online will soon open up Sotha Sil's greatest creation to its players as Clockwork City release dates have been locked down for PC and console players. Hope you like seeing robotic dinosaurs and spiders attempt to maul your face.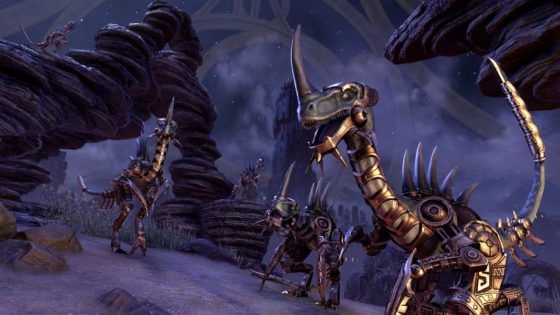 PC players, as usual, will be the first to get the new content with a launch on Monday, October 23rd. Xbox One and PlayStation 4 players will see the DLC available on Tuesday, November 7th. The new content will not require ESO: Morrowind to play.
The upcoming DLC arrives free for ESO Plus subscribers or will cost 2,000 Crowns for the standard edition. The new content will also be available in a Collector's Bundle which packs in a Clockwork Skeevaton pet, a Kagouti Fabricant mount, and five Crown Experience Scrolls at a cost of 4,000 Crowns.
For those eager to get a taste of the metallic goodness (eww), a free prologue quest is now live for all players. The new quest, "Of Knives and Long Shadows", is available at any faction's local Mages Guild by reading an Order of the Eye Dispatch note.
Our Thoughts
The mechanical creations of Sotha Sil have always been one of the more interesting parts of the Elder Scrolls canon so we're most definitely looking forward to the arrival of Clockwork City. Here's hoping fans of the MMO have a good time once the DLC goes live.
Source: press release
Articles Related to The Elder Scrolls Online
The Elder Scrolls Online Shows Off Clockwork City's Locations
ESO: Clockwork City is Full of Mystery, Apparently
The Elder Scrolls Online: Morrowind Review
Related:
Clockwork City
,
ESO
,
MMORPG
,
News
,
The Elder Scrolls Online