It's a scientifically proven fact that rampant destruction is made 65% more adorable if the combatants are itty-bitty. With this hard data in mind (probably not), Rockstar is introducing a new Tiny Racers event to Grand Theft Auto Online.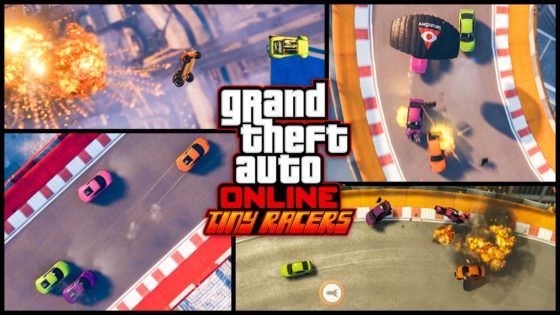 Described as "a new spin on classic Grand Theft Auto action", Tiny Racers brings a top-down stunt racing event to Grand Theft Auto Online. Racers will drive in diverse tracks while picking up various power-ups and weapons to add to the mode's high-speed carnage.
In addition to the new mode announcement (and if you weren't already aware by the high-larious weed images in your social media feeds), today is 4/20 and GTA Online is celebrating with a variety of appropriately-themed bonuses for today only. Players can recreationally enjoy 50% off Weed Farm businesses and business upgrades while earning 50% more profit from Weed sales, and LS Customs is offering a 50% discount on Green Tire Smoke.
Tiny Racers will arrive to GTA Online on April 25th. A trailer showing the miniature mayhem can be seen below.
Our Thoughts
Tiny Racers looks like the kind of madcap fun that a game like Grand Theft Auto Online should do more of. Not only does the top-down perspective bring back to mind the game's original roots, it also drums up nostalgia for other arcade-style racers. We love the addition!
Source: press release
Article Related to Grand Theft Auto Online
New GTA Online Adversary Mode and More Added in Latest Update
GTA Online: Bikers Adding Player-Made Biker Gangs
GTA Online Update Introduces New Game Mode
Related:
Grand Theft Auto Online
,
MMO
,
News
,
Update