The devs of Guild Wars 2 have put together a new Elite Specializations video discussing what the nine new Professions arriving in Path of Fire will be bringing to the MMO. The video touches on a number of aspects of the new class designs, from concept to testing to final product.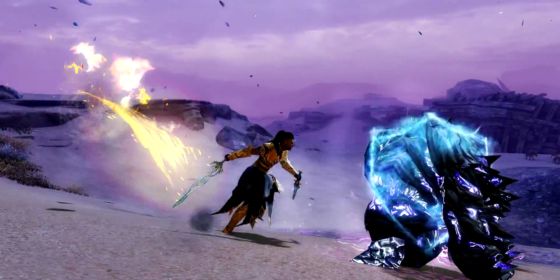 The video features a number of devs involved in the creation of the new Specs, including Irenio Calmon-Huang, Karl McLain, and Robert Gee of the Elite Specs team, and even a nod to the sound design with Jerry Schroeder of the Audio team.
According to the video, creation of Elite Specs can start as simply as finding a fitting name for the class as was the case with the Mirage, or can stem off of attempts to bring different playstyles and mechanics to an existing Profession. "We try to keep things as fresh as possible by exploring into spaces that we find each of the Professions lacking," said Calmon-Huang in the video.
The new video marks the official start of Elite Specializations Week for Guild Wars 2, which will also include discussions on Elite Specs in Guild Chat as well as a PvP and WvW preview weekend that lets players try out the new classes for free from Friday, August 18th through Sunday, August 20th.
You can check out the complete video below.
Our Thoughts
It's an interesting peek behind the curtain to see how making a new Elite Spec is not exactly a simple matter. We're most definitely looking forward to hearing more about the new classes coming to Guild Wars 2 as well as getting our hands on them ourselves during the preview weekend.
Source: YouTube
Articles Related to Guild Wars 2
The Tyrian Chronicle: Path of Fire Preview Weekend Thoughts
Guild Wars 2 Adds Max-Level Boosters for Sale
The Tyrian Chronicle: 7 Things to Do Before Path of Fire Releases
Related:
Guild Wars 2
,
News
,
Path of Fire
,
Video