It's not a platform one often associates with CCGs, but today Hi-Rez Studios has confirmed their plans for a Hand of the Gods: SMITE Tactics console release. The strategy CCG has lined up testing plans for Xbox One and PS4 along with demos at upcoming conventions.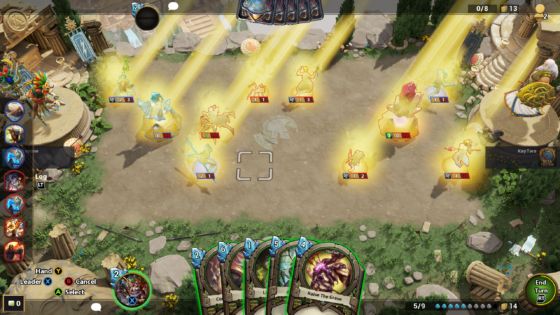 The console edition of Hand of the Gods will introduce a number of refinements that were made during the open beta test of the game on PC. For those interested in trying those refinements out first-hand, signups for the closed alpha test are now available. Xbox One players can register here, and PS4 players can register here.
In celebration of the console arrival, Hi-Rez Studios will be holding a $5,000 tournament at PAX West. Entry to the event is free, and the winner could get a cash prize and two free tickets to Hi-Rez Expo being held in Atlanta, GA, in January. Hand of the Gods will also have a presence at this year's Gamescom, with a live demo on the show floor on August 25th along with code giveaways for the console alpha and other prizes.
Specific dates for the start of closed alpha and launch are yet to be announced, but interested players are invited to follow the game on Twitter for additional updates. In the meantime, you can check out the announcement trailer below.
Our Thoughts
This is certainly an interesting development for Hand of the Gods! While it appears there is no cross-platform play between the console versions, hopefully there will be some level of cross-play between console and PC players once the game launches. Here's to a successful round of testing!
Source: press release
Articles Related to Hand of the Gods: SMITE Tactics
Hand of the Gods: SMITE Tactics Game Page
Hi-Rez Studios Makes Major Game Announcements at DreamHack Valencia
SMITE Rivals Development Goes on the Back Burner
Related:
CCG
,
Console
,
Hand of the Gods
,
News
,
SMITE Tatics