If you think that teams of cars driving a ticking bomb at high speed and blowing each other away sound like a good eSports opportunity, then you're not alone. Hoplon has outlined a variety of Heavy Metal Machines updates that will look towards making the game attractive to competitive players and the eSports scene.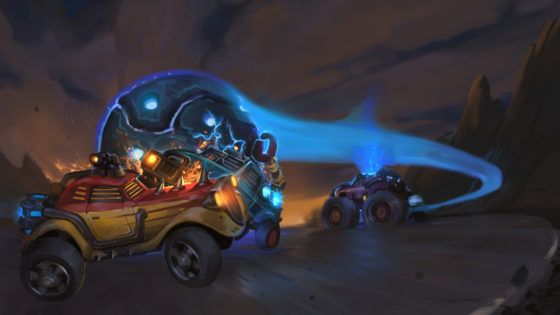 The first and largest update will be to the Bomb itself, specifically implementing the ability to pass it from teammate to teammate. The Bomb will also have its own unique physics that will make cornering just a bit more challenging for carriers while also making it possible to use as a shield or a weapon, and making the Bomb visually distinct with new effects and making the Bomb as large as a standard car.
Hoplon is also looking to make picking up the Bomb a bit more involved, implementing a held button press to grab it instead of merely running into it. This opens up the opportunity for a "struggle mechanic" where players on opposing sides attempting to grab the Bomb at the same time will not establish a link unless one of them is pushed away or destroyed.
Hoplon is also looking at introducing custom match options to Heavy Metal Machines, and will also be adding a new arena that is said to drastically change how the game is played. "While the original stage focused on intersections and shortcuts, the new arena is built to be a very straight-forward race to the finish. We also wanted to add some physical gameplay mechanics, like mud," explained game director Aly Lenzi.
Branching paths are also being considered for tracks in the game, creating a new level of strategy as well as an avenue for carriers to escape trouble while also bearing more responsibility on top of the Bomb.
No specific dates were revealed for these planned updates, but the devs hope to have them rolled out in June and July at some point.
Our Thoughts
A lot of these changes seem to be focused on the carrier driver, meaning that players who take up this position will have to bring a lot of skill. Whether this sort of pressure is enticing or not remains to be seen, but most of these planned adjustments do sound very intriguing, especially the new arena.
Source: press release
Articles Related to Heavy Metal Machines
Heavy Metal Machines Update Adds a Clown and a Cash Shop
Heavy Metal Machines Open Beta Begins
The MMO Alpha and Beta List: May 26, 2017
Related:
eSports
,
Heavy Metal Machines
,
MMO
,
News
,
Updates