It's fun to play the big, impenetrable rock guy, and Master X Master has precisely that with the reveal of Koom. The juggernaut character has been officially unveiled for the MOBA/ARPG hybrid, detailing his skills and some of his background.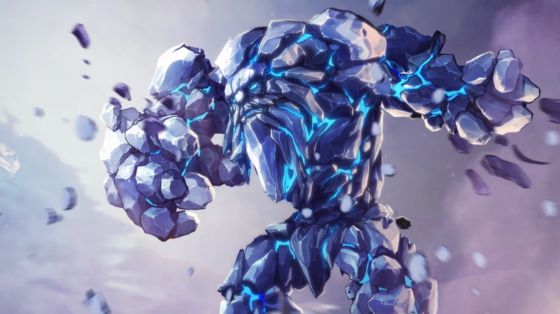 Koom hails from the planet of Akum, which is home to a race of people that value peace and pacifism. Koom himself is a member of the Guardians, one of the few Akumites that are meant for combat. Koom has joined the fight for Earth in order to establish a supply of SOLON for his homeworld, a resource that Akumites need to survive and one that is plentiful on Earth.
Koom's abilities are primarily focused on stalwart defense, with skills that can absorb or outright stop damage entirely. Powers such as Runeslab Barricade can create ready-made barricades that halt attacks and enemy movement, and Crashing Defense lets him rush forward for a small distance to erect a shield to defend himself and allies. His ultimate skill, Impervious Stone, makes him unkillable and returns a portion of his health, and can even regenerate additional health based on how much damage he takes during the ability's duration.
More information about Koom can be found on his profile page, and a video showing the character in action can be seen below.
Our Thoughts
With so many impressive abilities to mitigate or outright halt damage, it's hard to know what skills to pick when selecting Koom for play. His abilities definitely seem to lean towards team-based activities like the Titan Ruins or party dungeons. We're excited to see what players think of him!
Your Thoughts
How do you feel about this new character? Is this the kind of character you'd want to play in Master X Master? What kind of playstyle do you prefer in the game? Let us know in the comments.
Source: official site
Articles Related to Master X Master
Is Master X Maser the Next Big MOBA?
Master X Master Titan Ruins Playtest Begins
Master X Master Alpha Playtest 3 Preview
Related:
Master X Master
,
MMO
,
MOBA
,
News
,
Reveal