As Monster Hunter World inches closer to its first release to the wider console world (and eventually to PC players), there's likely going to be a lot of new faces around. New faces who maybe aren't prepared or otherwise intimidated by the game's mechanics and gameplay. Enter the Adopt-A-Hunter community initiative.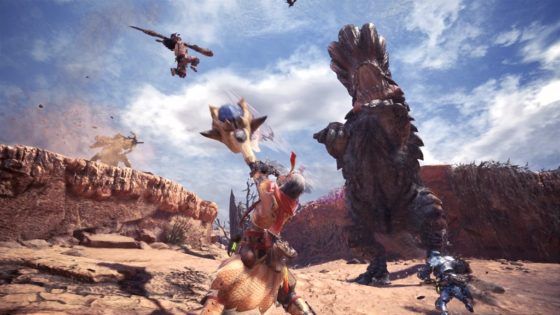 The Adopt-A-Hunter program is a sub-community where veteran Monster Hunter players can take new arrivals under their wing and show them the ropes. The program is meant to grant fresh players the knowledge they need to strike out on their own or to form their own groups as well as extend the friendly community atmosphere series fans pride themselves on to a new generation of players.
Novice players will be paired up with a veteran player days before the game launches, with pairings announced on the community Discord. After that, it's up to those players to come together how they can and learn.
Novices aren't required to have a level of engagement with their chosen veteran, but at least one time a week is recommended and the moderators do expect participants to be adult about the matter. If a match between vet and novice doesn't work, then simply message a mod for a new pairing, no questions asked.
"Monster Hunter has a strangely high and sometimes prohibitive barrier of entry tacked onto a fairly steep learning curve," reads the blurb on the community website. "This program and sub-community was formed by series veterans in an effort to help and encourage new players to learn, ask questions, get into the game, and enjoy it as much as possible without hitting what can sometimes feel like a ridiculously thick brick wall."
Players of all stripes are invited to check out the Adopt-A-Hunter website for more details, an FAQ, and applications for both new and veteran players.
Our Thoughts
What an absolutely brilliant idea! Considering Monster Hunter World is going to be many people's first-ever experience with the game, this Adopt-A-Hunter program sounds like a great way for new arrivals to learn how to handle Monster Hunter's unique mechanics while giving vets a way to further cultivate the game's community. We love it!
Source: Adopt-A-Hunter website via Polygon
Articles Related to Monster Hunter World
Monster Hunter World Reveals Elder Dragons and a Third Beta
Monster Hunter World Offers a Release Window for PC
Monster Hunter World Plans Free Monster DLC
Related:
Community
,
Monster Hunter World
,
News
,
Online Multiplayer