At long last and after much cajoling by Terry Crews and fans of the online FPS, we have the full, official Doomfist reveal for Overwatch. The new character has been given the complete treatment, including character and skill details and an animated trailer.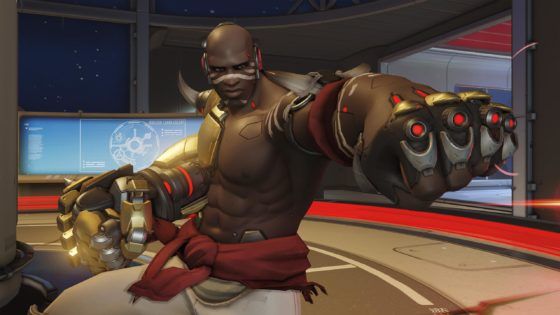 Born Akande Ogundimu, Doomfist is a mercenary who believes that humanity evolves through the crucible of conflict. Recently escaped from his prison, Doomfist is now once more within the inner circle of Talon and hopes to incite a war that will consume the world.
As a character in-game, Doomfist is an Offense-type that uses his eponymous Doomfist gauntlet to assault enemies at melee or short range. Doomfist has moves that can send foes sailing into the air or flying backward, dealing greater damage should they slam into a wall. He even is able to generate temporary shields whenever his abilities deal damage.
There still is no specific release date for Doomfist's arrival as of this writing, but the character is currently live on the official PTR. You can read up on his abilities and backstory here, check out the PTR patch notes here, and watch an animated trailer for Doomfist below.
Our Thoughts
Doomfist has definitely landed with a bang! The animated trailer is astonishing work and everything about the in-game character sounds like it will be an aggressive, hard-charging, and fun time. It probably goes without saying, but we are absolutely excited!
Sources: official site, YouTube
Articles Related to Overwatch
Play of the Fortnight: How to Deal with Anger in Overwatch
Overwatch Makes Changes to Loot Boxes in Latest PTR Update
Play of the Fortnight: How to Improve Yourself in Overwatch Season 5
Related:
Doomfist
,
FPS
,
New Hero
,
News
,
Overwatch