Death is never the end when it comes to enemies in MMOs. We've all taken out hordes of skeletal baddies before. The trend of fighting animated bones continues in Sea of Thieves alpha 0.1.1, which is also introducing a variety of new features and a larger map on top of animating the long-dead.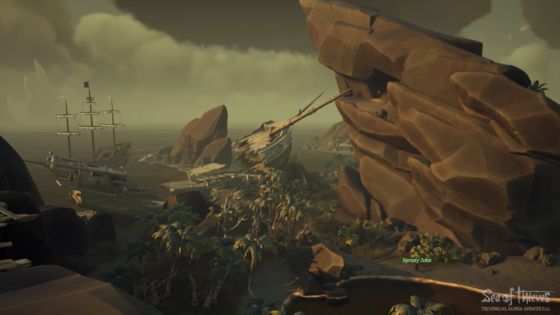 The newest technical alpha for the piracy-themed MMO will be making the game world "indeterminately larger" according to the latest video. These new islands will harbor new coves to dock, new places to find treasure and the aforementioned attacks by skeletons wielding blunderbusses.
Other additions in this update include the addition of fall damage, the addition of vomiting after too much drink, and the introduction of a voyage system which will be used to deliver quests in the game from this point on.
Alpha 0.1.1 is available to those who sign up to the Sea of Thieves Insider program but will be increasing the testing pool from the list of names signed up. If you're not in the game's technical test, a video detailing the changes in the new build can be viewed below.
Our Thoughts
The more we see and hear about Sea of Thieves, the more we want to play. It's still early days for this whimsical sandbox, but the features being shown here are definitely fun-filled. We really hope that this game comes out soon!
Your Thoughts
How do you feel about Sea of Thieves alpha 0.1.1? Do you like the direction the game is headed? Have you signed up to play, or will you be waiting on a final release? Share with us below.
Source: official site
Articles Related to Sea of Thieves
Sea of Thieves Technical Alpha Setting Sail Next Week
Sea of Thieves Insider Program Offering Early Access and Dev Insights
Sea of Thieves Short Haul Video Shows Off Instruments
Related:
Alpha
,
News
,
Sandbox MMO
,
Sea of Thieves