"Skeleton Fort" sounds a lot like a name spitballed by Skeletor for Castle Greyskull. Sea of Thieves skeleton forts, however, are a bit more interesting than that; a small island that's taken over by a (literal) skeleton crew and requires some planning to approach.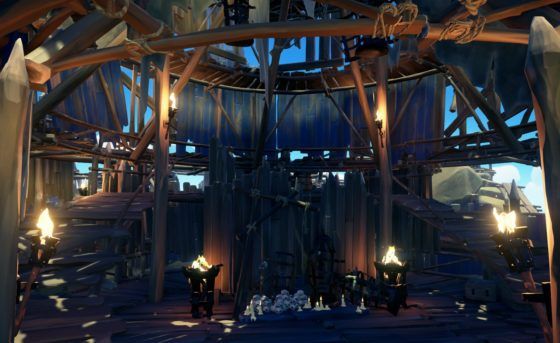 While animated skeletons already populate Sea of Thieves, skeleton forts take it one step beyond, with buildings, battlements, and other fortifications covering an entire small island. Each fort will be populated by a skeleton Captain and his crew, with each fort providing unique challenges for players to surmount. What goodies said skeletons will be guarding – if any – were not detailed, however.
Conceptually, skeleton forts are envisioned as part of regular Voyage quests, though the team is also keen on having them simply populate the world as a form of emergent gameplay. After all, when you see a big, spooky fort, you're probably going to want to detour from your previous heading and see if you can breach it, right?
Our Thoughts
Considering the crux of gameplay in Sea of Thieves could be seen as competitive, adding something perhaps a bit more PvE focused would be welcome. Then again, a race between two rival crews to see if they could clear a skeleton fort and get the treasure first could be fun as well…
Source: official forums
Articles Related to Sea of Thieves
Sea of Thieves Discusses its Take on Multiplayer Gaming
Sea of Thieves Shows Off a Non-Verbal Communication System
Gamescom 2017: Cross-Platform Play Confirmed for Sea of Thieves
Related:
Multiplayer
,
News
,
Sandbox MMO
,
Sea of Thieves
,
Update