If you want to support esports while also getting yourself some sweet in-game perks, you probably buy the Dota 2 Battle Pass. Now a similar program is being offered to fans of StarCraft 2 with the release of the StarCraft 2 War Chest, a rewards box that operates a bit like Dota 2's offered esports bundle.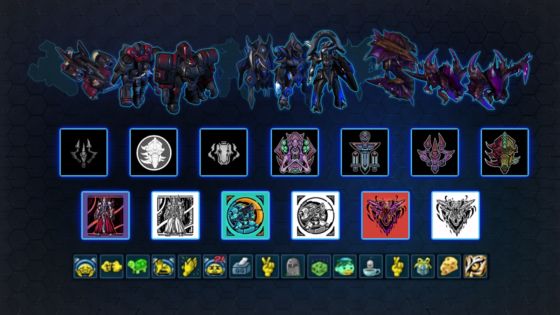 The StarCraft 2 War Chest is a bundle of army-wide skins, icons, and portraits that are unlocked over the course of three phases. When you buy a War Chest, you immediately unlock a single unit skin and portrait. As you play co-op or multiplayer matches, additional rewards get unlocked for each phase. A total of three phases will open up for advancement over the next three months, along with new issues of the StarCraft 2: Shadow Wars digital comic.
25% of proceeds from War Chest sales will all go towards StarCraft 2 esports. The first $200k from War Chest sales will be applied to the $500k prize pool offered in the StarCraft 2 World Championship Series, while additional proceeds beyond that will be put to "operational support" for the 2017/2018 seasons.
Fans can elect to either purchase a single War Chest for their chosen race or an all-in-one bundle to get perks for all three races. Additionally, players who elect to upgrade their purchased War Chest to the complete bundle or buy one of the other race's bundles and will retroactively earn rewards relative to their phase advancement.
Individual War Chests are priced at $9.99 per race while the All-in-One Bundle can be bought at $24.99. Bundles sales and Phase 1 begins on the same date: Wednesday, July 19th. More information can be read here, and a video detailing the War Chest program can be seen below.
Our Thoughts
This will definitely be interesting to see if StarCraft 2 fans will buy into this War Chest idea. Should it catch fire, this could be another avenue of monetization for other Blizzard esports titles such as Overwatch. Do you support the War Chest program, or is this a slippery slope of nickel-and-diming for you?
Source: official site
Articles Related to StarCraft 2
Blizzard Announces StarCraft: Remastered Release Date
Blizzard Rewards Fan for Returning StarCraft Source Code Disc
The StarCraft Korean Pro League Shuts Down
Related:
eSports
,
News
,
RTS
,
Starcraft 2