The combination of retro graphics, bullet hell shooters, MMOs, and a roguelite permadeath game are all coming together with the Survived By reveal. The newest MMO from publisher Digital Extremes and developer Human Head Studios has been officially detailed and is entering its closed alpha.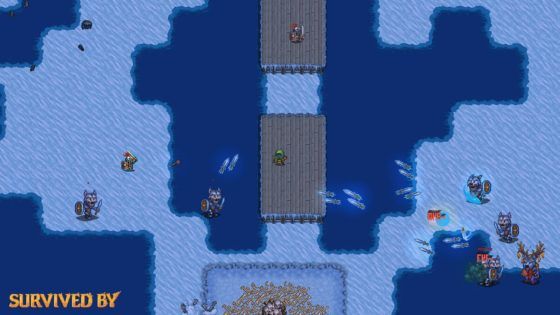 Survived By pits up to 100 players in a fight against a mysterious corruption that has taken over the villages and towns of the World Tree. Players can select a variety of classes to beat back the hordes of monsters, explore dungeons, and craft powerful new weapons. According to executive producer Ryan Jackson, Survived By is trying to create a game with "a tremendous sense of wonder and an addictive blend of crafting, social team-work and twitchy bullet-hell madness".
One of the bigger wrinkles comes in Survived By's unique death mechanic, where dying takes away nearly all of your equipment and grants you the opportunity to play as a descendant of your slain character. The new heir to your character carries a part of your previous hero's legacy with them in the form of new buffs and stat boosts.
Survived By will be free-to-play at launch and is currently accepting registrations for a chance at the closed alpha test on its official website. The MMO will also be playable at this year's PAX West for anyone attending. Until then, you can check out a teaser trailer for the game below.
Our Thoughts
Well this one certainly came out of left field! We're most definitely intrigued by everything being offered in Survived By and are absolutely looking forward to learning more about this unique MMO experience.
Source: press release
Articles Related to Survived By
The Amazing Eternals Starts Closed Beta and Founder's Pack Sales
Warframe's Chains of Harrow Releases on Console
The MMO Alpha and Beta List: August 25, 2017
Related:
Closed Alpha
,
MMO
,
News
,
Reveal
,
Survived By