From the moment I logged into the first beta weekend and completed the opening story instance as a Human Thief, I knew I was going to be giving Guild Wars 2 a favourable review. Since then, throughout several additional beta weekends, and now the first week of release, I've played everything from a Charr Engineer to a Norn Necromancer, and I've taken my Sylvari Thief all the way to level 80, and beyond. I'll still be giving Guild Wars 2 a favourable review.
I mention this, because all too often, it's the first levels of gameplay in a new MMORPG – especially so in a Themepark MMORPG – that offer the fullest experience. Advancing beyond the early game toward endgame is generally met with a sub-par experience, limited either by the engine, genre or imagination of the developers. Guild Wars 2 suffers from nothing of the sort – in fact, in many ways, it's after reaching level 70 that a compelling amount of the experience truly begins.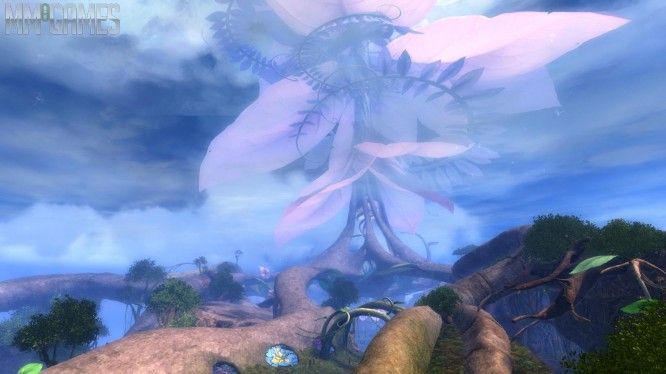 Playing it Your Way
That said, much of what makes Guild Wars 2 such a genre-defining experience is how adaptable it is toward the player – those seeking a purely Player vs Player (PvP) experience can begin their slaughter as soon as they've finished creating their character, either by queueing to participate in round-based games, or by joining one of 4 persistent World vs World vs World (WvWvW) maps, while those seeking to simply gather and craft could avoid combat almost entirely, and reach 80 doing exactly that. And, of course, those seeking a more traditional approach will see plenty of innovation there, too, with everything from simple questing and challenging exploration, to dynamic events and world bosses to keep them company on the grind to level 80.
It's a game that innovates almost exclusively where it imitates, rarely adding entirely new features, but always refining genre standards to the point of perfection, allowing every type of player imaginable an experience perfectly suited to their own style and preferences.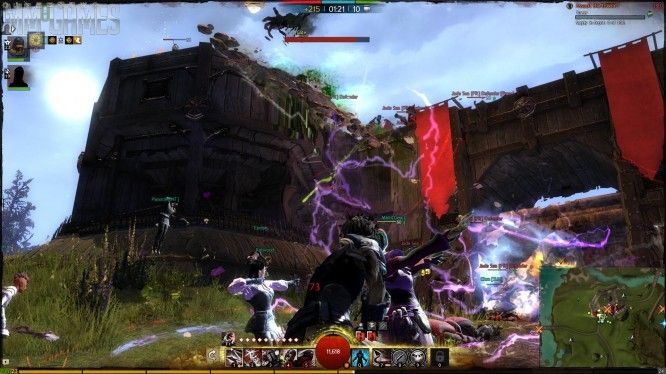 Same same, but different
That's the theme that shines brightest in Guild Wars 2 – everything is very much the same, and yet, all the time it feels so different. Beginning with the story-based missions that accompany you from your very first steps through Tyria, to what could potentially be your last, these 'quests', though certainly not the first time we've seen them, have been designed with innovation in mind. Beginning with short, easily digestible story and goals, these missions, post level 50, quickly become hour-long adventures packed with epic battles, complex decisions and, often times, loveable characters.
And the combat mechanics – the hotkey-based system doesn't exactly scream innovation, though, the class-specific weapon skills, that can be switched at the press on a button, help bring a sense of diversity to every situation. Complemented by a healing skill, 3 class skills and an epic skill that can be purchased using skill points and customised on the fly, combat is, again, both a familiar experience and a fresh one. Add to that the removal of traditional roles, such as the healer, tank and DPS, you find yourself forced to learn new group combat scenarios immediately, and though at first they feel strange, it isn't long before you begin to wonder how this hadn't happened sooner.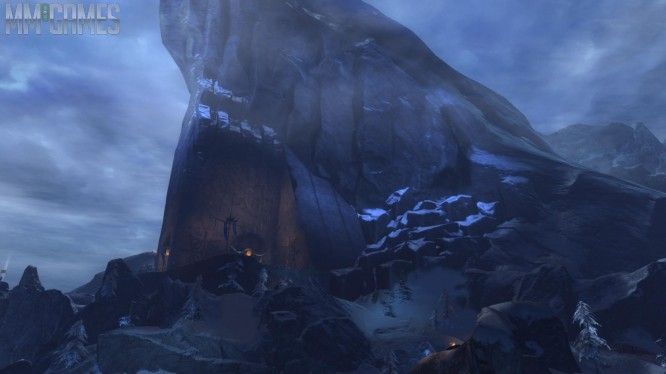 Even exploration, though still a simple task of entering a new zone and searching every corner of it, has been given a new sense of style and accomplishment via the use of multiple innovative features. 'Hearts', for example, replace traditional quest mechanics with something more free-flowing, allowing you to simply begin helping a Guild Wars 2 NPC with their qualm by entering the general vicinity and completing some or all of the tasks listed in your HUD. You'll never need to 'accept' or 'hand-in' another quest again.
'Vistas' are another exploration innovation; scattered throughout every zone, and usually requiring the completion of a jumping puzzle to access, these scenic viewpoints offer a gorgeous view of the surrounding environment, and another check off the completion list. Points of Interest, noted areas of awesome, also litter the zones, alongside Waypoints that allow you to fast travel, and Skill Point Challenges that allow you to further build your character. And to top it all off, completing a zone 100% provides a small chest of goodies and a sizeable chunk of experience. And it's all tracked and detailed on your map, so you'll always know exactly what you need to do.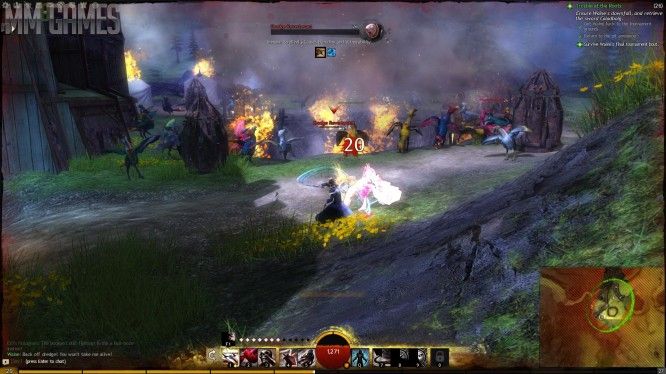 Grouping: Redefined
Though, perhaps the most enjoyable elements of any explorable zone are those that aren't tracked at all, instead appearing dynamically and seemingly at random – the events. First realised in Warhammer Online, these events, which are indicated both on your HUD with a list of objectives, and on your map as circled areas of interest, make up for some of the most enjoyable gameplay available.
Often times, NPCs are sent to nearby areas to inform other players of the event, so it doesn't take long before groups of players exceeding 50 appear in the area. These events scale in difficulty based on the number of players participating, so they're almost always a challenge, and the rewards offered upon completion exceed that of the hearts, so they're well worth your time.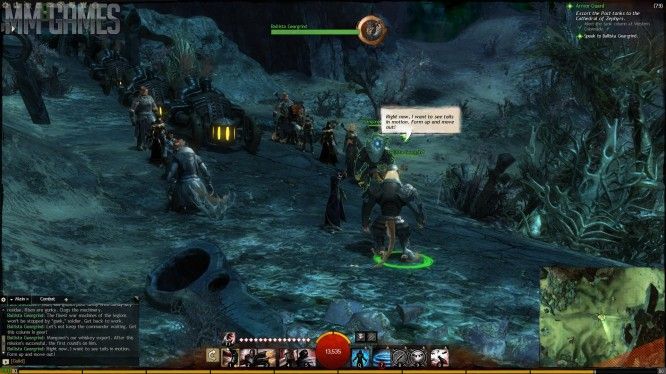 Post level 70, these events replace hearts in most areas entirely, and make up the bulk of PvE play. The Island of Orr, a large raid-style area with multiple zones, is where this system shows it's true colours. Among the more standardised 'defend' and 'protect' and 'attack' events are a number of world events represented by the current progress made in the battle to take control of Orr. These events appear everywhere, regularly, and though you may begin solo, it won't be long before you've 'joined a zerg' and are travelling from event to event, capturing control points across the land and making your way toward the island centre and the many, many world bosses that await.
And that's really just a small taste of the action. Orr is one of the few true innovations in Guild Wars 2, one seemingly designed to add new flavour the the endgame scenario like never before, and though it's still a little too early to tell, it's shaping up to be one of the best experiences in an MMORPG to date.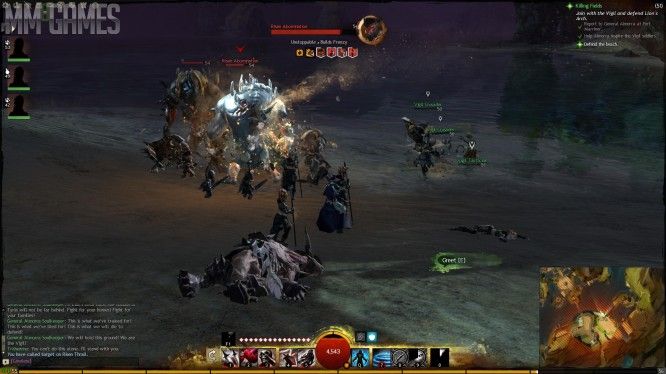 Keeping it Simple
Of course, you could be wondering: 'With so much going on, how can you possibly do it all?' And it's a good question, too. Fortunately, Guild Wars 2 has an answer. Unlike all other MMORPGs, levels in Guild Wars 2 scale to your environment. This works by using an additional variable than the traditional 'level', called and 'effective level', meaning that no matter where you go, your level will always be scaled to that of the area, and everything will always be a comfortable challenge.
This works both ways – in PvP for example, you'll always be level 80. And of course, if you want to go back to explore the level 1 -15 Human starting zone as a level 80 Sylvari, you'll be descaled to somewhere between that area, dependant on where you are in the zone. This feature, while awesome alone for the simple offering of constant replayability, doubles as one of the best 'I want to play with my friends, but they're all slow and useless' modes I've ever seen in an MMO to date. It doesn't matter if Dan and Tobs can't keep up with my awesome pace – I can go join them anytime I want, and we'll all be equally prepared for the challenges that await.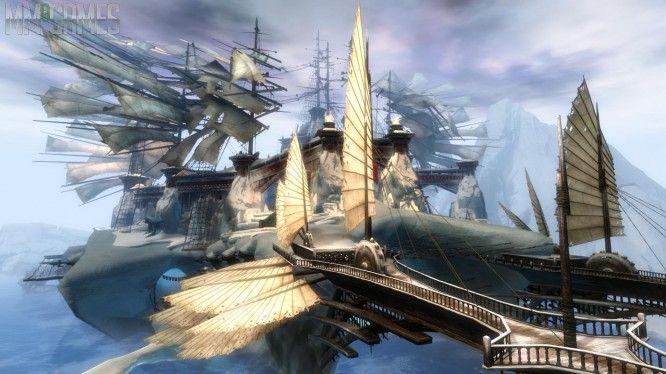 So Many Choices
The potentially darker side to the level scaling system is that, for the most part, there really isn't any levelling curve at all. Getting from level 20 to level 21 should, if you're in the appropriate area completing similar tasks, take you about the same time as getting from level 70 to level 71. In this way, your level is really only relevant to the type of gear you're able to equip, the areas you're able to safely wander, the dungeons you're able to complete and story missions you're able to enjoy. For all other purposes, you might as well be level 1000 for all the difference it'll make, and though I was at first quite adverse to the idea, it's a system I've come to love.
Speaking of dungeons, Guild Wars 2, yet again, blends the traditional with the awesome in its take on how dungeons should be enjoyed. Your first visit to one of the 8 dungeons currently available will be a story visit, designed to give your group an experience that ties in with the overarching Guild Wars 2 story. This mode will follow the traditional MMORPG dungeon mechanics to the letter with few exclusions.
Having completed the story mode and advanced a few more levels you'll be invited, by mail, to attempt the Exploration Mode. This mode is vastly more challenging that the Story Mode, and moreover, is completely different. It's a continuation of the story mode in a sense, allowing you to experience what takes place after the earlier events. Adding icing to the cake, there are group-based choices to be made that take you down one of up to 3 different paths, each much different to the other, effectively offering at least 4 completely unique runs for each dungeon. Rad? Rad.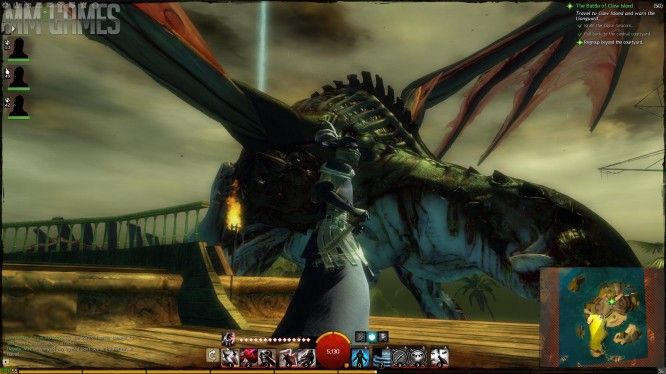 Getting to endgame
Elsewise, getting a character to level 80 in Guild Wars 2 is mostly a similar experience to the typical MMORPG template, though, for the most part, it's significantly faster, and can be completed in many, many different ways. Crafting, for example, is a fantastic way to level up, if you're willing to explore a bit and grind out the materials. Cooking especially can increase your level (regardless of what level that is) by about 11 full levels, simply by travelling to various locations around Tyria in search of the ingredients. The other crafting professions are significantly less easy to boost, and for the most part, offer a typical experience.
Upon your arrival at 80, you'll have even more choices available than before. You'll keep gaining experience for everything you do, though instead of increasing in level, you'll gain an additional skill point instead – handy, I hear, if you're interested in using the Mystic Forge to create new gear, which works by… well, it works in a lot of different ways, really, but in short, you put 4 items in and you get one back. It's sometimes better. But more on that in another review.
Having just reached 80, I can tell you one thing for sure: I'm only just beginning to play Guild Wars 2. PvP, WvWvW, Exploration, Orr and Raiding – hell, just doing every dungeon again and again for the new variations – there's a lot more to do, and no doubt a lot more I haven't even begun to discover yet. Which is exactly what I was looking for: a new MMORPG that doesn't simply end at endgame; one of the first since the days World of Warcraft and Age of Conan, so far as I'm concerned.
On the downside, it is launch week and there are a good chunk of issues afflicting the realm. For starters, the Trading Post (Auction House) is still down. It has been since launch, and it's creating a whole bunch of  issues where cash flow and economy are concerned. Though, potentially more disturbing are the bugs – both those that prevent the completion of events (of which there are many), and those that prevent the completion of the main story. So far, everyone I know has been stuck somewhere between level 70 and 80 on there story missions, and at the time of writing, are unable to continue. It's putting a damper on the mood really, and it's unfortunate that a simple Open Beta test could have cleared most of these issues right up.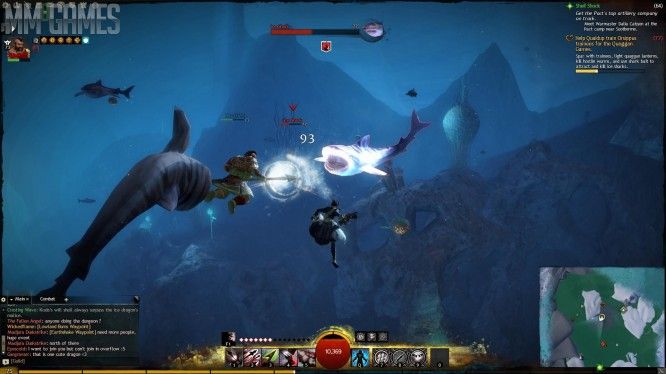 But, alas, it was not meant to be. Fortunately, these small, soon to be rectified issues bear no foreseeable long-term impact on the awesome that Guild Wars 2 is able to provide MMO enthusiasts, though, if you're still on the fence about a purchase, it might be better to wait a few weeks to let the dust settle.