Lands of Hope Redemption or LoHR is an massive 2D online browser-based fantasy RPG by Kongregate. The third game in the Lands of Hope franchise, it is unique in the fact that it can function as a standalone product that can be played without prior knowledge of the previous installments – unlike many other RPG franchises. LoHR takes place several thousand years before the events of Lands of Hope and Lands of Hope Phoenix Edition, in a world on the brink of a large turmoil. An unfortunate shipwreck leaves you stranded on a small sandy island, with only vague memories of your past and a bizarre chest half buried in the sand. As you explore the island you hear stories of a war to the east and your destiny is set in motion …
Lands of Hope Redemption Key Features
Classic RPG Fun – Explore fun PvE combat with over 100 combat powers and 40 general skills to choose from. At the start of the game you are free to choose one of our template classes or build your own class and be unique!
Turn Based Gameplay – Combat fought over an Isometric backdrop, allowing you to fight single foes or multiple foes at once in a turn based environment. Fight at your own speed!
Do What You Wish – Start out in an uncharted island and unlock new areas to explore. Pick your own path of progressing through the game. With hundreds of hours of gameplay content and thousands of items to Loot, steal, and craft, you'll never lack for things to do! You can play alone, or team up with others; the world is yours!
Crafting Fun – Harvest resources and craft powerful items. Combine items to make new, even more powerful items.
Old School RPG Fun – Explore a world with light hearted 2D graphics, reminiscent of classical console RPGs. Marvel at the sprite-based visuals, guaranteed to please classic RPG fans!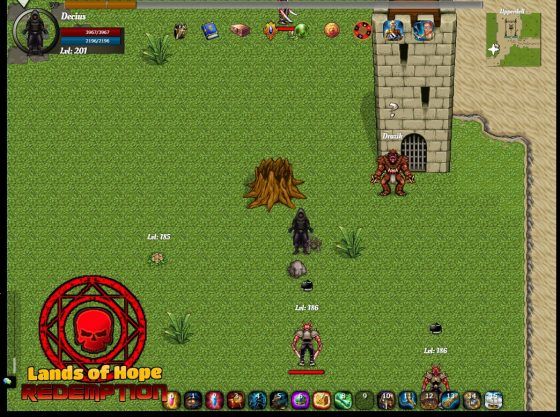 Related: 2D, Browser, Free to play, RPG, Steam
Read more about Lands of Hope Redemption
Unfortunately, there are no articles for this game... Yet.