The month of Halloween is upon us which means it is time for the MMO Halloween Event List to come out for another year. Below you'll find a list of all the Halloween events happening in the MMO/online gaming sphere. More will be added all the time leading up to Halloween so be sure to check back regularly.
ArcheAge Trick or Treat! Oct 24 – Nov 7
ArcheAge is introducing an exciting new event for players this year. It takes place on Mirage Isle where you can meet up with a special NPC to get the festivities started.
Atlas Reactor The Return of Holo-Haunt Oct 16 – Nov 6
Holo-Haunt is back once again with new skins for Quark, Juno, Meridian, Titus, and Rask. Plus there are bonus Holo-Haunt matrixes offered with every Loot Matrix Pack purchase throughout the event.
Black Desert Online Cookie Day Oct 11-24
Make event chocolate cookies and get some awesome rewards in return. This event isn't exactly Halloween themed, but we're including it anyway as right now it's the closest thing to Halloween BDO has announced. They're also running the fast season event which means that it is spring right now, Saturday it will be Summer, Sunday it will be Fall, and, you guessed it Winter will hit on Monday. This all happens the Oct. 11 to Oct. 15th.
Blade & Soul Blade & Ghoul Oct 17- Nov 7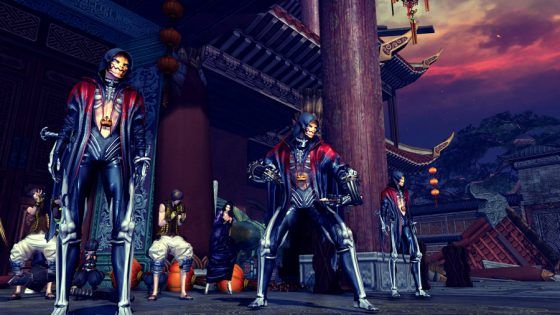 The veil to the Dark Realm is wavering and ghosts and ghouls are seeping into our realm. Which means that it is time to start fighting back these gruesome foes in return for some fun prizes. There will also be a 50% experience boost in effect during the event. Giving you even more incentive to take part. The enemies at Zaiwei Ruins are intended for players who are level 50 only. But, don't worry if you haven't reached 50 yet, you'll still be able to take part in daily quests, challenges, and take on bosses.
Bless Online Halloween Event Dates Unknown
Bless Online may not be launching until October 23rd, when it will be free to play, but that doesn't mean they aren't getting in on the Halloween event action right now. If you're already playing Bless Online you can take part in the Halloween Event which includes themed quests, costumes, and of course rewards. There are two events which together make up the larger Halloween festivities. The Jack-O' – Lantern event and the Witch Raven event.
Champions Online Bloodmoon Rises Oct 11 - ???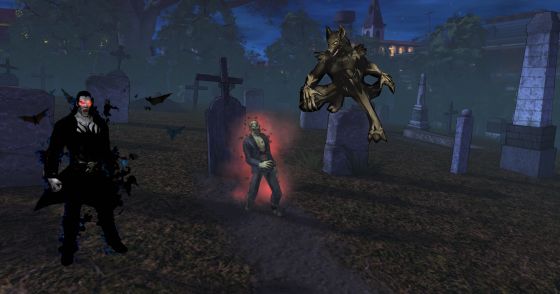 Champions Online is bringing back Bloodmoon Rises, their annual Halloween event. This year the event is the same as last year except with new rewards and items.
Closers Halloween Stage Oct 11 – Nov 12
A special Halloween Stage will be available for players to explore. Players can earn Small and Medium jack-o'-lanterns from the event stage to trade for consumables, costumes, and more. Elite players will be able to enter twice a day, but everyone else will be limited to once a day.
Conan Exiles Night of Lost Souls Halloween Only
For the first time ever Conan Exiles will be having a Halloween event. This event is totally unique on this list because it only lasts for one day. For Halloween day the skies will go dark and it will rain down stones filled with all sorts of items ranging from plant fiber to arrows. Inside the stone you'll also find the Potion of Lost Souls which will grant benefits at random. But drinking too many and your body will suffer.
Crossout Witch Hunt Oct 16 – Nov 1
Complete in-game tasks to get unique, festive decorations for your vehicles in Crossout. The first mission that offers Tricky Treats, the currency for decorations, is the Witch Hunt. Witch Hunt is a capture the flag type of game that will reward those who keep the garland the longest. There's also a PvP mission offering Tricky Treats for those who prefer a fight to the death.
DC Universe Online The Witching Hour Oct 1- 31
Throughout October DCUO players will be able to take part in the Midnight Masquerade seasonal alert which will bring them to Gotham City where Klarion the Witch Boy is up to no good once again. This year's event introduces 4 new feats for players to acquire. Plus, taking part in the seasonal events will earn you Spooky Bites which can be spent on all sorts of items.
Defiance 2050 Hulker Hell Oct 15 – Nov 5
Hulker Hell makes a return for the first time in the newly relaunched Defiance 2050. Keep an eye out for major and minor Hulker Hell arkfalls throughout the event. Get unique cosmetic rewards, as well as Halloween themed Prototypes, weapon skins, and more.
Destiny 2 Festival of the Lost Oct 16 - ???
Halloween has an all-new host this year in Destiny 2 since the fall of the City to the Red Legion. During the festival, players will be able to journey into the Haunted Forest where they'll have 15 minutes to shoot their way through an increasingly difficult infestation. You'll also be able to get your hands on cosmetic masks and the exclusive legendary Assault Rifle, Horror Story.
Dungeons and Dragons Online The Night Reveals Festival Oct 2 – Nov 4
Delera's Graveyard has been redesigned this year where you'll be able to battle evil ghosts, skeletons, wraiths, and more. Plus, there are holiday-themed variations of beloved in-game quests which can be unlocked by collecting candies and acquiring keys. Finishing the quests also will reward you with a resource to get spooky armors and magical gear.
Elder Scrolls Online Witch's Festival Oct 18 – Nov 1
The Elder Scrolls Online's Witch's Festival will have you turning yourself into an undead monster, enjoying a 100% XP buff, and grabbing up all sorts of ghoulish goodies. Plunder Skulls will drop from all Boss Monsters with a variety of themed loot. New this year they've also added Dremora Plunder Skulls which will drop from the first of each type of boss you defeat each day. Witch's Festival will also be your first chance to get Event Tickets. Get 10 Event Tickets and take them to The Impresario to get your first Indrik Feather for a very special mount. There will also be new items in the Crown Store for you to purchase, including the coveted Coven Cottage.
Everquest Nights of the Dead Oct 10 – Nov 6
Unlock Spooky Sally and Haunted Jack costumes in this year's Nights of the Dead event in Everquest. While you're at it there will be plenty of quests to take part in and you'll find themed helmets, plus oh so much more.
Everquest II Nights of the Dead Now – Nov 1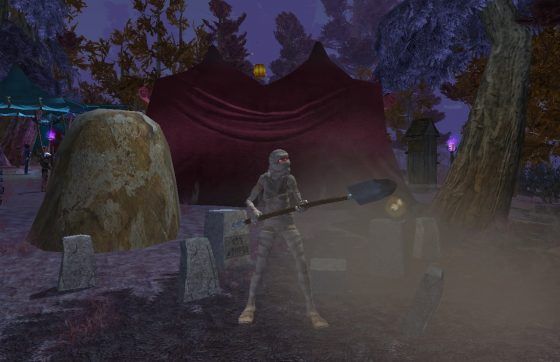 For the first time, players on Fallen Gate will get to join in the Nights of the Dead festivities in Everquest II. There's a new collection to tackle, new items for crafters, and new merchant items to grab. From the looks of it, the event won't have anything new to do this year though.
EVE Online Crimson Harvest Oct 23 – Nov 5
Just as EVE Vegas comes to an end the Crimson Harvest will begin. Here's what CCP says about this year's event. "The Crimson Harvest event returns with new sites, visuals and content! Run the gauntlet and engage in a new play experience to obtain a unique new material through mining or combat, then build your new Cerebral Accelerator! The new mineral is found buried under the surface of special asteroids, lying deep inside a mysterious nebula. It is being mined and fought over by Capsuleers and Blood Raiders, inspired by the prize of a unique Cerebral Accelerator. Experience gorgeous new atmospheric nebulae and get the Deathglow Hunters SKIN for the popular Astero, Gila, Machariel and Avatar hulls."
Final Fantasy XIV All Saints' Wake Oct 18 – Nov 1
The Continental Circus is back once again and this year there's a new masquerade for players to experience. Players who have reached level 15 and completed the quest "It's Probably Pirates" will be able to take part in the Adventurer's Guild Investigator's quest to take a deeper look into the happenings around the circus. In return for your help, you'll be able to get your hands on new minions and new items.
Guild Wars 2 Shadow of the Mad King Oct 16 – Nov 6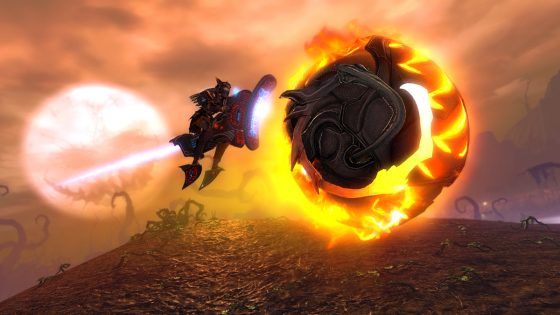 Halloween in Guild Wars 2 this year is going to be quite exciting! Along with the usual suspects, the Mad King's Labyrinth, the Clock Tower jumping puzzle, and the fun in Lion's Arch players have a few new things to look forward to. This year sees the return of the PvP Reaper's Rumble for the first time since the first Halloween event in GW2 back in 2012. Mad King's Raceway is an all-new addition that showcases the newest mount, the Roller Beetle. And there are three new weapons for you to get your hands on. Players who have completed Episode 3 of Season 4 will also be able to dive into the long-standing rivalry between Mad King Thorn and Palawa Joko in a new collection achievement.
Overwatch Halloween Terror 2018 Oct 9 – 31
Dr. Junkenstein's minions are back once again along with Junkenstein's Revenge (Classic) and Junkenstein's Revenge: Endless Night. Players will be able to pick from 10 playable heroes this year, including Tracer and Brigitte who are both new this year.
Paragon Chat (City of Heroes Emu) Halloween Oct 5- Oct 31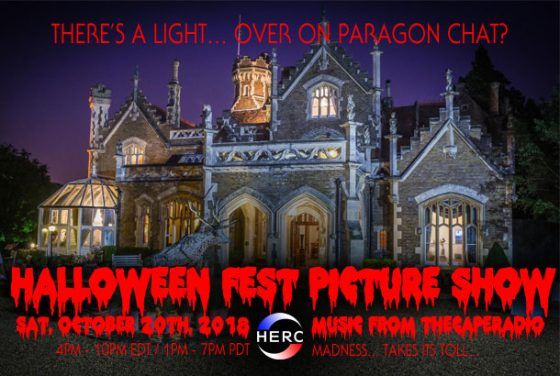 Paragon Chat may not be exactly what City of Heroes once was but that doesn't mean you can't have some fun! Go trick or treating with fellow players and head to the Halloween Party on October 20th. Head over to Croatoa between 12 and 6 PM Pacific, 3 PM to 9 PM Eastern for a game of hide and seek, Costumes, and games. For an extra jolt of nostalgia, music will be provided by The Cape.
Pirate 101 Halloween Items Ends Nov 4
When you're a pirate every day is Halloween…or at least you dress up every day. Pirate 101 isn't holding any event but you will be able to get your hands on a number of Halloween themed mounts including the brand new Cloudstrider mount.
Tera Harvest Festival Oct 2 – Nov 1
The Halloween Harvest Festival event in Tera is back once again. Head over to the Eldritch Academy where you'll be able to fight back waves of monsters with a cannon. You'll be rewarded with Halloween candy for your efforts which can be turned in for mounts, pets, costumes, and more.
Wizard 101 Halloween Items Ends Nov 4
Just like Pirate 101, Wizard 101 is breaking out the Halloween items in the form of seasonal packs. New this year is the Elven Nightmare Pack which includes things like the Hart of Darkness and Light Hart mounts, pets, Elven Nightmare weapons and armor, and more.