Elite: Dangerous is a complicated game with a steep learning curve. Two years after release and commanders admit they're still learning new things every day. With new players picking up the space simulator by Frontier Developments all the time, we want to cover some of the most useful and underappreciated Elite: Dangerous online resources.
Below we discuss some of the most helpful resources for the budding Elite commander, including online tools and community-run projects.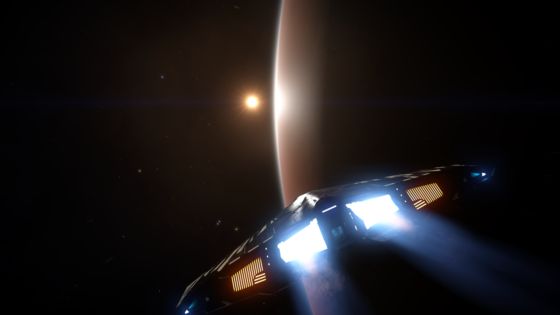 Elite: Dangerous Database
The EDDB (found at EDDB.io) is the quintessential collection of tools for Elite: Dangerous. It contains a full database of systems, stations, astral bodies and even a way to search for profitable trade routes.
As long as you know the name (or even partial name) of whatever you're searching for, EDDB can fill in the missing information. For example, if you need to locate a particular faction, you can enter the partial faction name to find its home system. This allows commanders to locate factions and work on gaining reputation or even try to counteract a faction's control over a system or area of space.
When it comes to trading, EDDB allows you to input a starting location and a distance you're willing to travel. It'll then recommend systems and commodities to trade in that area, making trading less intimidating for those just starting out.
Coriolis
One of the most complicated parts of Elite for a new commander is ship loadout. It's also arguably the most important part of the game. Coriolis is a ship building tool, allowing commanders to test out different modules on their ships. Ever wondered whether or not those guns would work in your current build? Coriolis is the tool for you.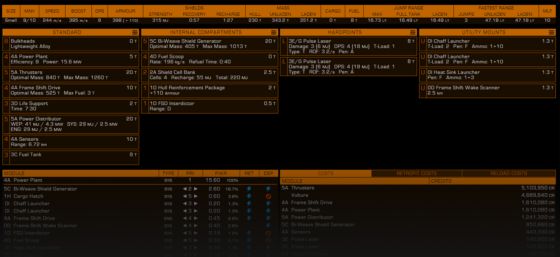 But deeper than that, for a new player it provides a resource showing all the current modules and their requirements. It can help make the decision on whether to upgrade your loaner Sidewinder or move on to bigger, better things.
Of course, it also serves as a fun tool for veteran Elite commanders who want to tweak their shiny new Imperial Cutter, squeezing as much damage out of her as possible.
Fuel Rats
While not technically a "tool" so much as an entire online community of space Samaritans, the Fuel Rats are arguably one of the most helpful resources players can make use of. The Fuel Rats is a community-run group of Elite: Dangerous players who help those in need. Almost every commander finds themselves out of fuel and without a fuel scoop at least once, out by a backwater planet. Lost. Alone.
The Fuel Rats, however, will come to your aid. All you have to do is go to their website and let them know you need rescue. Provide a few details and someone will come out to refuel you and get you back to safety.
This group of charitable players has even spawned several off-shoot groups of commanders who happily help out Fuel Rats on their missions. While it does come with risks -- some players want to do harm to Fuel Rats just for the sake of it -- players can apply to join and help out others, continuing to build this fantastic resource for the Elite community.
Thrudds Trading Tool
Another trading tool that can be incredibly helpful is known as "Thrudds Elite: Dangerous Tool." This website has a laser focus on trading specifically. Commanders can enter parameters such as distance from starting point, maximum distance of station to star, and maximum distance between systems on the route.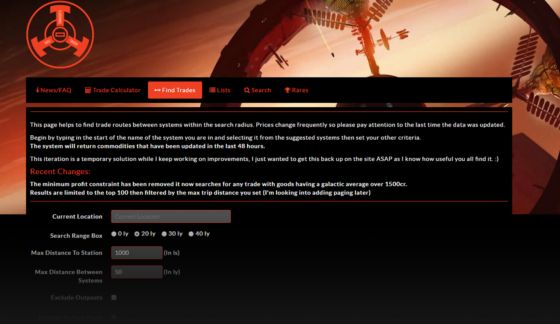 Using this tool, players can locate an ideal route to do regular trading. There's also a section dedicated to Rare Trading that will point you in the direction of the nearest and most profitable rare commodities. Rares are a great way for a trader to get started due to their high profitability. They're particularly great if you're flying a small ship or are willing to go to multiple locations to fill up your hold with different rare items. Thrudds allows you to pick out locations and map out your own route using them.
This is one resource I used a lot when starting out. Trading can be quite intimidating, despite how simple it is as a career choice in Elite. There are so many commodities, and whether or not you turn a profit will depend on the economy of nearby systems. Tools like this can take the edge off and get a commander started on their Elite career.
Elite Galaxy Online
Exploration is another career path for Elite: Dangerous commanders. Elite Galaxy Online contains system and planetary discoveries curated by the exploration community. Sometimes explorers have a hard time deciding where to go to continue discovering areas of the Milky Way in Elite. Elite Galaxy Online shows some of the most interesting discoveries, allowing explorers to take a break from trying to find new things and just appreciate some of the prettiest sights in the game.
One thing Elite: Dangerous attracts is a scientific mind. Players often band together to make new discoveries and crack mysteries in the game's lore. Elite Galaxy Online also allows commanders to submit interesting discoveries and share screenshots of their finds.
There are some incredibly beautiful and rare sights out there in our galaxy. With the help of this companion website commanders can go out and see them without having to spend hours trying to find them. So if you want to check out some black holes or systems with multiple stars in interesting formations, this site can help you out.
Inara
Inara, affectionately known as "The Elite: Dangerous companion," is perhaps the most comprehensive Elite: Dangerous online resource. It contains practically all the information any commander could possibly need on their journey across the galaxy. One of the most useful pieces of information found on Inara is the listing of Community Goals. It provides information of locations, requirements, and what stage the CG is currently at. As CGs are a fantastic way to make money in Elite, it's extremely useful to know where active CGs are as well as how far along they are. While this information is readily available in the game, it's great to be able to access it outside the game so you can plan ahead.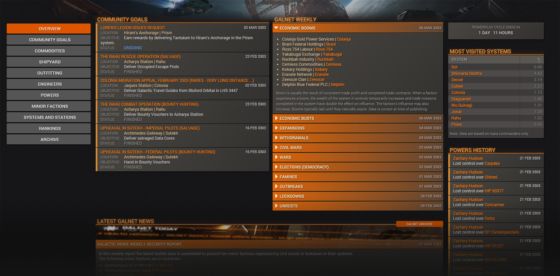 For the combat-minded commander, there's also information on ongoing civil wars and other types of conflict. Players can use this information to locate places to take part. This can drive up their faction standing and make money whilst also having the fun of PvE combat. It can also create some great PvP interactions for those who are interested and playing in Open Play.
There is also a CMDR's log section to allow players to create a detailed Elite: Dangerous profile. Some players use this to find other like-minded CMDRs to play with, which when you're just starting out can be incredibly useful.
Other Elite: Dangerous Resources
These are just a few of the everyday Elite: Dangerous online resources. Another tool that can help immensely with the vast amount of controls, particularly in combat, is Voice Attack. Players can issue voice commands through Voice Attack to do various actions in game. One of the best ways to use this is to quickly switch between power profiles -- changing from weapons focused to systems or engines etc -- making combat much smoother and allowing players to focus more on the actual shooting.
On top of that, there is a huge collection of voice packs available for Voice Attack, which add a bit of immersion to the gameplay with your ship's computer gaining its own life and responding to you. While a free version of Voice Attack is available, it only had limited commands available. To unlock the full version will cost a one-off fee, and the voice packs can be picked up for an additional cost.
EDDI is another plugin for Voice Attack but it uses information from Frontier's servers and even integrates with other online resources such as EDSM (Elite: Dangerous Star Map) to keep track of your travels throughout space.
Closing Thoughts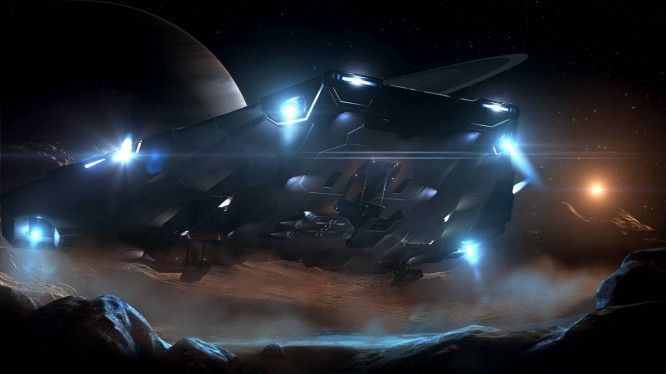 Elite: Dangerous can feel a little overwhelming, particularly when you're just getting started as a commander. However there are many tools and online resources at your disposal. With an incredibly positive and tight-knit community, it's no surprise that groups of commanders have banded together to form side communities that serve various purposes. Some seek to help others for no reason other than to be nice. Some provide a safe, fun PvE environment for large groups of players to play together. Others focus on out-of-game experience.
Whatever your preference, there is something out there for you in Elite: Dangerous. The same goes for Elite's online resources. With that in mind, what are some of your favorite resources for Elite: Dangerous that we haven't covered?