In a month that is rife with anniversary celebrations and events, fantasy martial arts MMO Blade & Soul is joining in and celebrating its 5th year. But while most MMOs are content with dishing out in-game treats and bonuses to celebrate, Blade & Soul is deciding to up the ante with a pretty epic real-world giveaway: a free Alienware PC setup and Karnox Legend Gaming Chair. Your move, other MMOs.
The celebration is a pretty raucous one, coming with an update that brings powerful new equipment in the form of a new Heart tier, new legendary PvP weapons and new costume designs courtesy of the 2020 cosmetic contest winners.
From now until 17th February players will be able to earn Festival Coins through login rewards, completing daily quests, and through daily and weekly challenges. These coins can be spent in the Dragon Express to purchase some handy items (including the competition winners' new costume and weapon) as well as Zaiwei Raffle Gems that may earn you some powerful items and item boosts.
During the same period players who enjoy raiding can also earn some bonus treasure and rewards, and monsters in the auto-hunting zone of Primeweald will also have a chance to drop Festival Coins. Players can also earn double Honing Oils when completing 3 and 5 daily challenges.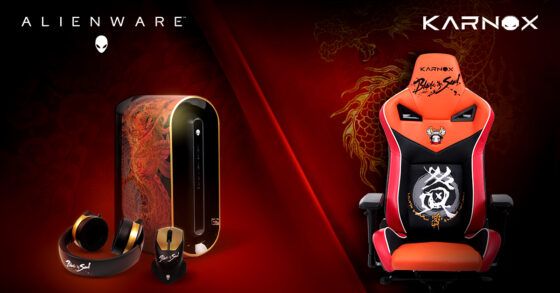 But who are we kidding, you just want to know how to get your hands on that sweet gaming setup, right? Well, in order to be in the running for the Blade & Soul Battle Station Sweepstakes, players need to register their NC account on the 5th Anniversary website. Then, by logging in each day between now and 27th January, players will increase their chances to win this treasure trove of Blade & Soul-themed kit:
Alienware Aurora R10 Ryzen Edition Desktop
Alienware 25" Gaming Monitor
Alienware Wireless/Wired Mouse
Alienware 7.1 Surround Sound Headset
Alienware Mechanical Keyboard
Karnox Legend Gaming Chair
A gargantuan giveaway if ever we've seen one. So if you're a Blade & Soul fan, make sure you login ASAP and reap the rewards of this massive anniversary celebration. But, if you don't win the main prize, at least you can enjoy the in-game bonuses. It's win-win!
MMOGames.com is committed to bringing you all the freshest, funniest, and most insightful MMO news. If you enjoyed this content, why not share it with your community? And make sure that you never miss our updates and exclusive giveaways by following and favouriting us on Instagram, Twitter, and Facebook.