Welcome to the 2021 edition of our Ultimate Gamers Christmas Gift List. An annual affair in which we scour the internet for the very finest gaming products to put under your Christmas Tree. We want our gift lists to be products you can trust, so we're not receiving any payment or affiliate pay-outs for promoting these items. Moreover, we review these gamer gifts in-house so we can give them the MMOGames seal of approval.
Now that's out the way, let's throw on some scarfs, roll a few snowballs, charge the controllers, and get shopping:
The EPOS H3 Hybrid Headset
One of the more recent products in EPOS' awesome gaming audio range, the H3 Hybrid is another example of truly precision engineering. It is a closed-acoustic, Bluetooth-enabled gaming headset that delivers top-of-the-range results in sound quality, microphone clarity, and aesthetic design.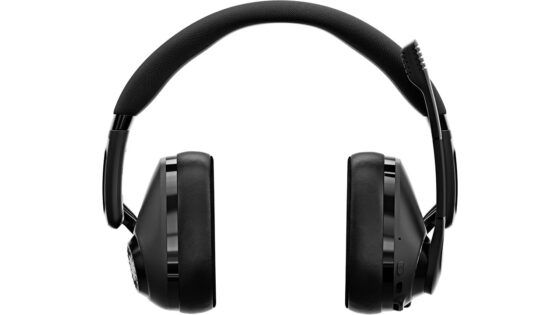 Once more, those auditory overlords at EPOS have created a comfortable headset that excels across every vertical. It works with EPOS Gaming Suite – a well put together software with simple setup and deep customisation functionality. We tried out the H3 across multiple games including New World wherein we felt truly transported to the mystical soundscapes of Aeternum. We can safely say that in addition to giving the game more atmosphere, they might have saved us from an ambush or two too.
Unlike some of EPOS' other gaming headsets, the H3 is very much designed to be multifunctional. It has a sleek black design with only minimal decals. It offers both wired and Bluetooth connections, and moreover, the boom arm is detachable – transforming an excellent gaming headset into a stylish set of headphones for day-to-day use. The H3 Hybrid is a fantastic multi-use headset for gaming, work, and leisure - we highly recommend it.
The H3 Hybrid is available at EPOS as well as many other stores. £149.99 (Approximately $199)
The Gioteck SC3 Wireless Pro Gamepad
This multiplatform controller is a brilliant purchase for a whole range of reasons. Firstly, it can be used with PS4, PC, and mobile. Secondly, it has that authentic controller fit – so many non-original console controllers just feel awkward or "not quite right" – the SC3 has that Goldilocks "just right" feeling. Thirdly, it comes at a very reasonable price-point, coming in just under the official price of a PS4 controller at time of writing. Those are three solid reasons to opt for an SC3, and that's before we've even started talking about the extensive customisation and rumble triggers.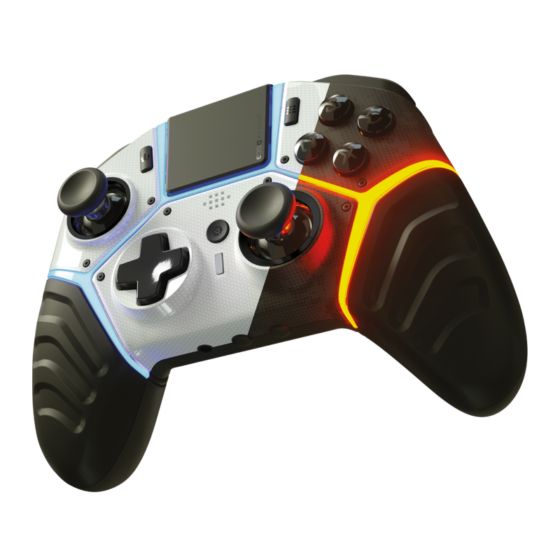 The SC3 takes controller customization to new levels. It offers three different heights of magnetic thumbstick – so if unlike us you don't receive that Goldilocks feeling straight away, fear not, help is at hand. Moreover, the gamepad has programmable LED strip lights zigzagging across the controller. These customisable lights work in tandem with customisable facias which can overlay various parts of the controller face. Players can opt for a light look, a dark look, or a mishmash of the two – thus allowing players to opt for a future tech aesthetic or a burning lava aesthetic when matched with the right LED schemes.
The Gioteck SC3 has other awesome features too: it has angled action buttons for smoother presses, extra programmable buttons on the back for gameplay customisation, easy-access volume buttons, and our favourite feature of them all – rumble triggers. Rumble triggers, for the uninitiated, are just that – the more you press them, the more they rumble. Sure, it's a gimmick, but it's bloody great one.
Available at Argos and many other stores. £59.99 (Approximately $80).
The Nacon Revolution X Pro Controller
If the SC3 was all about thrills, the Nacon Revolution X is all about precision. Designed for Xbox, this professional level controller is compatible with the Xbox Series X | S, the Xbox One, as well as Windows PCs.
Knowing Nacon, there will be flashy designs en route, but for now the Revolution X looks sleek, suave and compact. It has just one defining style feature that gives out a real impression of competence – a light ring surrounding the right joystick. This light, as well as many other features, can be customised extensively and precisely using Nacon's free companion software. Using this software, players can customise up to four profiles per controller, fine-tuning button sensitivity and responsiveness curves as per player preference.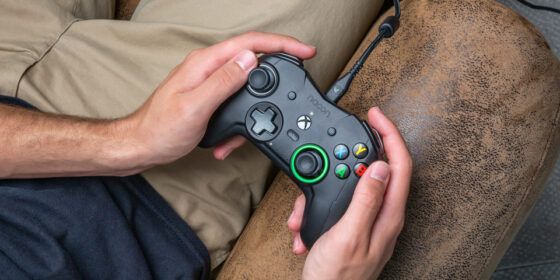 Let's talk accessories, of which the Revolution X is not lacking. It comes with a three-meter USB-C cable, a nifty hard storage case that is ideal for transportation, and the true pièce de résistance – a tiny case full of alternative parts that can be swapped in and out. These parts not only include joysticks that differ in size and shape, but physical weights that can be inserted into the handles of the controller – altering its feel until its perfect for the player. Be sure to keep hold of these even if you do like the original size, as the one and only problem we had while reviewing its sister controller for the PlayStation 4 was that the joysticks did come out of their sockets on occasion.
Nacon have succeeded in creating another example of gaming excellence. With the level of fine-tuning and optimisation the Revolution X offers, you'll really have no excuses other than your own skill level for failing to win every single game.
Available at Nacon Gaming as well as Argos, and many other stores. £89.99 - £99.10 (Approximately $120). We're also giving one away as one of many prizes in our ongoing Game Artist of the Year Competition.
The X Rocker Ocelot Gaming Desk
The X Rocker Ocelot is a beast of a gaming table. Built with solid steel, it feels as sturdy and strong as you'd ever need. Its cross-base design not only looks slick but feels reliable, the Ocelot boasts up to a 100KG load limit so you should have no concerns about leaving your flashy gaming rig on top of it.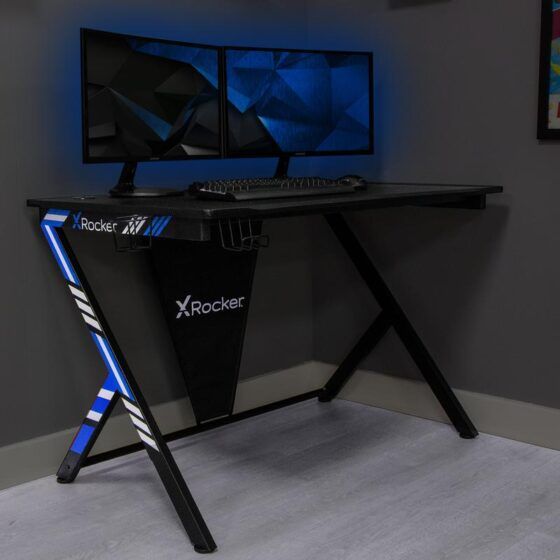 Setup is straightforward, as is any clean-up thanks to a black carbon fibre coating that's as easy to clean as it is easy on the eye. To keep it classy, we opted against applying the optional desk leg stickers – though for potential purchasers looking to get that "gamer feel", these are available – frankly we think the X Rocker Ocelot already has such a slick statement design that the extra stickers are unnecessary.
It comes with a variety of useful albeit expected features: an adjustable cup holder which sits under the surface of the table to avoid disaster spillages during intense sessions; a metal headset hook; and two "cable-tidy" holes in the back corners for keeping your wires under control. The last of which will prove very useful if you're like us and your gaming desks normally look like Spaghetti Junction.
Overall, the X Rocker Ocelot is a fantastic gaming desk free from unnecessary gimmicks, and one that really delivers in the two areas it counts: sturdiness and style. Currently on sale at Lost Universe (£99) and available at X Rocker as well as other stores. Up to £119 (Approximately $158).
The AndaSeat Mask 2 Gaming Desk
We have another gaming desk to recommend for those really looking to make their gaming setup the crème-de-la-crème. AndaSeat are well-known for constructing gaming chairs of the highest quality (see below). More recently they have been receiving similar acclaim for their high quality gaming desks; and the Mask 2 is certainly that. The super large 47-inch by 23-inch table-top is laminated carbon fibre and is supported by "cold rolled carbon steel" legs that can hold up to 330 pounds. Ergo, there's no need to worry about whether it can fit and hold your gaming rig; you could probably get a small elephant on this thing without a problem.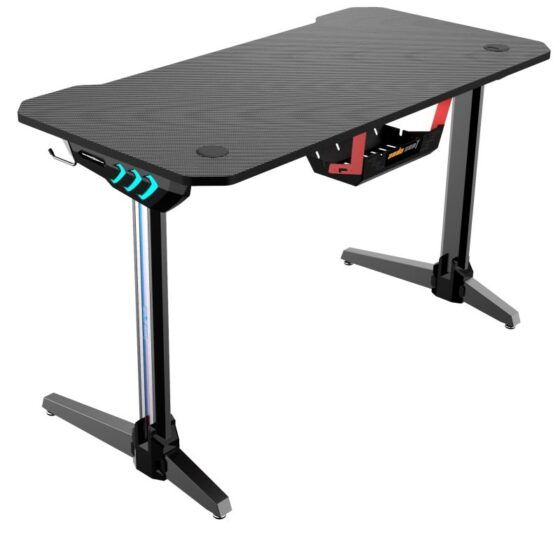 Now lets have a look at the features. It has an under-desk cup holder, headset holder, and a helpful (and sizeable) cable box to clear your table-top of clutter and wires. Moreover, it has a completely unnecessary albeit utterly glorious extra feature - LED lighting. From our keyboards to our mice to our mouse-mats to our speakers, us gamers love to stick LED lights everywhere for that future-tech ambient look. Well, now you can complete that Cyberpunk look with the Mask 2's badass lighting which (after a bit of fiddly construction) runs all the way up the legs. It can be set to pulsate or stay static in a wide array of colours. We tried this out and it's left our gaming rig look like something from the next century.
Do you need a premium gaming desk that illuminates in an array of colours? Probably not. But do you want one? You better your bottom dollar you do.
Available from Anda Seat and other retailers. RRP: £300 ($450) but regularly on sale via the official website for a third of that price.
The Cooler Master MM720
A legend reborn? No ultimate gaming gift list is complete without a mouse, and for this year's edition we've chosen the very reasonably priced Cooler Master MM720. It's an ultra-lightweight mouse that integrates honeycomb-shelling to cut down on excess weight in order to make it feel like an extension of the user. Despite its light weight, it feels durable enough to survive many a hardcore gaming session. Indeed, it boasts a range of up to 70 million clicks...that's a lot of headshots. The ultraweave cable matches the light weight and durability of the mouse itself.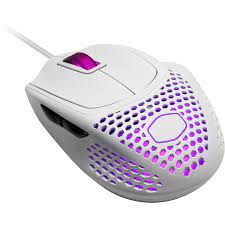 While the MM720 is pretty new to market, the design may look familiar to you. The MM720 is a remastering of an iconic grip claw shape seen in the Spawn and Xornet gaming mice, albeit with upgraded features, software, sensors, and switches - making it ripe and ready for the modern age. Coming in both matte and gloss versions in either black and pink or white and pink, the MM720's RGB lighting through its honeycomb holes and design really makes an impression.
It's a remarkably lightweight mouse, at a very reasonable price. Available at Studio and plenty of other stores. £50 ($67)
The 512 Audio Limelight Microphone
The 512 Audio Limelight will make sure you're listened to like never before. With smooth and rich broadcast-quality sounds, a low-frequency filter switch for cutting out muddy bass, a built-in pop shield, and a modern look that will transform your home into a recording studio, the 512 Limelight is a remarkable XLR microphone.
Unlike some of the more multi-purpose microphones that we've recommended in the past, the 512 Audio has been tailored for a single purpose, capturing the rich and smooth tones of speech. It has been designed around a focused hypercardioid pickup pattern - a very narrow field that cuts out ambient noise while maximising the clarity of close-ranged vocal frequencies. So whether you're launching your own streaming channel or setting up your own gaming podcast, it's a sure-fire winner that will keep your voice sounding crisp and your audience coming back for more.
Moreover, the simplicity of set-up deserves considerable praise. Inexperienced streamers can often feel overloaded with all the new tech they require and all of the corresponding companion software, whereas we found the 512 Audio Limelight to have a very simple setup, and had it working minutes after it was out of the box.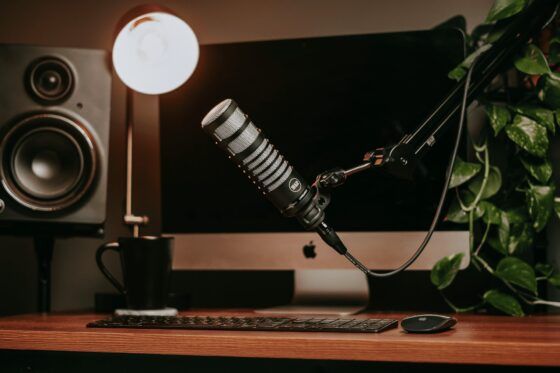 Pairing it with an optional boom arm accessory is the best way to make the most of its included awesome 360 degree swivel mount, it also comes with a nice carry bag for the streamer on the move. If you are looking for a multi-purpose microphone with a broad range, this might not be the best choice for you, but if you're buying a Christmas present for a gamer who likes to talk on stream, it's hard to imagine a better option.
Available from Amazon and other stores. £184 (Approximately $240)
The Trust GXT 241 Velica Microphone
We also have a second microphone we want to bring to your attention, because coming in at just £49.99 the Trust GXT 241 Velica is exceptional value for money. It may not be quite the piece of precision focused engineering as the 512 Limelight but it remains a great microphone at a very reasonable price.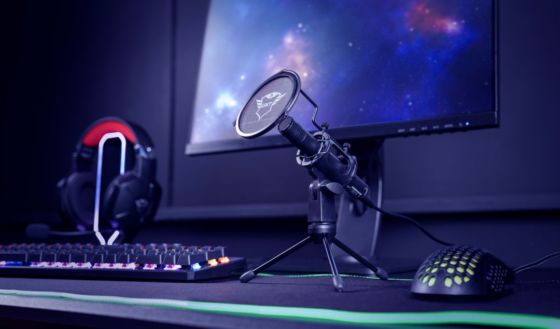 The Trust GXT 241 Velica is plug-and-play; it's as straight-forward to set up as you could ever ask for - simply plug in the USB and you're done. Moreover, it comes with its own tripod and pop-filter so you don't need to worry about purchasing any accessories. Whether you're a Twitch streamer, a podcaster, or even a musician, the Trust Velica is a solid choice for an entry level microphone with clear recording quality. It features a cardioid pickup pattern and a mute-microphone button at the back.
Unlike some other microphones at this price range, the main body of the microphone and the tripod are metal. Not only does this give the microphone a more professional look, but it feels sturdy and secure. To see the mic in action, check out Trust's product video.
Available from Argos, Amazon, and plenty of other stores! £49.99 ($66)
The AndaSeat Dark Demon Gaming Chair
Are you ready for ultimate comfort during your late-night gaming sessions? The AndaSeat Dark Demon Gaming Chair can offer you just that. Ergonomically designed with fully adjustable lumbar support, adjustable arm-rests, headrest pillow, lower-back pillow, and a recline tilt that takes it back to near horizontal (160 degrees) - you can essentially mould the chair around your own comfort preferences (no matter how fussy you are). Moreover, these features provide posture support to help avoid that "gamer slouch".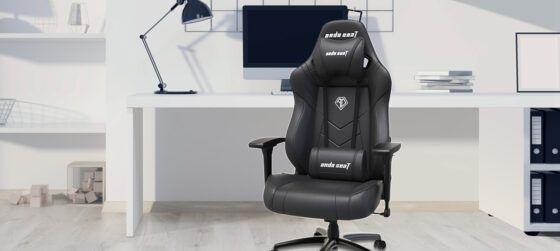 We're not totally sure why we'd need to recline 160 degrees, but we love that we're able to. And the varying degrees of recline up to there are perfect for enjoying different types of media (work, gaming, video, etc.). We love adjusting the Dark Demon slowly throughout a long evening of gaming to counteract any discomfort that builds from sitting in one position.
The Dark Demon is as sturdy as they come, it has a premium steel frame, solid armrests, and an aluminium base which uses nitrogen-powered hydraulics to adjust the height. The pillows are memory foam and react to heat and weight, and the chair's material is PVC cruelty-free artificial leather which is not only comfortable but very easy to clean.
There are plenty of reasons to love the Dark Demon gaming chair. Sure, it's insanely comfortable, but moreover it feels like you're doing your body a favour by sitting in it. With a black or a black and red version available, we get why they called it "Dark Demon", and boy is it a beast. Oh and it comes with a lifetime warranty. Once more, AndaSeat have proven why they're the best of the best when it comes to gaming chairs. We did tell you it was the Ultimate Christmas Gaming Gift List, after all.
Available from AndaSeat, Amazon, Argos, and other stores. £300 ($450) but regularly with significant discounts on AndaSeat's own website.
We might update this list if we hear of any more amazing Christmas gifts for gamers, so if you're looking for last minute Christmas present suggestions, do check back in!
MMOGames.com is committed to bringing you all the freshest, funniest, and most insightful MMO news. If you enjoyed this content, why not share it with your community? And make sure that you never miss our updates and exclusive giveaways by following and favouriting us on Instagram, Twitter, and Facebook.