Fresh off the back of the tenth anniversary of the Star Trek MMO, Star Trek Online, a second anniversary celebration is underway for the game's developers, Cryptic Studios. The sci-fi favourite is playing host to its 20th Season and, with it, a generous giveaway bundle to mark the 20th anniversary of Cryptic Studios, in the year 2020. It's almost as if it was planned...
Star Trek Online: House Divided is the title of the latest season, which delves into a Klingon-centric plot with some familiar characters and respective voice talent front the real-life show. Robert O'Reilly is a new voice for the STO roster, but fans will recognise him as the actor for Chancellor Gowron in The Next Generation and Deep Space Nine. Within the Star Trek MMO, O'Reilly will be playing Aakar, Gowron's ancestor, while J.G. Hertzler returns as Martok of Deep Space Nine fame. The fact that these voice actors are willing to reprise roles for this particular MMO certainly speaks volumes to its reputation.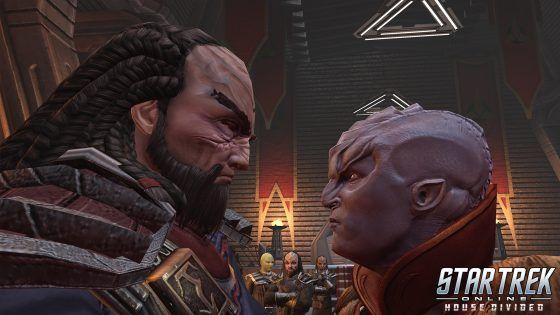 Within the update, the classic Klingon tutorial experience has been given a visual overhaul with new environments, cutscenes, voice over and more. There are new hair and face options for Klingon Captains and a few new models for familiar Klingon characters and ships.
Engaging in the month-long House Divided event or the two new available episodes will earn players a Red Angel Suit, a 5-person space TFO over the Klingon Penal Colony of Rura Penthe, along with a new Angel's Wake Lockbox which contains the Ba'ul ship as seen in the Star Trek: Discovery episode "The Sound of Thunder," and Ba'ul Obelisk from Season 2 of Discovery.
For all the info on Star Trek Online: House Divided check out the official website here.
However, that's not all as a free bundle to celebrate the studio's anniversary is available to all players of the Star Trek MMO who visit the Zen Store, under the Bundles tab in Mudd's Market. This includes:
Platinum Vanity Shield - a coloured overlay for the shield that protects your starship against energy-based attacks.

Platinum Tardigrade Pet - Summons a non-combatant Tardigrade pet that will follow the player around

Platinum Sniper Rifle - Discovery Era Rifle for Ground Combat

3x Specialisation Points or Tech Upgrades

New Title: Cryptonian
Cryptic Studios is a giant in the MMO genre - having helmed the illustrious Star Trek Online and Neverwinter MMOs which both hold a solid and loyal fanbase to this day. Founded in Silicon Valley in 2000, the studio's first title was 2004's City of Heroes - and most recently the studio has promised us a free-to-play Action-RPG based on the iconic strategy card game Magic: The Gathering entitled Magic: Legends. This impressive studio has proven that they can stand the test of time, so we are certainly looking forward to all that is in store and we wish them a huge congratulations for their 20th anniversary!
If you missed Part 1 of Cryptic Studios' anniversary update, click here.
MMOGames.com is committed to bringing you all the freshest, funniest, and most insightful MMO news. If you enjoyed this content, why not share it with your community? And make sure that you never miss our updates and exclusive giveaways by following and favouriting us on Instagram, Twitter, and Facebook.