DC Comics MMO DC Universe Online are dishing out a ton of freebies this week as they celebrate the DCUO 10th anniversary. With free in-game content worth over $50 up for grabs and a themed anniversary event to take part in, DCUO's decennial year is supposedly its biggest celebration to date. So it's time to party like a supervillain - because we know they party harder than those superhero squares.
Over the years, DCUO has welcomed over 27 million players, which is no wonder given that we live in an age of comic-book hysteria. It's now offering each and every one of them a treasure trove of freebies, including:
Free Character Advance to CR290

Gear suit with new Restored Shim'Tar Regalia

Paradox Gazer combat pet

Fireworks trinket and aura

2 new DCUO 10th anniversary emblems
Plus, as an extra gesture of gratitude, members are being offered the Member Appreciation Gift Box which includes:
The Anti-Matter Neon Chroma Pack

Enhanced Shim'Tar Regalia style

Nth Metal totalling 220,000 Artifact XP

1 Artifact Cache of your choosing

1 set of Artifact Catalysts

1 Nth Metal Detector

4 Seals of Preservation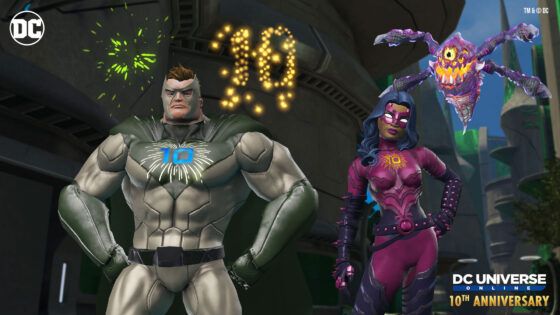 "I'm thrilled to be part of the team and celebrate this incredible milestone for DC Universe Online," said Jack Emmert, CEO of Dimensional Ink. "After reading DC comic books for 45 years, it's a dream come true to be able to play in DC's rich multiverse. I can't wait to see what the next ten years will bring!"
Don't forget, even superheroes deserve a swag bag every now and then, so make sure you sign in and reap the rewards of the DC Universe Online 10th anniversary as a thank you for your service.
MMOGames.com is committed to bringing you all the freshest, funniest, and most insightful MMO news. If you enjoyed this content, why not share it with your community? And make sure that you never miss our updates and exclusive giveaways by following and favouriting us on Instagram, Twitter, and Facebook.