Dungeons & Dragons Online - the MMORPG of the legendary tabletop game - is celebrating 15 years of existence with some stylish rewards and an anniversary event. While the event will be taking place until 23rd March, the DDO anniversary celebrations appear to be taking the year-long Runescape approach with its redeemable gifts, which will be available until 31st December. So feel free to take your time.
Two rewards await players in the DDO store using the code HAPPY15DDO, including a 15th Anniversary Token and an undeniably stylish Anniversary Cloak. The token, which is Bound to Account, can be used to select a named raid item from certain raids with the chosen item being Bound to Character. Players should also ensure that they redeem the token on the game world in which they wish to receive the item.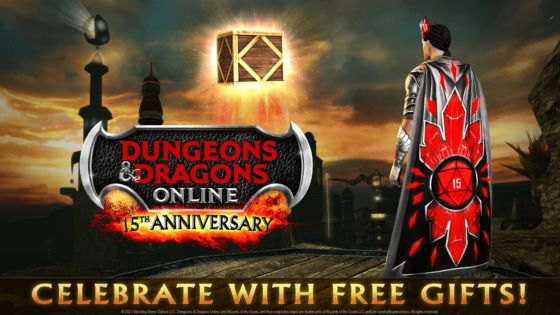 As for the cloak - the height of fashion for any serious adventurer - players can redeem theirs with the code above. The cloak is Bound to Account, so it will be available to every character created with the corresponding account. As is tradition for a DDO anniversary, the devs will also be welcoming challenges from players in House Phiarlan. Whether you wish to simply hang out or take them on, until 23rd March players can earn rewards with Tolero including a new Red Crystal Crown, a new Dretch Creature Companion, and the 13 Eberron House Cloaks given away in a prior anniversary.
All in all, it sounds like a wonderful birthday party. So head to DDO's official blog post for all of the details, and get to practising your cloak-swishing moves.
MMOGames.com is committed to bringing you all the freshest, funniest, and most insightful MMO news. If you enjoyed this content, why not share it with your community? And make sure that you never miss our updates and exclusive giveaways by following and favouriting us on Instagram, Twitter, and Facebook.