It's time to get ready for Christma- I mean, Starlight Celebration! With only 32 days to go until this year's event, I'm here to make sure you're fully prepared for the winter season. We'll be covering Starlight Celebration history, winter wear, event ideas, emote unlock and the most frosty screenshot location ideas!
I'm not going to lie, the reindeer antlers have been in my bag all year waiting for this moment to arrive again!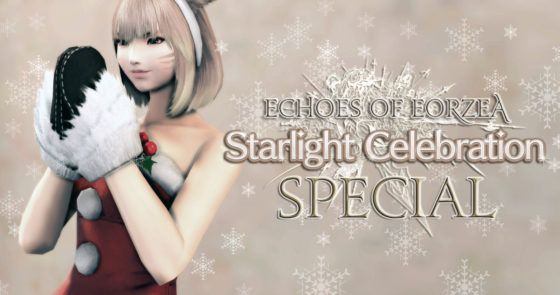 What is the Starlight Celebration?
Starlight Celebration is FFXIV's yearly Christmas seasonal event. Players may partake in a short non-repeatable questline that differs each year, obtain access to a repeatable quest and are rewarded with various cosmetic and housing items. The festive season runs from 18th-31st December yearly.
The history of the Starlight Celebration
In Short: In times past, long ago, the cold winter nights claimed the lives of many orphans. Although prohibited, Ishgardian soldiers took pity on the children, shrouding them in their red coats to disguise the fact that they were bringing them in from the bitter cold to feed and warm them. Having survived the winter, these orphans went on to show kindness in their later life, repeating the acts they once received. These deeds developed into the festival we know and love today and it is traditional during this season to wear scarlet apparel. The principal hero of the story just so happens to be a snowy-bearded captain now known to us as the "Saint of Nymeia".
"The Starlight Celebration is a time of generous gestures and festive fellowship, reminding us that even a customary courtesy can be a bounteous benevolence. It also reminds us of darker days in Eorzean history, which serve to make such deeds shine all the brighter.

Several generations ago, a sanguinary struggle claimed countless lives and left full as many orphans homeless and hungry. Taking pity upon their plight, a company of Ishgardian knights sought out these children each night, furnishing them with food and shelter within their barracks.

As doing so was positively prohibited, however, the knights had the children slip in while swathed in their scarlet jackets. Thus were they spared the worst of the cruel cold. These orphans survived the winter, and, later in life, they went on to convey the same kindness to others that they had once received. On the coldest week of the year, they took to sporting scarlet and passing out presents to the children of the realm. And over time, their deeds developed into the favored festival known as the Starlight Celebration."
Starlight Celebration 2013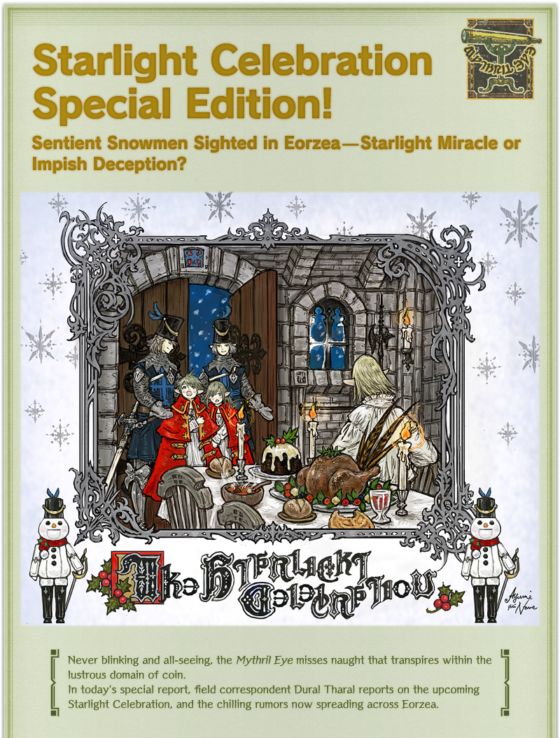 The Mythril Eye reports that, due to curious circumstances, the Adventurers guild has fallen into disarray and rumors have begun that the Starlight Celebrations may have to be rescheduled.
A group of troublemaking imps sought to melt the Starlight Celebration snowmen. To their surprise, however, the snowmen appeared to gain consciousness and flee into the wilderness. You must put a stop to the imps cruel deeds before the festivities are ruined.
Players receive Eternal Ice from completing the 'Stay Frosty' FATE, which can be used to purchase event items. The FATE is completed by getting knocked back by a treant, obtaining a 'snowman' buff, and defeating the imps (buff breaks their immunity).
Event Items


Main reward: Snowman/Reindeer/Dream attire.
Starlight Celebration 2014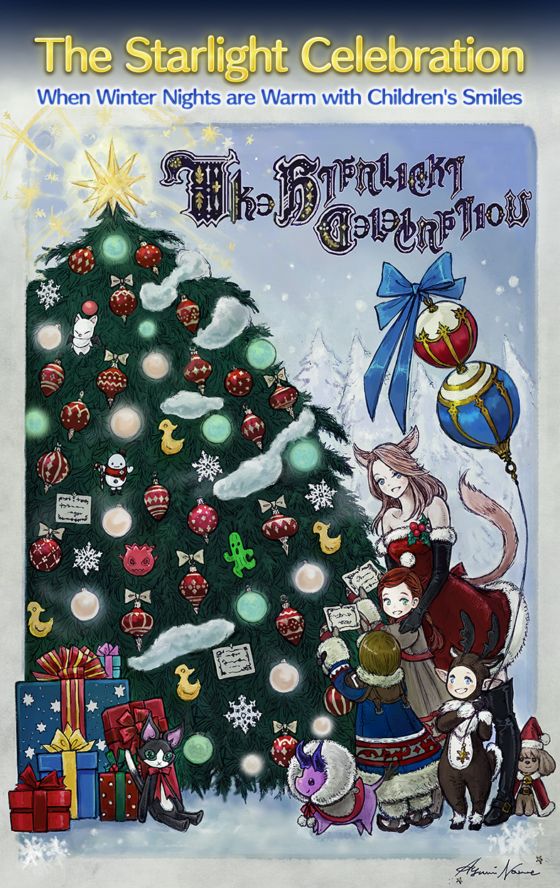 The Raven has sent a correspondent to ensure the event is a success. This year we are told of how the Starlight celebrant and her 'little helpers' have donned the appropriate scarlet apparel and are ready to give out gifts to any child who writes a letter to Nymeia, patron goddess of celestial wonders. The celebrant had hoped to have the children place their letters under the Starlight sentinel in each of the cities but unfortunately, the children couldn't recognize which of the trees was the correct one. With so few helpers the celebrant enlists our help to gather the messages scattered across the housing districts so that the children will be able to receive their gifts.
The player is required to equip the Starlight Attire, collect the note, exchange the note for a gift and then return the gift to 'the good little girl'.
Event Items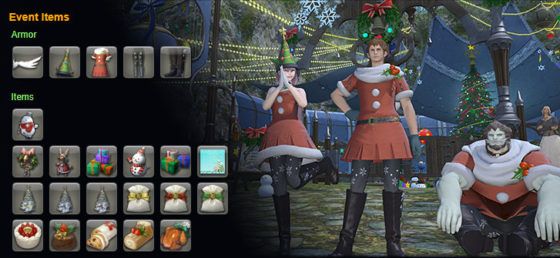 Main reward: Starlight attire.
Starlight Celebration 2015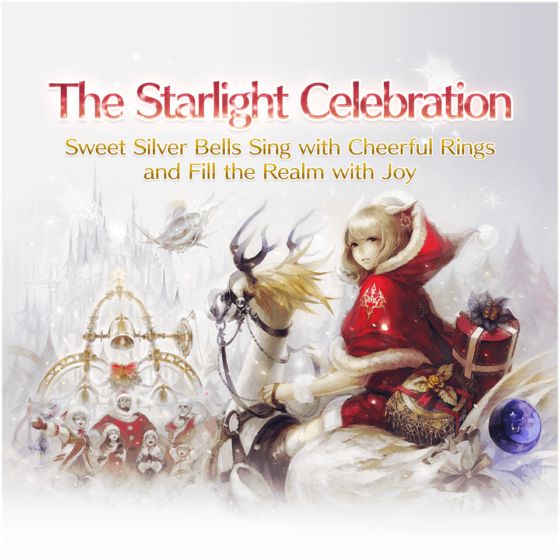 A reporter for the Harbor Herald wishes to do a piece on this year's Starlight Celebration and has been making inquiries, however, very little information is to be had. Eventually, you find someone willing to help, who informs you that there is a part of the Starlight Celebration less known:
"Afore the soldiers would set off to round up the younglings, they would always play a special melody on their signal bells. The sound o' them bells echoin' through the frigid night air was said to bring the biggest bloody smiles to them orphans─an' even a few hard-bitten veterans as well, I'd wager."
This year the Adventurer's Guild wishes to resurrect the aforementioned tradition. The signal bells have been obtained from the Temple Knights but nothing they could do would make the main bell chime. They are committed to having the bell ready for an opening ceremony with high-ranking officials yet their coffers are now empty. Should you succeed in fixing the bell, an interview with the Harbour Herald would be granted.
The player is sent to Ul'dah after obtaining a clapper which is then fitted to the bell, thus fixing it. Julyan Mandeville appears and asks about the bells tune whilst the organizer is fretting, claiming the melody is too simple for the ceremony. Julyan scolds him and reminds us that the happiness the melody brings to young and old is far more valuable than the prestige of the Adventurers Guild. The player then seeks out a composer to create a more festive but tasteful melody, fitting for the celebration.
Event Items

Main Reward: Reindeer antlers/gloves/boots.
Starlight Celebration 2016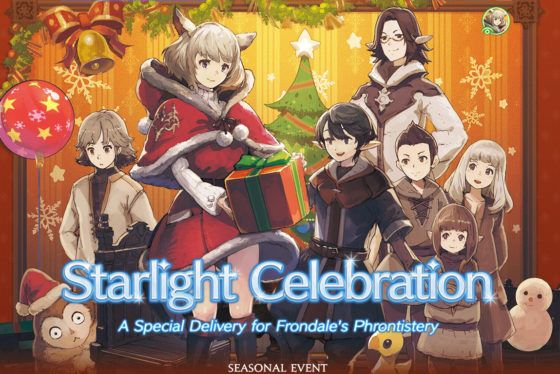 The director of Frondale's Ward for Friendless Foundlings expresses his utter despair, not knowing how to help one of the young children recover from a recent worsening of his illness. Your help is enlisted to gather information from other children, where you learn of a concealed envelope. The envelope is revealed to contain a note from the child's father, apologizing for the fact that he would not be able to visit the boy for Starlight as promised. You locate the father at the ferry docks and he explains that he cannot return as he is on the verge of procuring a rare herb to treat the boy's illness. Instead, he gives you a gift to pass on to his son. Once the boy understands that his father and those around him only have his health and happiness at heart, he is delighted with the gift and resolves to overcome his illness. The director is revealed to be Damielliot, who was once a patient of the institution and inherited the position following the death of his parents during the Calamity.
Event Items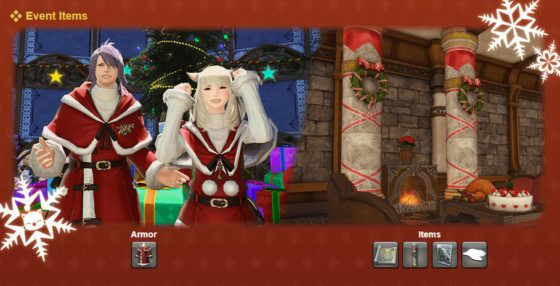 Main Reward: Starlight Robe.
That just about wraps it up for the history lesson, onto the all-important glamours!
Winter Wear
Mog Station
Looking both stylish and festive for the season in an MMO is sometimes a challenge, but don't fear because FFXIV has got you covered. Here's some of the gear sets available on the Mogstation (formerly available during previous events).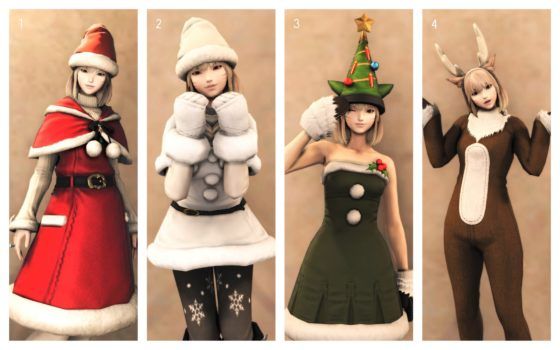 Starlight Robe (available December 2017) & Sweet Dream Cap.
Sweet Dream Cap, Sweet Dream Tunic, Starlight Tights & Starlight Boots.
Starlight Sugarloaf Hat, Starlight Tunic, Reindeer Gloves & Reindeer Hooves.
Reindeer Antler Headband, Reindeer Suit.
Winter in-game
If you don't have the real-life Gil to splash out on Mogstation items, don't worry, you can still look festive and wintery on a budget. Here's a few ideas for wrapping up with some gear of the more padded variety.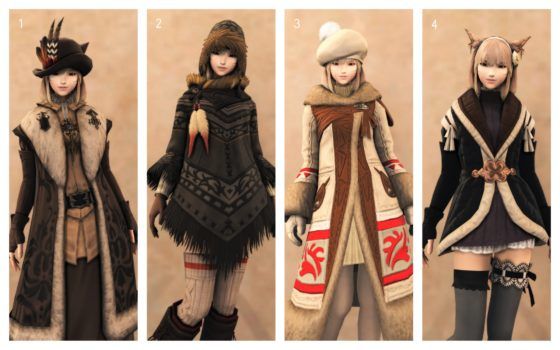 High House Cloche, Alpine Coat, Makai Moon Guides Fingerless Gloves, Spring Skirt & High House Boots.
Ramie Hood, Ramie Poncho, Augmented Scholar's Culottes, Expeditioners Moccasins.
White Beret, Glacial Coat, Mercenary's Mitts, Songbird Skirt/Hempen Bottoms.
Dried White Oldrose, Felt Gown, Makai Moon Guides Fingerless Gloves, Songbird Skirt, Songbird Boots.
Stock up on festive dyes. Keep in mind any environments you might wish to match to, whether it be the icy cold mountains of Coerthas or the warm winter fires of your cozy residence/inn.
The easiest dye vendor in the main world to get to is Unsynrael in Limsa Lominsa Lower Decks. Simply teleport straight to Limsa and then run down Hawker's Alley and she's on the left in the second building you run through. Also, if you happen to need a more specific dye, this route runs past several market boards. If you have an FC house/private residence with a Junkmonger then that's a slightly more straightforward purchasing option.
The normal dye vendors have a very wide selection of colors. Some of the winter favorites are Rust Red, Rolanberry Red, Opo-opo Brown, Nophica Green, Moss Green, Ink Blue and Ice Blue.
Event Ideas
I adore the Christmas events within games above all other seasonal events but in Final Fantasy XIV we really are spoiled. Not only do we have a new heart-warming mini-quest each year, but we can obtain a wide selection of beautiful and detailed seasonal gear, winter-themed decorations, minions, and even food to place on the tables. A couple of years back I ran a Christmas event for my FC and it really was a joy. We began the evening with a fancy dress competition, moved on to secret Santa (with a visit from Santa himself, who handed out the gifts!), then a screenshot competition and then finished the evening off with some festive Chocobo racing.
Secret Santa
The beauty of secret Santa is that it can work in small group sizes and everyone receives a gift.

Once you have a guaranteed list of who wants to take part, write the names of attendees in a list then write the list again next to it and pair people up, making sure to keep it jumbled up so that Mindy and Bert are not buying for each other. Don't forget to set a limit of 1 item and a maximum gil allowance. If someone can't make it on the night, they can mail the item beforehand. When the event begins, ask the players to hand the gifts to you, making note of who gets what. Then pass them over to Santa one by one so they can call out the lucky person to come and collect their gift.
Fancy Dress
Let your guests know your festive theme and any restrictions well in advance so they can plan out their attire with care for the all-important day (extra points for those dressing up in traditional scarlet Ishgardian cloaks). Ask your guests to vote for their favorites and announce the winners to tremendous rounds of applause. Make sure to screenshot everyone's outfits! It's a great incentive to offer up some prizes if you have the funds to do so.

Screenshot Competition
Give your guests 30 minutes to run off into the night and take their best festive screenshot. Have those that are submitting images send you the file over discord, then drop them into a new channel created during the event and have the rest of the guests vote using reactions.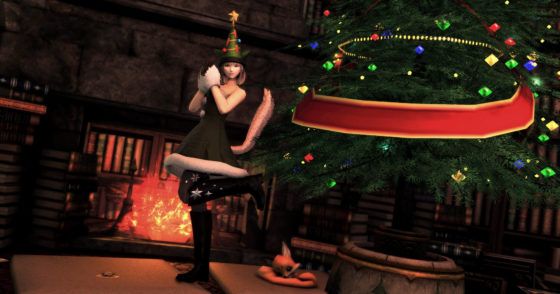 Festive Chocobo Racing
Nothing says Christmas like a Roe wearing only a Santa hat soaring across the finish line first, using dirty tactics to betray his closest friends. Show your friends/FC who's the best at Mario Kart (64, of course!).
The Samaritan
Dress up in red apparel, in recognition of the generous acts of those Ishgardian Knights. Purchase a selection of low-cost minions or prisms (set a gil limit) and travel the cities in search of Sproutlings (new players) and distribute the gifts to them. A random act of kindness goes a long way!
These are just some simple ideas but I'll be covering more in the following article!
Screenshot Locations
Coerthas Central Highlands:
Behemoth's Dominion


This is not the most picturesque location of the bunch but it sure is a useful location for stark, lonely, wintery shots or a makeshift whiteout background. If you park your character right on the edge of the cliff there's a natural curve in the landscape that provides a clean, white backdrop, weather permitting.
Boulder Downs


I find this area to be simply beautiful. Yes, there is the odd mob wandering about but they're few and far between. In this location, there is a beautiful river that meanders through the landscape as well as rocks, bushes with pretty contrasting purple flowers, along with sparse and dense forest. When it's snowing it can be even more atmospheric.
Observatorium
Igloos, snowmen, cozy inns with fires. What more could you wish for?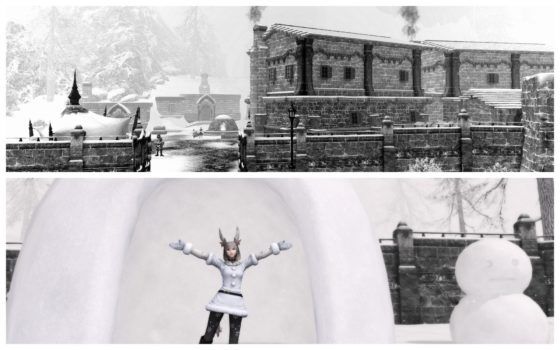 Other notable locations
Coerthas Western Highlands: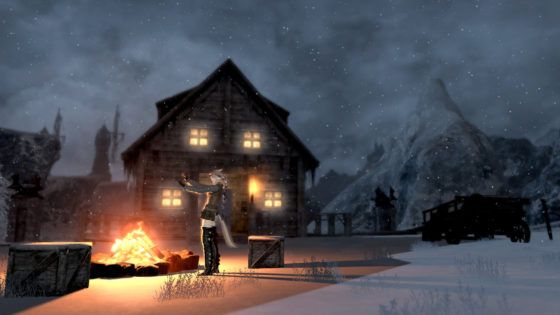 Oakum Landing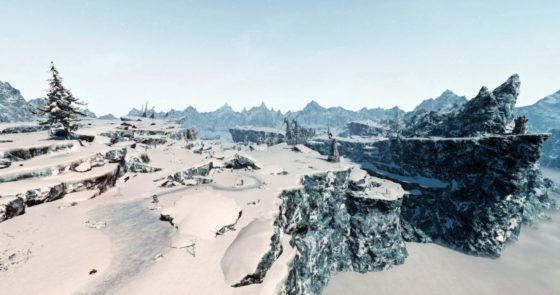 The weather in this zone changes the outlook like no other I've come across in-game. On a clear winters night you can see the stunning aurora borealis amongst the twinkling stars and in the daytime, the vista will open up to a vast landscape with crisp snowtopped mountains.
Switfrun River (X:20.6 Y: 28.7)
Greytail Falls (X:34.7 Y: 28.2)
Oakum Landing (X:36.9 Y: 10.1)
Gorgagne Mills (X:31.8 Y: 11.8)
The North Star (X:30.2Y: 6.3)
[caption id="attachment_143813" align="aligncenter" width="560"]

Ishgardian Inn Room - Ishgard.[/caption]
[caption id="attachment_143810" align="aligncenter" width="560"]

Down the hill from Camp Dragonhead - Coerthas.[/caption]
There are so many places that I could list, but also, part of the fun is finding your own locations and taking your friends along with you. Don't forget to check out the housing district Starlight Celebration displays (in both during the day and night).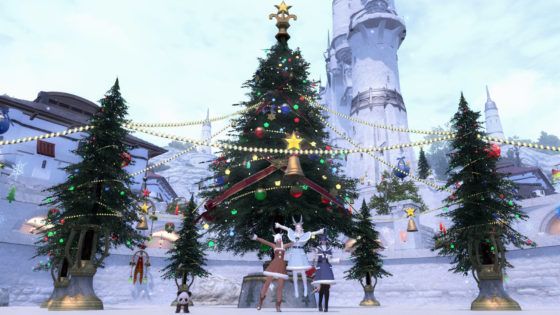 Music
Whether it's through your Orchestrion or YouTube, you can never go wrong with the Starlight Celebration Orchestration Roll playing in the background (unless you've heard it for 40 hours straight, then you are excused). As with the majority of Final Fantasy music, they capture something very special within the melody which is now very dear to me and reminds me of happy times within Eorzea. This is a must-have while decorating your personal/FC house or for festive screenshot-taking music.
The orchestration roll became available to players during the Starlight Celebration of 2016.
Eorzean Wishlist
Yes, this sounds like madness but a small digital gift can go a long way. I'm not the biggest fan of wish lists but it seems to be the norm these days. More often than not people would rather get you something you really want, even if they've never heard the term MMO or it's a game they've never heard of! The "Add to Amazon" extension in Chrome is great for this purpose, you can easily add anything on the Mogstation/SE Store to your wish list.
Winter Emote
On a final note, if you haven't already, don't forget to pick up the perfect winter emote 'Throw'. In normal conditions, your character will just make a throwing motion but when you're out and about in the snow they will throw snowballs!
Quest: Toss Fit Workout
NPC: Maucolyn - Coerthas Central Highlands (X: 24.9 Y: 27.7).

Now I shall go back to drinking my tea (I highly recommend Pickwick Winter Glow) and worry about how to supply power to the obscene amount of fairy lights I seem to have acquired this year. I have to admit, I ran a bit low on Christmas spirit at the early stages of this article and caved, unpacking my 30 pack of LED snowflake bell lights.
I wish you very happy Starlight Celebration preparations, I really hope something here can be of use!
Thank you for reading and for all the wonderful support! If you have any questions or comments, please don't hesitate to get in contact either through here or Twitter.