The importance of giving voice to the underrepresented in the gaming industry is becoming ever more crucial as days go by. Given the ongoing events concerning industry giants (a list that may yet grow), initiatives like MSI Presents #WomenInGaming feel particularly well-timed and more justified than ever. So we figured a Feelgood Friday of just such an event is the tonic we need.
Hardware brand MSI last campaigned for women during International Women's Day 2021. This is what spurred the company on to create the brand new six-episode show MSI Presents #WomenInGaming. The online, Twitch-based series features some of the leading women in the gaming and tech world sharing their experiences and advice on life in the industry. And in the process, it hopes to inspire others who wish to access the industry themselves, all through conversation and live Q&A in the Twitch chat.
According to statistics from UKIE's player diversity and demographics 2020, "50% of all women in the UK play games, and of which only 28% are acknowledged as gamers or represented in the gaming industry."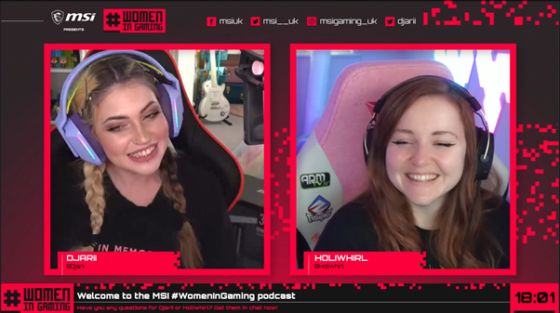 MSI Presents #WomenInGaming therefore aims to give a platform for women in the gaming industry to discuss a variety of topics including difficulties and issues women have faced over the years. Each episode is hosted by MSI's partnered streamer and Twitch Ambassador Djarii, and features a special guest from the industry imparting advice to people who wish to follow their example.
Two episodes of the series have streamed already, featuring Holiwhirl and BlueEyed_Beth. During Holiwhirl's appearance, the two covered topics that included internet bullying and sexism in the community, proving that the show can be a useful place to chat for those who may be going through similar experiences.
Each were streamed via Djarii's Twitch channel, though to keep up to speed on upcoming episodes we'd recommend giving MSI a follow over on Twitter.
MMOGames.com is committed to bringing you all the freshest, funniest, and most insightful MMO news. If you enjoyed this content, why not share it with your community? And make sure that you never miss our updates and exclusive giveaways by following and favouriting us on Instagram, Twitter, and Facebook.