A while ago Final Fantasy XIV's humongous Patch 5.5 landed. Or, at least, the first part did. Now, over a month later, Patch 5.55 is here to round it off with updates to the questlines that started with Patch 5.5. The update and its release date were announced during Saturday's Letter from the Producer livestream. And along with it came the announcement of some cooler-than-cool collaborations with Fender and Citizen Watch.
First up, there are still some loose ends to tie up before the highly-anticipated release of the Endwalker expansion on 23rd November. Patch 5.5 goes about expanding on current quest lines, including:
Main Scenario Part II - Expect big things for the second part of the grand finale.

YoRHa: Dark Apocalypse - An additional story has been added to the crossover quest.

Save the Queen Questline Update - Including a new field area, 'Zadnor', an increased resistance cap of 25, final enhancement of resistance weapons and new large-scale battle content Dalriada for up to 48 players.
Final Fantasy XIV Stratocaster and Watch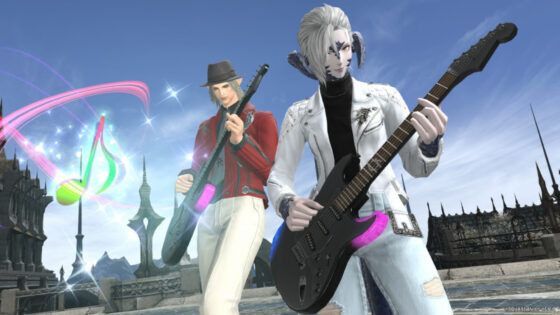 Square Enix is doubling down on its sky-high cool-factor, as they've gone ahead and struck up a collaboration with godlike guitar brand, Fender. A limited run of FFXIV-themed Stratocaster guitars have been created for use IRL, fulfilling the dreams of every guitar-playing Final Fantasy fan. Dubbed the Final Fantasy XIV Stratocaster, Fender will begin to take pre-orders in the Americas, EMEA and Australia in late 2021 with a view to ship in early 2022.
However, if you're neither a guitar player nor a rich person, then never fear. The collaboration also extends to in-game renditions of the Final Fantasy XIV Stratocaster guitar in the form of performance actions, so you needn't worry if you can't shred in real life. However, if you're more concerned about image, then players can instead decorate with the Magitek Electric Guitar indoor furnishing, available for purchase from the Manderville Gold Saucer.
Speaking of image-consciousness, a second collaboration with watch brand Citizen has birthed two sleek FFXIV-themed watches. The two models, named Light and Darkness, are inspired by a crystal of light and the Warriors of Darkness, respectively. Both have simple and classic designs and are available for pre-order from the Square Enix store from today until 30th June 15:59 BST. A more subtle way to wear your love for the franchise on - or underneath - your sleeve.
Finally, a huge collection of new and digitized artwork from the various FFXIV expansions have been released. So if you fancy an eye-full of the characteristically stunning works of game art including illustrations of characters, environments, equipment, and more, then head over to the Square Enix Manga and Book store to order some art therapy.
MMOGames.com is committed to bringing you all the freshest, funniest, and most insightful MMO news. If you enjoyed this content, why not share it with your community? And make sure that you never miss our updates and exclusive giveaways by following and favouriting us on Instagram, Twitter, and Facebook.