It's not easy being popular. The current atmosphere surrounding FFXIV seems to comprise nothing but love. But with great power comes great responsibility, and Naoki Yoshida and his team have now found themselves suddenly responsible for vast swathes of brand new fans. And the FFXIV servers are suffering.
Needless to say, long-time players and newbies alike have been spitting nails over the increased traffic and its consequences. But Yoshida is here with an earnest attempt to alleviate some tension alongside a heartfelt apology.
Lots of New FFXIV Players
In a letter addressing the players and their concerns, Yoshida acknowledges that the unprecedented surge in popularity has led FFXIV to experience some discouraging congestion problems. Across the world, people are flocking in their droves to get a taste of what Square Enix has been offering. This, of course, has led to some issues with logging in.
Raising Login Caps for FFXIV Servers
With all World servers maintaining a login cap, it stands to reason that one solution would be to raise them. Luckily for the NA data centres, a recent model upgrade has allowed them to do just that. Now, 18,000 extra players can be logged in simultaneously on the NA servers. A matching upgrade for EU data centres is also in the pipeline.
However, so numerous are the hungry denizens that last weekend still saw the NA World servers experience six to seven hours at maximum login capacity.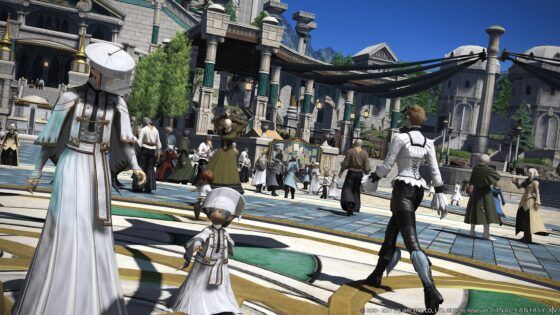 Character Creation & Login Wait Times
In this section of the letter, Yoshida humbly requests that the current player base help give way to newer players, by logging out when idle so that new players can create characters. Whether FFXIV vets will take kindly to this remains to be seen.
He also mentions that login queues are necessary to avoid overloading the FFXIV servers. However, they are also exclusive to paying customers - as anyone attempting to log in to a congested server through the free trial version of FFXIV will have to wait until the server frees up.
Automatic Logout
Patch 5.58 will introduce this new feature ahead of the anticipated login surge with the release of Endwalker. The new feature will log anyone out who has been idle for an extended period of time, to help ensure the players chomping at the bit in the queue can have their turn.
New Worlds & Data Centres
Obviously, the best way to deal with congestion is to offer more space. And while new data centres are on the horizon (including a new Oceania data centre) - the current climate has thrown a spanner in the works. With the recent semiconductor shortage, the delivery of new FFXIV servers has been hit with huge delays. And this is in spite of Square Enix offering up more than the market value.
Coupled with the travel restrictions slowing down the work of the server infrastructure team, there's still a few unavoidable obstacles to overcome before we can expect to see more data centres. You can read up on all the info surrounding the congestion problems in the original letter. And while waiting in line to play a game that you've paid for is unquestionably frustrating, Yoshida's sincerity and humble acceptance of all blame should certainly go some way to keeping fans onboard.
MMOGames.com is committed to bringing you all the freshest, funniest, and most insightful MMO news. If you enjoyed this content, why not share it with your community? And make sure that you never miss our updates and exclusive giveaways by following and favouriting us on Instagram, Twitter, and Facebook.