A mountain of updates have just been announced with the Final Fantasy XIV: Shadowbringers Patch 5.5. It's so large, in fact, that it is set to be split into two with part one scheduled for release on 13th April. The announcement has come as SQUARE ENIX also reveal their 22 million registered players milestone. Because as we know with SE, it's go big, or go Omega.
The patch details are particularly extensive, so here's a summary of what to expect:
New Main Scenario Quests - Scions must unveil the Fandaniel and Telophoroi plot to bring about the Final Days as ominous towers emerge across the realm.

New Alliance Raid: The Tower at Paradigm's Breach - The third chapter in the NieR-inspired YoRHA: Dark Apocalypse raid series.

Sorrow of Werlyt Questline Finale - The fate of Werlyt hangs in the balance as the VIIth Legion's apocalyptic Diamond Weapon descends.

New Trial: The Cloud Deck - Face off against the Diamond Weapon in either Normal or Extreme difficulties.

New Dungeon: Paglth'an - A new story dungeon to be tackled alongside fellow adventurers or a party of NPCs via Trust System compatibility.

Save The Queen Questline Update - Featuring a new field area, Zadnor, an increased resistance rank cap, final enhancement of resistance weapons and more.

New Unreal Trial - Leviathan has re-emerged from A Realm Reborn to face-off against level 80 players, bringing a bigger challenge and greater rewards.

Crafter Updates - New content for high-level crafters bring special achievements and unique crafting tools.

Ishgard Restoration Update - Obtain rewards by participating in gatherer and crafter-focussed events during a ceremony celebrating a new age dawning in Ishgard.

Explorer Mode Update - Explorer Mode will now include level 70 dungeons and players can now use performance actions when inside dungeons.

Performance Action Update - A brand new instrument will be added.

Job Adjustments for PvE and PvP Actions, New Custom Deliveries, New Mounts and more.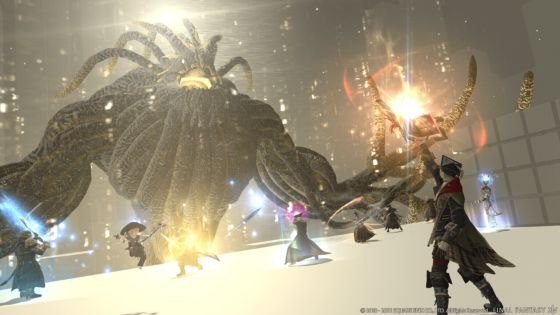 Plus - Producer and Director Naoki Yoshida revealed that the PlayStation 5 version of FFXIV will launch into open beta alongside the patch. Users with a PlayStation 4 license registered to their account can upgrade at no extra cost while new players can dive into the free Trial version.
Finally - details on the FFXIV Digital Fan Festival on 15th - 16th May have emerged - with a keynote featuring Endwalker information, a developer panel and piano concert scheduled for 15th May and a 'Letter from the Producer LIVE' and concert from THE PRIMALS set for 16th. For more details on the upcoming fan festival, check out the official website.
MMOGames.com is committed to bringing you all the freshest, funniest, and most insightful MMO news. If you enjoyed this content, why not share it with your community? And make sure that you never miss our updates and exclusive giveaways by following and favouriting us on Instagram, Twitter, and Facebook.