Merry Christmas MMO fans!
Like some kind of MMO gaming advent calendar, this week (and, for that matter, the whole year) has been chock-full of goodies - but now it's time for the pièce de résistance.
The Prize: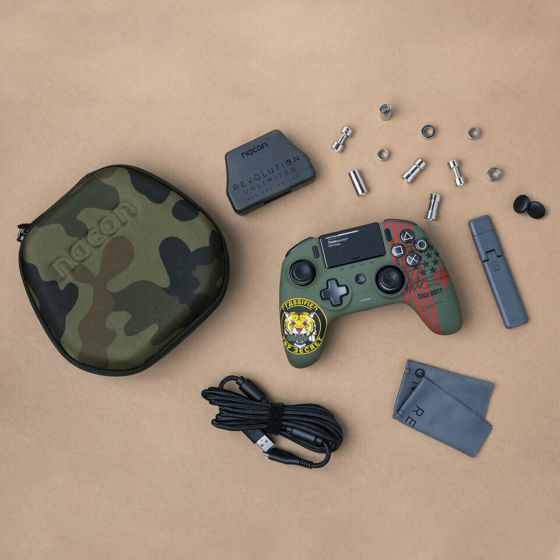 We've managed to get our mitts on this beauty: The Nacon Revolution Unlimited Pro PS4 Controller (Call of Duty Edition), worth £162 (€179.90 / $220), and in the spirit of the season we're going to give it out to one lucky reader for absolutely free. The details of this world-class professional PS4 controller are probably best laid out in our Christmas wishlist article from last week:
"GamesRadar called this controller "The Perfect Choice as the Pro PS4 Controller" and it's easy to see why. The German-engineered Revolution Unlimited Pro is, quite frankly, a beast. And we mean that in the best sense of the word. Having trialled one on Spellbreak, Fall Guys, and Bless Unleashed, we can safely say that this is the finest console controller that we've ever played with.
As seen in the picture, the controller comes in a combat-camo hardcover carry case alongside all manner of other goodies, including: a USB to activate wireless mode, stickers, replacement joysticks and shafts in different sizes, as well as a selection of weights that can be easily swapped into the controller until it reaches that "just-right" Goldilocks sensation.
Yet these are only the beginning of the customization options offered by Nacon, the companion software provides extensive sensitivity and personalization options. And did we mention the plethora of additional metal buttons on the undersides of the controller, its Bluetooth readiness, or the customizable light-settings on the right analogue stick?"
How to Enter (in 30 seconds or less)
As it's Christmas day, we thought it would be the best time to run our biggest competition of the year. So if you want to be in with a chance of having this stylish bit of kit sent out to you, then here's how to enter via Twitter and Facebook:
Choose one of the articles or reviews from our site and share the link on Twitter or Facebook along with the hashtag #ILoveMMOGames. (Top tip: sharing a quote from the article or including your own thoughts will make you stand out).

Be sure to tag us in your post otherwise we might miss your entry!

Hang tight and cross your fingers, we'll pick a lucky winner around 10 days from today and announce it via our social media channels.
"Some might say that to turn these games into MMOs would be to undermine their premise – but we're an MMO site, so to us – it's perfecting them." #ILoveMMOGames @MMOGames https://t.co/3DZVFPbIlX

— MMOGames (@MMOGames) December 24, 2020
And to enter via Instagram:
Make sure you're following our Instagram account.

Find our competition post and share it to your story (by clicking the paper aeroplane icon) - and make sure to tag our page and include the hashtag #ILoveMMOGames.

Hang tight and cross your fingers, we'll pick a lucky winner around 10 days from today and announce it via our social media channels.
Why not triple your chances of winning by entering on Instagram, Twitter, and Facebook?
It's safe to say that this is probably our best giveaway yet, but there's more where that came from. As we enter 2021 we're looking forward to bigger and better things for mmogames.com, with even more MMO-related giveaways, reviews, articles and news and we can't wait to have you along for the ride.
So make sure you don't be a stranger - follow our channels to stay in the loop and we'll bring you all the MMO-related goodness you need to get you through 2021. Merry Christmas!
MMOGames.com is committed to bringing you all the freshest, funniest, and most insightful MMO news. If you enjoyed this content, why not share it with your community? And make sure that you never miss our updates and exclusive giveaways by following and favouriting us on Instagram, Twitter, and Facebook.