Appearing from out of nowhere, Genshin Impact made quite an impact and is now one of my most anticipated games of the year. At the risk of sounding like a pubescent girl at a Justin Bieber concert, excuse me for the outdated comparison, Genshin Impact is the kind of exciting game that just won't disappoint. It transpires quality through every pore and nothing about it feels shallow or out of place.
It's not a happy coincidence that Genshin Impact invites so many comparisons, most of them laudable. The announcement trailer got many players comparing it to The Legend of Zelda: Breath of the Wild, while others were reminded of Ni No Kuni. Pick any other great looking anime game and you are on the right track. Genshin Impact looks stunning, but that is just one of its many qualities.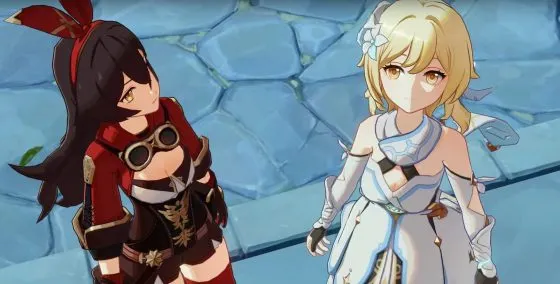 The Legend of Zelda: Breath of the Waifu
Genshin Impact is the work of a studio at the top of its game. Developer miHoYo is on a personal mission to show the world that the Chinese developers' reputation for putting out low-quality knockoffs of popular games is a thing of the past. The studio's previous game, Honkai Impact 3rd showed its talent and keen eye for flashy combat. It remains impressive despite its restraining mobile roots, and every anime fan should give it a try.
Genshin Impact isn't a sequel to Honkai Impact 3rd; instead, it's an entirely new game based on a manga that is available on Crunchyroll. There are several chapters published, in case you'll want to get acquainted with the world and characters in anticipation for the game. This isn't mandatory though, as Genshin Impact will make sure that you feel at home in its world.
The true nature of Genshin Impact's online component is one of the things that cast a shadow of doubt on many players. Is it a full-fledged MMORPG, a solo adventure or a co-op game? Don't expect to see many players roaming the striking world of Teyvat, but you can invite a few friends into your world to explore the land and fight together. This is an entirely optional mechanic, since you can go on adventures alone and peacefully enjoy the wonderful sights and life-threatening foes. If you'd rather have a couple of friends by your side, you can rest assured that their world will remain untouched and entirely safe until their return. Genshin Impact doesn't mix things up and it's all the better for it.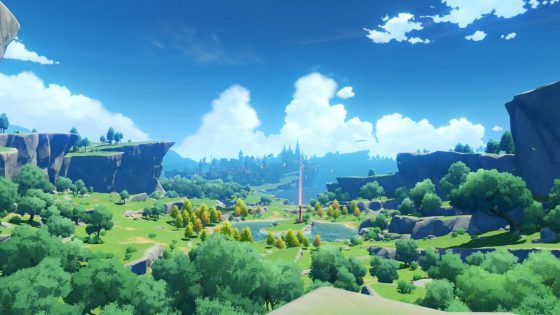 Unlike other action RPGs where your class selection is limited to a handful of choices, Genshin Impact already offers 11 playable characters. If this number sounds impressive, brace yourselves for what is coming: a roster of over 30 unique characters is promised! Obviously, no schedule was given for such an ambitious plan, but the thought alone is enticing, especially considering the high quality and depth of each one of the currently available characters.
Don't think that trying each character will be a straightforward experience though. After choosing your main character you must then unlock the rest of them by progressing in the adventure. The cast isn't entirely female, unlike Honkai Impact 3rd, but women are clearly in the majority, with eight characters (EienYuki, Amber, Lisa, Barbara, Jean, Xiangling, Venti and Kamisato Ayaka) versus three male characters (Kaeya, Diluc and Razor). Outfit customization is a feature that is being internally debated by miHoYo, but I'm betting this will be a part of the game in the foreseeable future considering the potential for costume microtransactions is just too big to ignore.
Genshin Impact borrows the on-the-fly character switch system from Honkai Impact 3rd. You can freely pick one of your four distinctive characters and use their unique skills to overcome different challenges. Multiple classes and character switching will be a recurrent theme for the various dungeons that await you.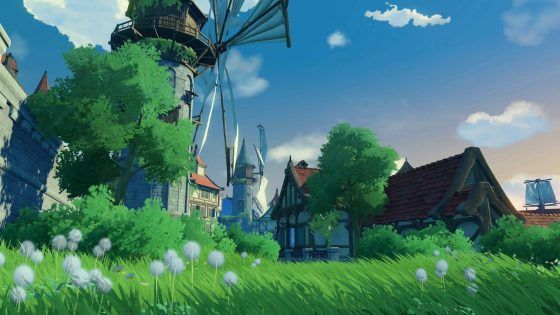 The Anime World Is Yours
Teyvat is a striking open world that you can freely explore by running, climbing and swimming but there are no underwater treasures to find, that much was already clarified. You have freeform movement at your disposal, with a fast travel system to spare you the pains of running to a distant region. The world will feature seven huge city-states to discover and contemplate, each with an inimitable and extraordinary architecture style. The first closed beta featured the region of Mondstadt, and a second very different region was already teased: the Liyue Harbor.
With such a lovely world to explore, it would be a shame if you couldn't purchase or build your very own cozy house. Thankfully, a housing system is in the works, although it is unclear when it will be available.
Combat may happen anytime and there is an exhaustive action combat system with many combos to take advantage of. An elemental system is also included, allowing for some interesting chain reactions based on seven natural elements, Cryo, Dendro, Pyro, Hydro, Anemo, Electro, and Geo. This system allows for some in-depth interactions that can be used in combat or to solve some puzzle-based challenges.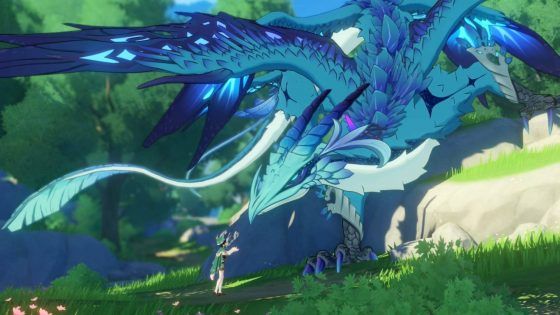 Mounts and pets are not guaranteed in the game, but it's not unlikely that they show up in the future. For now, you only have Paimon at your side, the adorable and friendly companion that will help you out during your journey.
Genshin Impact has several life activities planned such as fishing, chess and card mini games. Musical instruments are another one of the possibilities and I can see this happening in the wake of thatgamecompany's Sky: Children of the Light iOS release.
Speaking about what Genshin Impact is shaping up to be is underestimating what it already is; a fantastic-looking, cheerful anime RPG with a great selection of characters and an in-depth skill-based combat system. With a sprawling open world filled with things to see and do, and hopefully a captivating story to keep you on your toes, Genshin Impact is way more than a Chinese Breath of the Wild clone. It is a beautiful anime with its own identity and style.
Genshin Impact is in development for PC, Android, iOS and PlayStation 4, with a release scheduled for 2020.