The latest World of Tanks collaboration introduces legendary Hasbro brand, G.I. Joe, to the armoured warfare MMO. Making his debut in the 60s, G.I. Joe (or 'Action Man' to the Brits) was the O.G. action figure. In fact, the very term 'action figure' was coined by Hasbro for the first time when marketing the toy. Well now the G.I. Joe brand, which has expanded considerably since then, is ready to bring the action to the digital world as special 3D styles, missions, decals, emblems, and characters are introduced to World of Tanks. But can one game really handle all that unbridled action?
"For years, the characters of G.I. Joe have captured the playtime of an entire generation as they recreated epic battles with toys and imagination," stated Max Chuvalov, Publishing Director of World of Tanks. "Now that generation is grown, and there is no better way for them to revisit the joy of G.I. Joe than in World of Tanks! It really is a perfect combination, and we are happy to deliver it!"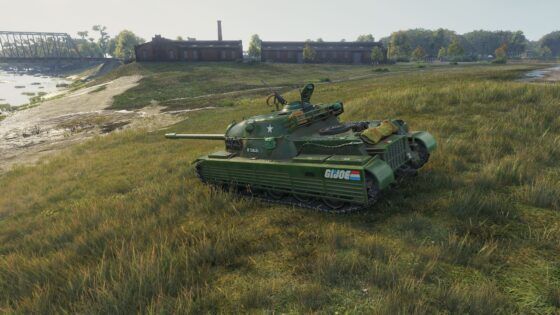 In addition to a twinge of nostalgia, players can expect two 3D styles: the TS-5-based G.I. Joe 'B.T.T.' (Breakthrough Tank) and the Cobra 'B.O.A.' (Battle Operations Assault) based on the T-54 first prototype. This is in addition to unique decals that feature the legendary G.I. Joe M.O.B.A.T. (Multi-Ordinance Battle Tank) and the COBRA H.I.S.S. (High Speed Sentry) vehicles as they were depicted on the original package art.
Two new crew commanders, Duke and Cobra Commander, will be attainable through Prime Gaming from 18th March. Plus, players can declare their allegiances by earning emblems and inscriptions through a series of specific missions. The question of whether your younger self could forgive you now for sporting a Cobra emblem, however, is for you to decide.
For a full rundown of the World of Tanks trip down memory lane, head over to the official announcement page. Because after all, "knowing is half the battle".
MMOGames.com is committed to bringing you all the freshest, funniest, and most insightful MMO news. If you enjoyed this content, why not share it with your community? And make sure that you never miss our updates and exclusive giveaways by following and favouriting us on Instagram, Twitter, and Facebook.