Goodgame's Big Farm is laying on the creepy treats this Halloween with a spooktacular celebration. And you can probably guess which crop is taking centre stage on virtual farms around the world? That's right, Big Farm are celebrating with a veritable pumpkin extravaganza.
But that's not all, Big Farm's Halloween Event 2021 is full of delights: Pumpkin Hunting, Halloween Candle Collecting, and Free Login Gifts.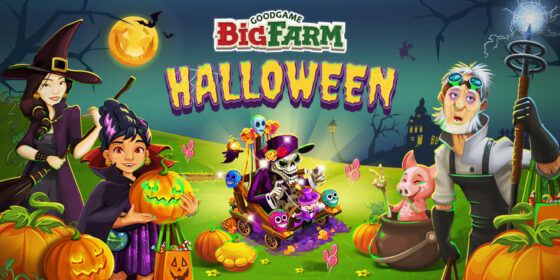 Big Farm Pumpkin Hunt
The "Easter Egg Hunt" is so 2020, this year it's all about the "Pumpkin Hunt". Every day from October 18th to November 7th, the Big Farm Halloween Event ensures pumpkins are hidden all over players' farms. The more of these pumpkins that players collect, the more rewards they will get in exchange.
Big Farm Halloween Candles
But wait, there's more. Players can also collect candles via harvesting and production. For the plucky farmers that collect them all, some delightfully ghostly decorations will become available to make their farm the scariest in the lands. These rewards include:
A Pumpkin Lamp

A Halloween ISO Camp

A Halloween Flag
Big Farm Free Halloween Gifts
More ghoulish gifts await players that login in between today (October 15th, 2021) up to November 14th. These completely free gifts will be active from Level 6 onwards for both new and existing players, they will be claimable 24 hours after login.
MMOGames.com is committed to bringing you all the freshest, funniest, and most insightful MMO news. If you enjoyed this content, why not share it with your community? And make sure that you never miss our updates and exclusive giveaways by following and favouriting us on Instagram, Twitter, and Facebook.