Hearthstone has always been a game of pick-up-and-play styled fun. From randomized Tavern Brawls and crazy solo challenges, the game has never taken its playstyles too seriously despite the heavily weighted Championship and World Tournament brackets. Often introducing new off the wall rules through seasonal words, changing the game with combo-building eldritch horrors and interjecting light-hearted tones into dramatic storylines. In line with this theme, the Hearthstone team have injected a new gameplay mode into the versatile online collectible card game. Enter the Battlegrounds, the new free-for-all auto-battler slaughterhouse for commanders and soldiers alike!

The auto-battle has seen a big surge in popularity. Similar endeavours such as Dota Underlord and Teamfight Tactics do just as the name suggests; line up your units and they'll engage in card-based warfare of their own accord. Crossing cardboard, they'll attack one after the other until one side no longer has any foes standing. Rooted in the Multiplayer Online Batter Genre, auto-battlers distill the complexity into making plays between massive slugfests. For Card Game veterans, Hearthstone's Battlegrounds play more like Yu-Gi-Oh! than it's Magic: The Gathering roots.

Battlegrounds start off at a breakneck pace. Eight players will load into a match, selecting one of two randomly chosen heroes to work with. Some, like Ragnaros, can deal tremendous damage by spending the mode's currency, while others like Patchwerk have a passive Hero Power. Each round begins with you loading into the Battleground Tavern headed by Bob (who will do something, when asked). There you can spend Gold which is generated once every turn like Mana in regular play, up to a maximum of ten. From there you can pick one of several options.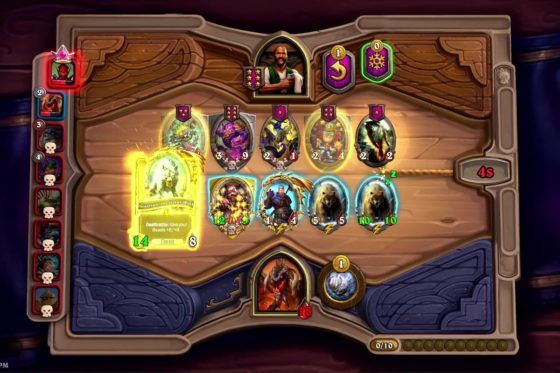 The first, and most obvious, is buying monsters. Your playing field can hold up to 8 at any time, including summonables. While you can store other cards and monsters in your hand, they won't be doing anything when they aren't on the field. You'll start off with weaker rank 1 monsters, but can upgrade the tavern over time through large sums of Gold. Each rank up will unlock a new pool of additional monsters to draw from, but will not replace those already unlocked. Ergo, the more you unlock the harder it is to find duplicate creatures you may be looking for. And you'll want to find them.
Assembling three of one card will allow you to create a golden, more powerful variant of the card. While this usually just results in a flat stat increase, it may also increase the power of certain Battlecry abilities. Playing a Golden Card will also net you a token to unlock a random creature from the next available unlocked rank. Giving you a choice between three powerful cards, which are often legendaries, these can rapidly evolve your gameplay and are worth cherry picking certain creatures. One must be careful about choosing which cards to play, as your board can fill up fast.

Like the main gameplay modes, your Battleground board has a limit to how many creatures you can play at one time. Unlike the main game, however, that cap is set at roughly 8 total creatures. This includes any additional minions your cards might summon, but fear not. You can certainly clear up the board by assembling a Golden Variant, but you can also sell cards in play to Bob while you're at the tavern for one gold each. This, on top of the 10 gold maximum cap, stops you from buying and selling minions until you have the MOST optimal field, encouraging salvaging smart moves from what is available. Sacrificing is key to optimizing what you have.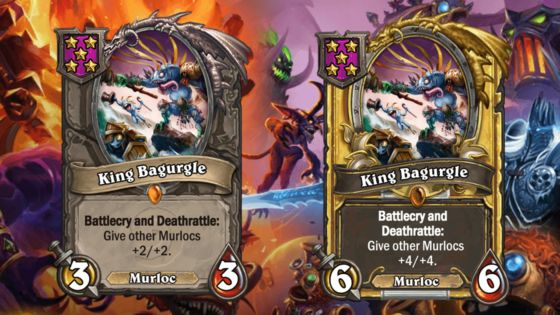 During your preparation phase, you'll set up your board by purchasing minions to add to your hand. If you don't like what Bob offers, you can refresh his recruiting page for a nominal fee to improve your chances, or freeze what he's offering to purchase after your next battle when your gold resets. Playing minions from you hand will allow you to sort out their placement on the board, as well as manage their on-summon abilities. Creatures with Battlecry, for example, will not use their ability when the next battle phase begins but when you play them during your preparation time.

After your board is set (or the timer runs out) you'll be ushered into a Combat Phase. After randomly selecting your opponent, your two teams will duke it out against each other following Hearthstone's traditional rules. Unlike other auto-battlers, however, the Azerothian AI is a bit smarter, striking your opponent's row from their left to right. After a brutal gladiatorial combat session, those whose minions have survived will deal a certain amount of damage. Starting with the rank of your tavern as base damage, they then add the value of their minions ranks together to calculate how much damage they'll do to your hero. Losing all of your minions to three Rank 1 minions hurts quite a bit less knowing they will only deal 4 damage, but knowing that player has a rank 5 inn can be devastating to your play.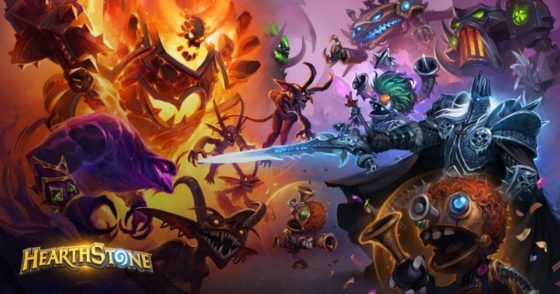 Unlike Ranked or Competitive Play, the Battlegrounds aren't meant to be completely competitive despite their full-frontal rating on its main menu. After playing a few games myself, it's hard to see how it really could be; there's simply too much luck and random number generation to consistently take home massive wins, let alone place within the top half of your game. There are roughly 10 heroes to choose from in the game mode, and every currently allowed card in Hearthstone seems to be up for grabs when you visit Bob's inn!

There is, however, a sense of progression in the Battlegrounds though it's currently locked behind a pseudo-paywall. Successive wins and participating in the system will unlock more options and flexibility in your playthroughs. Winning just one event will allow you to pick from one of three heroes instead of two, with additional brackets making future runs easier. Unlocking this progression system requires purchasing a pack from Hearthstone's upcoming expansion: Descent of Dragons. With Battlegrounds in Open Beta and this in effect, its safe to say this will find its footing and a live release on December 10th alongside the newest adventure for Azeroth's eccentric heroes.