For this Indie Spotlight we're taking a look at a fresh take on a popular formula. Super Squad, an upcoming team-based multiplayer online shoot-'em-up (or MOSH) from small British games-company Bad Fox Studios, is a MOBA-flavoured dose of gunslinging chaos. But be aware: while things may get frenzied on the battlefield, you might as well be shooting blind without proper tactics. If this sounds like your jam, the good news is that a Super Squad playtest is just around the corner.
With teams hashing it out in a good ol' fashioned gunfight, this playful take on a gun-focussed MOBA looks like a riot, in every sense of the word. Far from hosting a squad of identical foot soldiers, however, the Super Squad ranks are composed of a colourful set of gun-toting Troopers. Want to dole out the damage as a fatigue-sporting soldier? Have at it. But don't think we won't judge you for not picking the grenade-lobbing Viking-Dwarf, Tharlin, instead.
Needless to say, quick reflexes are a must for both your brain and your fingers. Different classes include Damage, Tank, Support and Healer, and must be utilised with expert efficiency to dominate the battlefield. With each Trooper sporting their own weapon and unique abilities, players can hone in on the strategies that best suit them. For example, fans of long range support (and pirates) will feel right at home with Crow. Conversely, if you're more of an all-guns-blazing kind of fighter, then perhaps Glorgan the robot is more your speed.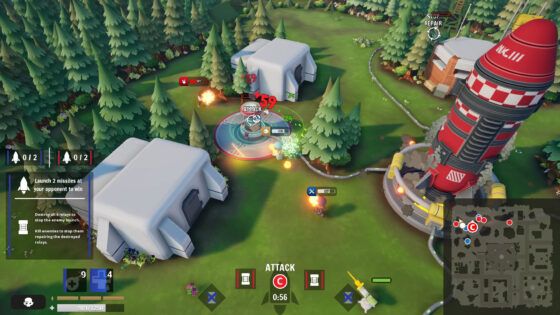 Super Squad Playtest
While Super Squad has been available in weekly two-hour playtests for a little while now, Bad Fox recently announced a weekend-long playtest set to begin on Friday 14th May 18:00 UTC running until 16th May 23:59 UTC. The test will provide crucial data for the team ahead of its intended launch later this year. The Super Squad playtest will include 5v5 team battles, a special challenge, and even the opportunity to face off against the devs themselves. There will also be a free Battle Pass up for grabs, which will unlock an exclusive skin for the Trooper, Sarge.
To get involved with the Super Squad playtest, make sure to swing by the official website. Then, after joining the Discord, details on activities, prizes and tips on squad building will be available. Happy shootin' Troopers!
MMOGames.com is committed to bringing you all the freshest, funniest, and most insightful MMO news. If you enjoyed this content, why not share it with your community? And make sure that you never miss our updates and exclusive giveaways by following and favouriting us on Instagram, Twitter, and Facebook.