Mobile gaming has come a long way since we were eating pixels with other pixels on Snake. Now, fans of all genres can enjoy practically anything through a mobile screen, and giant MMORPGs are no different.
Lineage 2: Revolution is a mobile spinoff that boasts groundbreaking graphical prowess and features stunning visuals and large-scale open-world combat where up to 200 players can battle in real-time. Like its PC and console counterparts, it brings millions of players together in a persistent world, and now it even has its own expansion.
Antharas' Rage introduces new scenarios, characters and content that will be gradually released over the next three months. Four new character types will be available to collect, which will each contribute to the growth of the player character. Plus, Antharas himself will appear as a giant raid boss awaiting the challenges of up to 25 high-level players.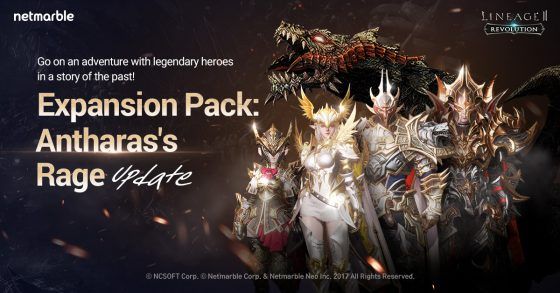 To celebrate the release of the first expansion pack, 2 new servers, Aria and Esthus, have become available. New players created on these servers will start at level 320, with 3 million combat power; proving that inflation is also a thing in MMORPGs.
A 'Boosting Event' will also be available for players to quickly ascend to level 445, with players eligible to receive 1,000 'Equipment Enhancement Coupons' via a giveaway. Special rewards await those that reach certain records, alongside several discount events on equipment, soul stones, and boarding pet growth costs.
To enjoy the new Lineage 2: Revolution expansion as from today swing by Google Play or the App Store, and check out the official website for all the info.
MMOGames.com is committed to bringing you all the freshest, funniest, and most insightful MMO news. If you enjoyed this content, why not share it with your community? And make sure that you never miss our updates and exclusive giveaways by following and favouriting us on Instagram, Twitter, and Facebook.