Logitech is one of those companies that never stops innovating and improving upon its current product line. We can definitely see that with its latest release of the Logitech G305 Lightspeed wireless gaming mouse.
The G305 uses a very similar form factor to the Logitech Pro Gaming Mouse, but besides the basic shape of the mice there is very little else that is the same. The Pro Gaming Mouse was designed as a reliable and accurate peripheral for professional gamers that didn't want a bunch of unnecessary extras. It managed to achieve these goals, but now the G305 takes this a step further with its wireless functionality.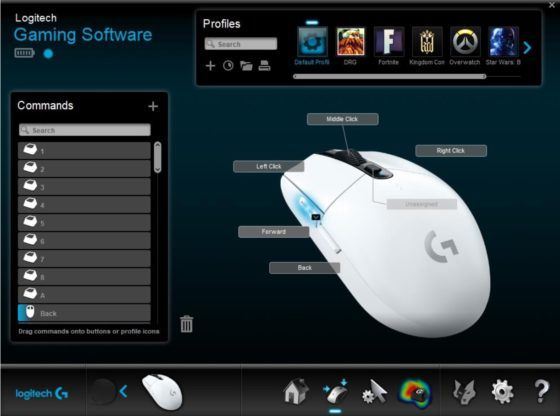 Peripheral Evolution
If you're looking for a simple yet performance-oriented wired mouse then the Pro Gaming Mouse is an excellent choice. However, it does use some outdated technology that the G305 Lightspeed wireless gaming mouse takes advantage of. First off, the older model used the PMW3366 optical gaming sensor. While this is a highly accurate sensor, it also consumed a decent amount of power. This is fine for wired mice but not optimal when going the wireless route.
This is why the G305 uses the HERO sensor alongside Logitech's Lightspeed wireless technology. With a full DPI range from 200 to 1200 with zero smoothing, the HERO sensor performs just as well as the PMW3366 while drawing significantly less power. This allows the G305 to run for approximately 250 hours on a single battery, or about 9 months with typical use. I've personally used multiple Logitech Lightspeed products for months on end and never had to replace the batteries. Like all current Logitech G products, the G305 also makes full use of the Logitech Gaming Software for DPI and profile configuration.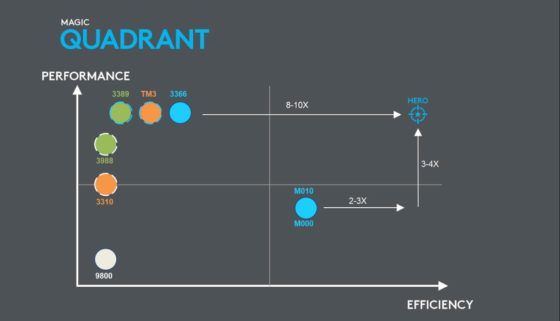 Wireless Gaming Mouse?
I'm sure there are still a lot of people skeptical about using a wireless mouse for gaming. There used to be a time when wireless delay was a real problem and competitive gamers would never think about using a wireless product. Thankfully, those days are now behind us. It has been scientifically proven that the high-end wireless mice being produced today, especially those using Lightspeed, have the same response time that wired mice do. In fact, many new wireless mice are even faster than older generations of wired mice simply because the technology is that much better.
Is the G305 Right for You?
The G305 is relatively inexpensive and doesn't offer a lot of customization, but this makes it a great option for those on a budget or want to try out a wireless mouse before making a big investment. There are, however, a few trade offs with using the G305. This first is that, unlike many other Logitech wireless mice, there is no wired option. So once you've committed to going wireless, there's no turning back. Furthermore, there is no RGB illumination (to save battery life) and there are only 6 programmable buttons.
There are a couple of other things to note about the design of the G305. The first is that the wireless design, and requiring only one battery, makes this the lightest mouse in Logitech's current lineup at 99 grams (or 3.42 ounces). As someone who generally uses a larger, heavier mouse, the weight difference is very noticeable; this can be good or bad depending on your preference.
Another thing that I really like about the G305 is that the back plate clips in and you can store the wireless USB sensor inside the mouse. The G603 has a similar design but the back plate uses a magnet, which makes it feel a little more flimsy, and being able to store the USB inside the mouse makes it easy to keep track of.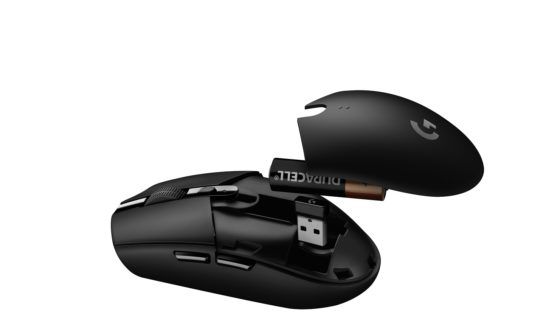 Overall: 9.5/10
The G305 accomplishes exactly what it sets out to do. It's lightweight, accurate, durable, and provides long lasting performance at a very reasonable price. Whether you're new to wireless gaming mice or just want a spare for travel, it's hard not to recommend the G305.
The G305 Lightspeed wireless gaming mouse is currently available through the Logitech store in white or black for $59.99.
Pros:
Lightweight

Cheap price point

Accurate sensors and reliable wireless connection
Cons:
No RGB lighting

No optional wired connection