During our recent interview with the Kabam Directors, a hint was dropped about the next House to be introduced in the Marvel MOBA, MARVEL: Realm of Champions. Well, as of today, we're still none the wiser. Sorry about that. But we do have info on the latest Realm of Champions update. And it features some cool new content for the Spider-Guild and its Web Warriors. So, you know, it's nearly as good.
The MARVEL: Realm of Champions update 3.1 introduces a compelling new story event with the appearance of Web Warrior 2099. Swinging in all the way from the far-flung future, this Web Warrior brings dark tidings as a new breed of Dark Champion aims to find and silence him. However, Web Warrior 2099 can't remember what it was he was supposed to report. Classic Spider-Man behaviour.
The story will unfold via the Arena Conquest as Web Warrior 2099 travels across Battleworld, meeting different Barons and trying to jog his memory. Meanwhile, his arrival brings new gear and weapon variants for Web Warrior.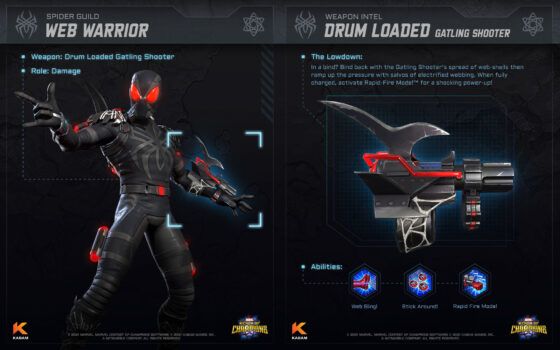 Extra Features
Alongside the new story content comes some extra updates and system balances. Two new Champion-specific synergy enhancements can now be generated on gear for each of the following synergy sets:
Storm: Winds of Vitality, Pharoah's Torrent

Iron Legionnaire: Re-Entry Frag, Reactor Overload
Plus, some balancing adjustments have been made to Storm's Lightning Staff and Sorcerer Supreme's Book of Vishanti and Orb of the Cosmos. These adjustments double-down on the damage dealt by Storm's Specials and Heavy Attacks. Whilst Sorcerer Supreme's loadout emphasises her healing capabilities.
For a full list of what to expect, be sure to swing by the official MARVEL: Realm of Champions update blog post.
MMOGames.com is committed to bringing you all the freshest, funniest, and most insightful MMO news. If you enjoyed this content, why not share it with your community? And make sure that you never miss our updates and exclusive giveaways by following and favouriting us on Instagram, Twitter, and Facebook.