Summer is almost over. And that means you have no excuse for not getting back into the dark but delightful depths of online gaming. Fortunately, every month MMOGames.com is here to bring you a rundown of the highlights from the world of MMO gaming featuring the most amazing massively multiplayer online gaming news, updates, insights, giveaways, interviews, articles, and more!
Some of our personal highlights were exploring the best MMOs to play on a Mac and reviewing the crowdfunded throne-war simulator Crowfall. We also went interview galore and spoke with the directors and developers of EVE Online, Bless Unleashed, and Mortal Online 2.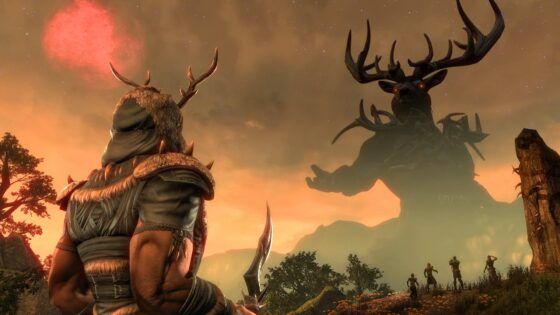 Popular MMO Gaming Articles, Interviews, and Reviews
"Pretend that I'm an annoyed fan, disheartened by my Bless Online experience, convince me in one sentence to recommit my time to Bless Unleashed PC." Find out Jason Park's answer to this question and more in our no-questions-off-limit Bless Unleashed interview.
"We have finally got the core in place, and we are ready to now deliver the dream Mortal Online 2 game we always wanted to." Henrik Nystrom is a man whose passion for his game is unquestionable. We sat down with him to discuss the dream of a living, breathing, hardcore, full loot MMORPG. Get stuck into our Mortal Online 2 interview to see what all the fuss is about.
"Do you go for a Fae Frostweaver gliding down from the skies leaving a glacial trail in your wake? A Guinecean Duellist hopping out from the long grass? A Minotaur Myrmidon trampling all in your path? A Centaur Cleric? An Elken Templar? A Nethari Fire Assassin? The combinations are impressive, exciting, and all very tempting." Most reviews of the crowdfunded MMO Crowfall have not been particularly kind, rather than just giving it an overall score we considered the true pros and cons in our Crowfall strengths and weaknesses review.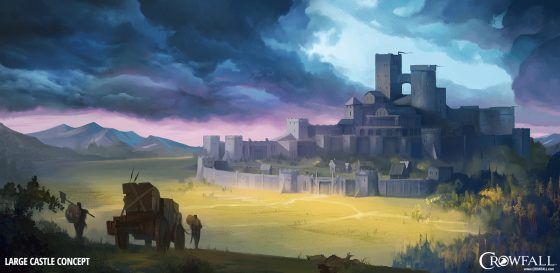 "The notion of playing video games on a Mac is one controversial (and often hilarious) topic. For some, the notion of gaming with MacOS is tantamount to gaming with a calculator. And to those people we say: the future is now, old man." Word on the street is that Apple's position as the laughing stock of the gaming world may be about to end. In the meantime, here is a breakdown of the MMOs and MMORPGs that play best on Mac.
EVE Online Interviews
Our EVE Online interviews are back and as epic as ever. We spoke with CCP Directors Saemmi and Bergur about EVE Academy, The Grand Heist, graphical overhauls and more. We love these interviews and we think you will too.
Big Heists, Big Changes, and Big Plans – August EVE Online Interview
And if you want more EVE Online interviews covering topics from hardcore sci-fi literature to the EVE Online interactive movie, then check out the archive!
The Pantheon Series
"That's the kind of magic that calls to the deep places inside of us, that resonates with what I believe MMORPGs are most uniquely equipped to do – make us want to be adventurers again."
Over the course of the year, we grew increasingly excited about the upcoming MMORPG Pantheon: Rise of the Fallen. We've produced an array of articles in our popular content segment, "The Pantheon Series" making our case for why we think Pantheon is different from other crowdfunded MMORPGs.
Recapturing MMO Magic & Joy: The Chris "Joppa" Perkins Pantheon Interview
Last month, The Pantheon Series reached its dramatic climax with the interview you've all been waiting for. We were lucky enough to interview the one and only Chris "Joppa" Perkins, Creative Director. His answers were thoughtful, insightful, personal, and poignant. So much so that we're pointing you back towards it this month.
WoW Wednesdays
Following a lot of reader demand, we brought back a fan-favourite feature on MMOGames - WoW Wednesdays where you can discover all the need-to-know World of Warcraft updates, in-game events, and esports bonanzas.
As many of you will know, the last couple of months have been a disaster for Activision Blizzard. Allegations, lawsuits, petitions, and walkouts have riddled the organization and potentially tarnished their reputation forever. To find out exactly what has been happening, we recommend reading the following articles in the following order:
WoW Wednesday: The Ongoing Debacle of the Activision Blizzard Lawsuit
WoW Wednesday: Brack Takes Flack as ABK Workers Alliance Hit Back
WoW Wednesday: Redditors Offer Some Quick-Fix WoW Changes As the Flagship Sinks
WoW Wednesday: Ubisoft-Blizzard Employee Solidarity (& Daisy's Designer Departs)
WoW Wednesday: More Draenei Customisation Options – A Blizzard That Listens?
What do you think, should we switch our allegiance from WoW Wednesday to Final Fantasy Fridays?
Feelgood Fridays
We know times are dark for a lot of people right now, so we enjoy sharing some feel-good gaming news to give you some pandemic cheer. Our #FeelgoodFriday gaming news section talks about the gaming industry moves that make us happy: inclusivity, accessibility, sustainability, and diversity.
Indie Spotlight
In our Indie Spotlight feature, we shine a light on the lesser-known games that are deserving of more love and attention. If you have an online indie game to recommend, let us know via comment or message. This month, we shone our light on the family friendly adventure MMO NEO 2045, a game less about hammering hordes and more focused on the hodgepodge of hobbies available.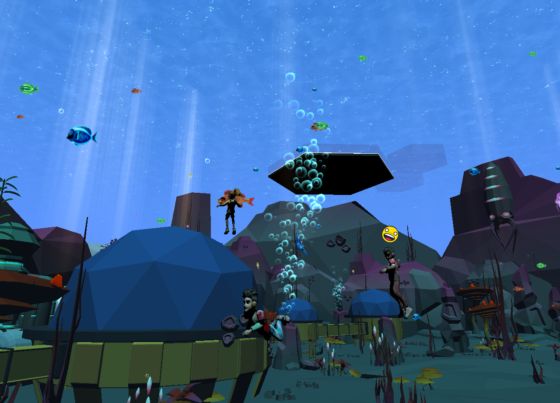 Neo 2045 is a sci-fi action MMO that's rife with variety. The mobile/PC title from Australian studio VR Realms offers a distinctly social yet safe experience centred around different Realms and their minigames. The locations include a Laser Tag Arena, Robot Stadium, Avatar Sports Stadium, Comedy Club, Nightclub, Astro Training Center, Water Park and Arcade. So there's certainly no shortage of things to do. Check it out!
Don't forget to check out our previous Indie Spotlight features on Frozen Flame, Palia, Voidspace, Scars of Honor, Infinite Fleet, Key to Heaven, Project: Gorgon, Super Squad, Broken Ranks, and V Rising.
Crafty Creations
Say hello to Crafty Creations where we highlight the biggest, funniest and most impressive creations from building and crafting focused games like this amazing Valheim Viking Village.
This month's top Crafty Creation see's the world of Valheim join with another iconic setting - Skyrim's City of Whiterun. Check it out!
MMO Gaming Updates, Expansions, DLCs, Patches, and Events
New MMO Games, Upcoming MMOGames, Alphas, Betas, and Trailers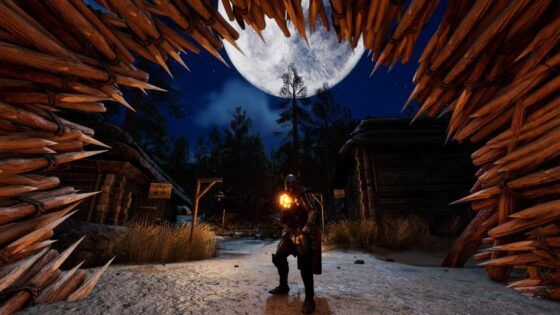 New World,

one of the most exciting MMORPGs in years, released a new trailer for Gamescom as well as a bunch of new information. Frankly, it has us weak at the knees.

Read me!
MMO Gaming Giveaways
As well as a Razor Kishi giveaway with our friends at MobileGames.com, we ran two official giveaways this month that are still running. One was for the MOBA + tower-defence hybrid Skydome, from the legends at gamigo. The second was for Eternal Fury wherein saintly rewards are available to celebrate their Patch 3.2.3. To unlock your freebies in our gaming giveaways, all you need to do is visit our Giveaways page where you can browse all our active offers. You have nothing to lose!
Moreover, we couldn't talk about gaming freebies without mentioning Black Desert Online. To celebrate two years on the PlayStation Store, they are giving out very generous gift packages.
As always, be sure to keep checking by our Giveaways page to browse our other active freebies.
Featured Game Artist Competition
Do you know any talented game artists or fan artists? We're planning to launch an exceptionally large gaming gear competition containing almost $1000 worth of exceptional tech. To ensure they don't miss their chance to enter, advise them to follow and favourite us on our social channels (Twitter, Instagram, Facebook page, Facebook group) plus our multi-channel hashtag: #ILoveMMOGames.
Our most recent Featured Game Artist was the amazing Darrien Kobayashi Gibson whose stunning cyberpunk and horror reimaginings of classic game characters like Samus, Link, and Raiden really took our breath away. If you know of any talented game artists who would like to be considered, just tell them to contact us. View me!
Some More MMO Games News
Thanks to the work of some hackers for good, a weakness in Steam was revealed and fixed that would have allowed players to essentially print money for free.
Okay so this one doesn't really count as an MMO, but we love this so much we had to share it. And we suspect you'll love it too. Over 100 creators teamed up to make an epic DnD project in the Destiny universe. Let's just say they rolled a Nat-20 on initiative.
We're trialling a new content series, Endless Sagas, where we solve the gaming conundrums and challenges you're struggling with. Like our Mortal Online 2 Starter Guide, our clay-mining explanation for Stranded Deep, and our Valheim dedicated server walkthrough. Tell us what problem you'd like us to explain next!
MMOGames.com is committed to bringing you all the freshest, funniest, and most insightful MMOGames news and content. If you enjoyed this recap, share it with your community. And make sure that you never miss our updates and exclusive giveaways by following and favoriting us on Instagram, Twitter, and Facebook.