We're back again with another look at the world of MMO business. This week we've got more funding milestones, Superdata has released another month's revenue report, and there's more lootbox news. Oh, and we can't forget the Battle Royale games. Battle Royale forever!
Crowfall Hits Funding Milestone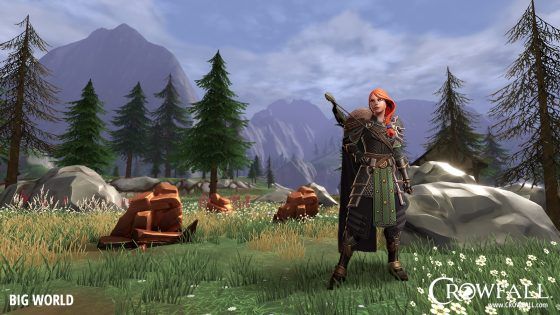 ArtCraft Entertainment has now raised $20 million from a combination of investments, partnerships, and their crowdfunding efforts. The Kickstarter campaign finished with more than $1.7 million donated back in March 2015. Later that same year they had raised $10 million through investments. Now, in the time since then, they've doubled their money and raised another $10 million. This was announced in a press release by the company in which they also announced an international distribution agreement that will see Crowfall released in Russia and the CIS.
Source: Press Release
Netease's SpatialOS Investment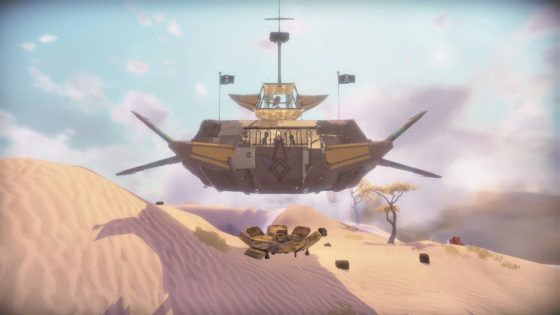 Netease has invested $50 million in SpatialOS which they're calling a small equity stake to act as a strategic investment. How anyone can consider 50 million anything small is beyond me. Improbable has said that they're establishing a presence in China to support game developers while also actively seeking other partners in Asia. In the press release announcing this investment, they also say: "the investment will increase our ability to help game makers in China and beyond to build previously impossible games, by helping game makers to benefit from a neutral, openly available technology platform supporting the next generation of online gaming."
At the moment, SpatialOS is being used by Worlds Adrift, Mavericks, and Fractured. Last year they also received a half a billion dollar investment from SoftBank. What does this all mean? We're like to see a whole lot more games made with SpatialOS in the future. Though, it should be noted that earlier this year Chronicles of Elyria dropped SpatialOS. It's not clear yet if Netease will be using SpatialOS in any of their future games, but it certainly doesn't seem like it's outside the realm of possibility.
Netease was also in the news recently for another reason, they're taking over publishing EVE Online in China starting in October. They're also responsible for bringing Blizzard games to mainland China.
Source: Official Announcement
At EA Battle Royale Is On Everyone's Mind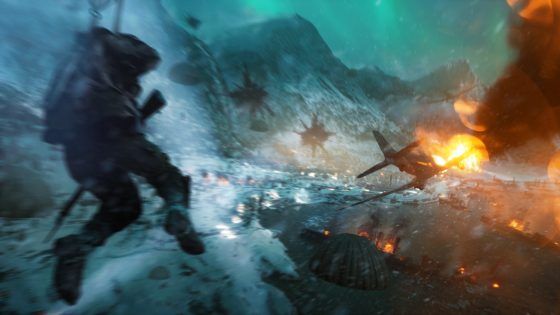 During EA's Q1 earnings call executives fielded questions from investors and it seemed that everyone had Battle Royale fever. There were questions about if Battlefield V's model might resemble Fortnite. EA held firm saying that the game's Battle Royale mode would be just that, another mode. But there was also a hint at the possibility of EA releasing a comparable game in the future. "We're interested in experimenting with a free-to-play standalone game that might be in a shooter genre or another genre. But I don't think that's how we're looking at the Battlefield stuff right now."
EA's CEO Andrew Wilson also said that the company is open to cross-platform play. "We're looking at key franchises in terms of how we should deliver cross-platform play in a similar way that Fortnite has, especially some of our titles that have a broad and diverse player base," he said. "The ability to bring PC to mobile or mobile to console can bring family and friends together, and we think that's an important part of our future development profile. Expect more from us on that front in the future."
So, expect more Battle Royale from EA in the future.
Source: GamesIndustry.biz
Top Grossing Games in June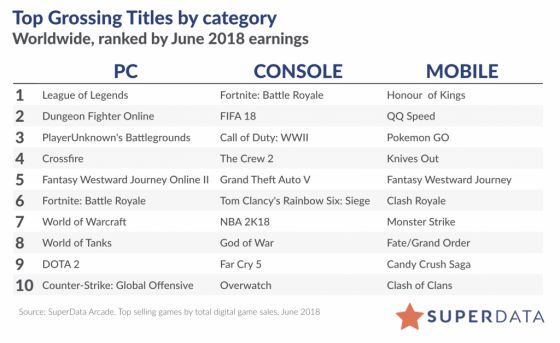 Superdata released their monthly look at the top grossing games with a look at June. PUBG got a massive boost thanks to the Steam sale. In June the game sold 4.7 million units, but at a reduced price. That being said it was still the second best month the game has ever had. On the list, PUBG jumped from 9th to 3rd for PC.
Pokemon Go also had a fantastic month, they were previously in 7th for mobile games back in April but have now jumped up to 3rd. They owe their success to the warm summer months and to very popular changes to the game which have brought a lot of players back. Including regular community events like the upcoming Eevee event in which Eevee will be a whole lot more common and boosts will last longer.
Much of the rest of the list remains the same, however.
Source: Superdata Report
Vainglory Made $50 Million Since Launch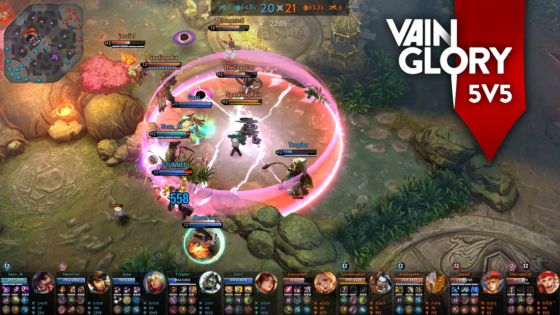 Mobile MOBA Vainglory is one of the great successes of the MOBA genre and is widely considered the best mobile MOBA available. So it shouldn't really come as much of a surprise that they have brought in $50 million since they launched in 2014. This actually makes it the third most successful mobile MOBA behind Arena of Valor and Mobile Legends. 32% of that revenue comes from the United States while Japan is the next highest at about 12%. Almost 64% of all revenue comes from iOS which isn't really much of a surprise given that it launched as an iOS-only title. While everyone keeps talking about battle royale games it is nice to see former trends can still succeed.
Source: Sensor Tower Report
Lootboxes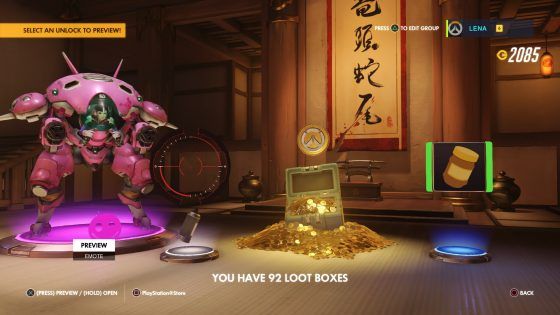 For Dutch players of Dota 2, it is now plainly obvious what is contained inside lootboxes now. They're following in the footsteps of Path of Exile who have done this previously. In doing so they put the power in the hands of the players, letting them decide if they want to buy it or not. While some people have said that it has taken the thrill out of opening the box, others welcome it as they're now getting only what they want to pay for. While Valve hasn't come out and said that this is because of the Dutch Gaming Authority's ruling earlier this year, it isn't a stretch at all to assume that it is. Yay progress!
Meanwhile, Rocket League has published a blog post which has the drop rates of crate rarity levels and they promise that any changes they make in the future will also be announced. The rates range from 55% to 1% and also include Painted and Certified Attributes.
Source: Rock Paper Shotgun, Rocket League