You know that feeling you get when you're anywhere in the world and you think 'I wish I was playing FFXIV right now'? We've all been there. But there's good news on the horizon, and it's Steaming towards us at breakneck speed. Just in time for Christmas, in fact. Fancy that.
Valve's new Steam Deck looks like a Switch and acts like a Switch, but instead opens up the treasure trove that is your entire Steam library. And while that's not to discredit Nintendo's own treasure trove (they do boast Breath of the Wild after all), its repertoire is unfortunately lacking in certain areas. Including a lot of MMOs and, ironically, SNES games.
Provided all things go according to plan, the Steam Deck is set to release in December 2021. Prices differ depending on how much memory you go for, including £349 for 64GB, £459 for 256GB or £569 for 512GB. Upon logging on, users will have complete portable access to their current Steam library. And the Steam Deck specs aren't to be sniffed at.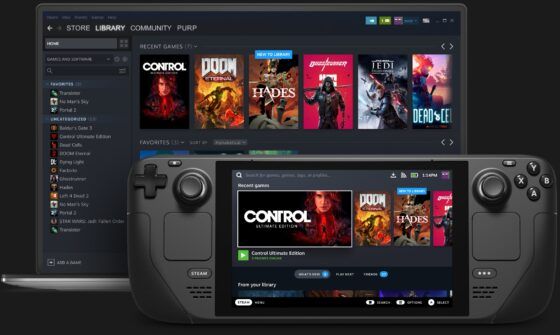 Image: Valve
The Steam Deck Specs
If you wondered what it takes to run PC games in your hand, the Steam Deck specs are as follows:
CPU: Zen 2 4c/8t, 2.4-3.5GHz (up to 448 GFlops FP32)

GPU: 8 RDNA 2 CUs, 1.0-1.6GHz (up to 1.6 TFlops FP32)

16 GB LPDDR5 RAM (5500 MT/s)

1280 x 800px (16:10 aspect ratio)

7" optically bonded LCD

Bluetooth 5.0 (support for controllers, accessories and audio)

Wi-FiDual-band Wi-Fi radio, 2.4GHz and 5GHz, 2 x 2 MIMO, IEEE 802.11a/b/g/n/ac

Built-in mic for multiplayer
Unsurprisingly, the hype for the Steam Deck is real. So in order to be in with a chance of getting yours before the holiday season, you should probably get in line - literally.
MMOGames.com is committed to bringing you all the freshest, funniest, and most insightful MMO news. If you enjoyed this content, why not share it with your community? And make sure that you never miss our updates and exclusive giveaways by following and favouriting us on Instagram, Twitter, and Facebook.