We're smack in the middle of Pride Month and with so many gaming companies celebrating it can be easy to miss some of the festivities. So for this week's Feelgood Friday we've decided to compile some Pride Month gaming industry highlights. We hope you like rainbows!
Riot Games
Riot Games of League of Legends and Wild Rift fame are pulling out all the stops this month. A rainbow-coloured river is washing over each of its titles. LoL and Wild Rift are bringing back the rainbow home guard trails, while the rainbow-tastic Ellie the Elephant is the latest guardian to join Legends of Runeterra. Plus, Riot is selling Pride Month merch with 100% of the proceeds going towards the It Gets Better Project.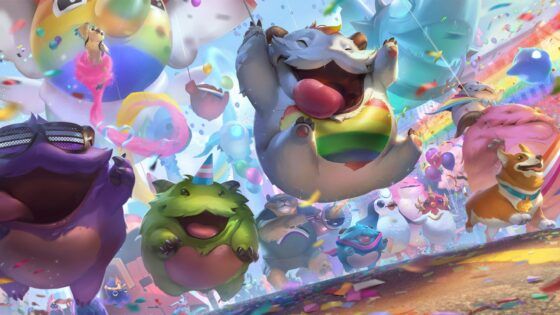 Image: Riot Games
StreamElements
Speaking of the It Gets Better Project, streaming tools provider Stream Elements have donated a cool $25,000. They're also selling merch designed by LGBT+ artists Jamie Hayde and Andrea Marroquín, with all proceeds going towards the charity. Plus, they're lending a hand to any streamers who are conducting fundraisers and providing designs for overlays and graphics.
Queer Games Bundle
Indie gaming distribution service itch.io is offering up an absolute steal with their Queer Games Bundle 2021. With over 200 games, software and zines from over 190 queer artists for just $60, it's a solid way of bolstering your library whilst directly supporting queer creators. There's even a Pay What You Can sliding scale bundle for those who wish to show their support, but can't quite afford the price tag.
SEGA
Sega have been teaming up with content creators to raise LGBT+ awareness. They are also raising money for MindOut, a UK-based LGBT+ mental health charity. SEGA have a history of a pro-LGBT+ stance, so it's no wonder that they're taking such a proactive position during this year's Pride Month.
Xbox
Despite having donated $2m+ to organisations that support the LGBT+ community over the last year, Xbox are upping the ante with a $150,000 donation to LGBT+ charities including ACLU Foundation, The Trevor Project, Act to Change, Right Action International, BEAM and Mermaids. With a tonne of rainbow merch, a coveted rainbow Xbox controller and plenty of rainbows pervading their own titles, we'd recommend swinging by their website to clue yourself up on all the rainbow revelry in store.
Needless to say, there's plenty more where that came from. So don't be surprised if we round off the month with some Pride Month gaming industry success stories. Happy Pride Month!
MMOGames.com is committed to bringing you all the freshest, funniest, and most insightful MMO news. If you enjoyed this content, why not share it with your community? And make sure that you never miss our updates and exclusive giveaways by following and favouriting us on Instagram, Twitter, and Facebook.