Take a deep breath and take in the view, because it's Runescape's Mental Health Awareness Week. Which, aside from its inherent feelgoodness, brings with it some neat rewards in the form of the Meditation Bundle pack that you'll probably want to get a hold of before the week is up. And when you'll be helping out some Mental Health charities in the process, what's not to love?
Every year Runescape encourages their players to think about how they can improve their mental health. Meditate on it, if you will. Nestled in the middle of Mental Health Month, this is the fourth instance of the mental health awareness drive. And this time, people can show their support by helping to raise money for two of Jagex's three partnered charities.
The Meditation Bundle is a collection that players can purchase for 1 Bond or 250 RuneCoins. Featuring a helpful bagful of goodies, players can enjoy some decent boosts safe in the knowledge that their money is going to a great cause.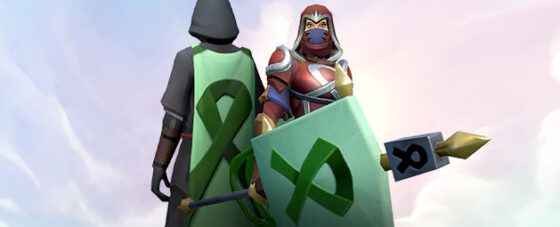 Here's what you'll receive with the Meditation Bundle:
Banner of Meditation

Cloak of Meditation

Stone of Meditation (Until June 14th)*

10 Advanced Pulse Cores*

5 Cinder Cores*

5 Large Protean Packs*

5 Portable Packs*
*Not available on Ironman accounts
The Stone of Meditation is a reusable item that provides a 4% XP boost for you and 2% to surrounding players. Because when it comes to improving mental health, there's nothing better than spreading the love. Once the Stone of Meditation has been cleaned up on 14th June, owners will receive 2,500 Oddments to say thanks for taking care of it.
The Charities
CPSL Mind is an organisation which provides mental health support to people in Cambridge and Peterborough, UK, where Jagex is based. Their STOP Suicide campaign is helping to raise awareness while providing the general public with the skills and confidence to help those at risk.
Rise Above the Disorder (RAD) provides free mental health services to gamers through its grant programme. Started by just one gamer whose aim was to overcome their own depression, this invaluable charity has grown into a worldwide phenomenon that today has helped over 28,000 people find the hope and happiness they deserve.
So, if you've got the money to spare, then be sure to get a hold of some welcome boosts and enjoy the rest of Runescape's Mental Health Awareness Week while you can. Head to the official website for all the in-depth info.
MMOGames.com is committed to bringing you all the freshest, funniest, and most insightful MMO news. If you enjoyed this content, why not share it with your community? And make sure that you never miss our updates and exclusive giveaways by following and favouriting us on Instagram, Twitter, and Facebook.