Skydome - the MOBA-flavoured tower-defence title from gamigo - has arrived. Launching in Early Access yesterday, the latest gamigo jaunt has already undergone some serious improvements and boasts a host of new content. So expect some new Skydome features before you've even had a chance to play Skydome. That's about as cutting edge as it gets.
Skydome is an epic tower defence replete with one-of-a-kind heroes that complement individual playstyles. Dynamic matches take place on 3D isometric playing fields that require creative defence strategies. Intervention Skills, death mazes and magic portals are just a few of the skills that bolster the typical tower defence system.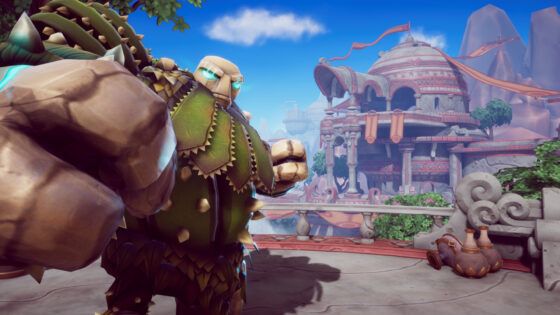 Skydome Features
Diverse Champions - A packed and continuously updated roster of charismatic champions bring their own styles, both tactically and visually.
Familiar Setting and Gameplay - MOBA-style jungle areas filled with unique bosses combine with the walls and towers of classic tower defence gameplay.
Invasion System - Defeat waves of invaders with buffs, extra troops and more.
4v4 Multiplayer and Ranking - Team up with friends against others and climb through the seasonal ranking system.
Erebus Invasion Update
Of all those features, a few have come as part of the new Erebus Invasion update. The Invasion System will see players defeat the Shadowlings of Erebus then allow them to seize control of the fiends to wield against their opponent.
Meanwhile, the first ever Skydome Battle Pass launches with Early Access, introducing the start of a free rotation of playable Champions and enabling players to prepare for the ample rewards that it will bring.
Finally, the first brand-new champion arises, Marcus, the Protector of Athalan, a hammer-wielding noble boasting healing powers and skills that inflict debuffs on the enemy.
Skydome can be played in Early Access as of right now via Steam and Glyph. So make sure to get ahead of the game and check out what this unique genre-bending hybrid has to offer. And the best news yet? Check out our celebratory giveaway!
MMOGames.com is committed to bringing you all the freshest, funniest, and most insightful MMO news. If you enjoyed this content, why not share it with your community? And make sure that you never miss our updates and exclusive giveaways by following and favouriting us on Instagram, Twitter, and Facebook.